Visit Karakol

,

Kyrgyzstan

,

Karakol

,

Gagarina st.

,

28/26

,

722200
Welcome to Karakol, Kyrgyz Republic
Karakol is the center of adventure tourism in the Kyrgyz Republic and perhaps all of Central Asia. We have incredible places for people who are interested in trekking, climbing, off-road driving, horseback riding, freeriding and many other different options around Karakol and Kyrgyz Republic. Our company is locally owned and operated and happy to assist in arranging tours throughout Karakol, the Issyk-Kul region, and the entirety of Kyrgyzstan. We look forward to helping you plan the trip of a lifetime.
On the 1st of July 2017 the town of Karakol became148 years old. Of course, it's not a serious age for a town, but when you look back and listen to the stories of our friends and relatives, you come to the understanding that it is a meaningful mile stone in the history of Karakol.
PERMITS TO BORDER ZONES
Getting to some of the most unique places in Kyrgyzstan require special border permits because of their proximity to China. We are thoroughly experienced in the permitting process and can assist you in acquiring the needed documents for your adventure.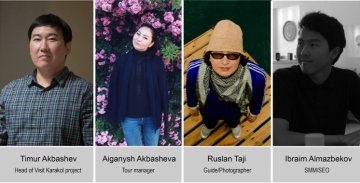 OUR OFFICE
WORKING TIME:
Mon - Sat 09:00am -17:00 pm