Visit Karakol

,

Kyrgyzstan

,

Karakol

,

Gagarina st.

,

28/26

,

722200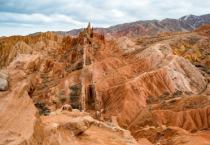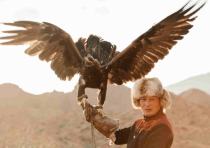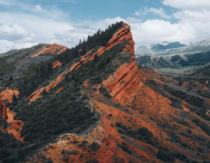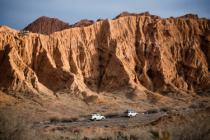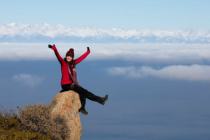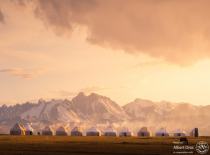 This tour is made for people who are interested in seeing main sights, culture and who love taking amazing pictures of picturesque landscapes without big physical activities. 
Burana tower

(XI - XIII вв.) century.

Special cultural tour to abandoned town Enylchek located deep in Tian Shan mountains

City tour in Karakol city (Dungan mosque and Russian Orthdox Church)

Yurt, Felt and Folklore shows

Sights: Mars canyon, Son-Kul, Fairytale

Special dinner in Yigur's or Dungan's family
Day 1: Airport Manas – Bishkek, up to 40 km 
Arrival at Bishkek airport. Transfer from airport to hotel. If you arrive early, we will use the day to relax or explore the city or Ala-Archa National Park. Welcome dinner in local traditional restaurant. Accommodation in hotel.
Day 2: Bishkek – Burana tower - Chon-Kemin, 150 km 
We are moving to visit
Burana tower. The tower with grave markers, some earthworks and the remnants of a castle and three mausoleums remains the ancient city of Balasagun, which was established by the Karakhanids at the end of the (XI - XIII вв.) century
.
Arrival to Chon-Kemin village, dinner and accommodation in guesthouse with local family. Free time lunch, which can be used for horse riding, reading or just enjoing with calm and views.
Day 3: Chon-Kemin – Karakol, 320km 
We set-off to Karakol by north shore of Issyk-Kul lake. Karakol is the largest city in Issyk-Kul region. "Karakol" means "Black Hand", and it was named after the eponymous name of the river on which it was located. The town itself boasts a number of places that would be interesting to tourists, for example, a very pretty wooden mosque that was built by Chinese artisans for the local Dungans between 1907 and 1910 and it was made entirely without metal nails and a similarly appealing wooden Russian Orthodox church, the Holy Trinity Cathedral, completed in 1895. Dinner at Dastorkon ethno-restaurant that is made in a national style. 
Day 4: Karakol - Tepke - Karakol, 60km
We will visit Reina Kench
horse breeding farm. It is nice places with great views to Teskey Ala-Too ridge, clean air and hospitable family. We will have excursion on farm and surroundings, lucnh and depart to Karakol to prepare for special gastronomy evening in family of Dundans or Uigurs. Both nationalities are muslims who emigrated to Kyrgyzstan from China in the beginning of 19 century.
Muslim Street Food | UYGHUR CHINESE Homemade Food + HALAL Street Food in Kyrgyzstan!
Обработка видео...
Day 5: Karakol - Enylchek - Karakol, up to 300 km 
Transfer to abandoned town in the middle of Tian-Shan mountains by comfortable SUV. It is located on pre- border zone with China. To visit this place, we will need special permits by military. On the way you will see amazing landscapes, cross high pass 3822m, after that will be land where usually no snow in winter, visit wild hot springs, visit local school to give some presents,

lunch in local family

and transfer back to Karakol. Program

https://visitkarakol.com/enilchek_1day
KYRGYZSTAN FOOD Tour 🇰🇬 Asia's Nomadic Food HEAVEN! Beshbarmak in SOVIET Ghost Town!!
Обработка видео...
Day 6: Karakol - Mars canyon– Bokonbaevo, 170km 
We are going today to south shore of Issyk-Kul lake, here you will feel traditional lifestyle and beautiful landscapes. We will come to Mars canyon, where we will meet with local eagle hunter and he will show hunting with his two eagles Karabarchyn and Karakoz. We will visit Shatyly panorama on sunset to have great view to Issyk-Kul lake. Dinner and accommodation in yurt camp or guesthouse. 
Day 7: Bokonbaevo – Son-Kul, 250km 
Yurt show in Kyzyl-Tuu village will be presented by local family, they will show how they producing yurts in quite old style using only hand accessories and you will have possibility to build one of it with them. Lunch in Kochkor village and start driving to Son-Kul lake located on altitude 3016m through Kalmak-Ashu pass 3433m. Son-Kul lake the second largest lake after Issyk Kul Lake, and the largest fresh water lake in Kyrgyzstan. It is surrounded by a broad summer pasture and beautiful mountains. It is great place to see and meet with remainder of the nomads. Accommodation and dinner at yurt camp.
Day 8: Son-Kul - Kochkor, 150 km
We will spend first part of the day here, good possibility for horse riding or just enjoying with place. Lunch in yurt camp and depart to Kochkor through scenic 33 parrots and Dolon passes. Dinner and accommodation in guesthouse.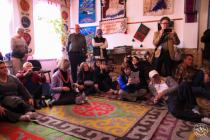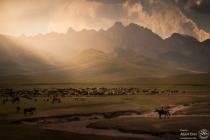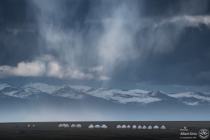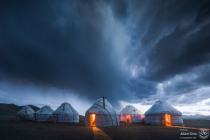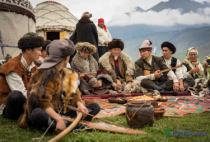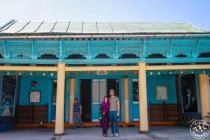 Day 9: Kochkor – Bishkek, 210km 
We will visit
Altyn-Kol felt makers community, where local craftwomen will teach you how to make carpets
Shyrdak
from felt. Also here you can buy local souveniers from first hands. Depart to Bishkek though Boom valley with beautiful views. Festive dinner in traditional restaurant Supara with folklore show.
Meeting at the hotel, then we will leave to the airport Manas.
Miri Yaron
The connection with Visit Karakol started 8 months ago. I immediately felt that there was someone on the other side that always answers and helps with every question I had (and I had a lot) I felt that I had chosen correctly from all the possibilities I had and I was clearly not disappointed!!