Visit Karakol

,

Kyrgyzstan

,

Karakol

,

Gagarina st.

,

28/26

,

722200

Przhevalskiy Museum and Memorial Set a few miles outside the city, was opened on 29 April 1957 in Karakol, the museum hosts the life story of one of the world's great explorers.It is a true testimonial to Russian colonization of Central Asia. Today there are personal things, documents photos and articles of Przhevalsky kept there. Not far from the Museum there is the traveler's tomb and monument. The monument was erected in 1893 and opened on June 26, 1894 and it is the first product in Kyrgyzstan monumental sculpture. Composed of tight-fitting and filled with lead granodiorite blocks. Rock surmounted by the figure of a landing bronze eagle (the symbol of mind and fearlessness) with a wingspan 2.5 m. The eagle holds an olive branch (a symbol of science) in its beak, and he has a half opened bronze kara "of Central Asia, with the travel routes of the scientist in his claws. There is a cross fixed on the front side of the rock and below it there is the bas-relief profile of the traveler and the inscription: "Nikolai Mikhailovich Prjewalsky. The first explorer of nature in Central Asia. Was born on March 31, 1839, died on October 20, 1888".
Nikolay Mikhailovich Przhevalsky is one of the first Russian Scientist-Geographer who started studying in details the geography, flora and fauna and discovered over 200 plant species of the Central Asian countries. Przhevalsky also collected an enormous zoological collection which comprised several thousand of species of plant, animals, birds, fishes and insects. Beginning from 1870, he arranged 4 large expeditions to Mongolia, China and the Tibet. He died in 1888 of typhus not long before the beginning of his fifth journey and was buried at the shore of Issyk-Kul lake, near Karakol. He contracted typhoid from the Chu River that was acknowledged as being infected with the disease The Tsar immediately changed the name of the town to Przhevalsk.

For the outstanding achievements and contribution to the exploration of Central Asia Przhevalsky was elected Active Member of the Russian Geographic Society and also a Member of the Russian Academy of Science.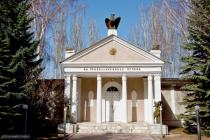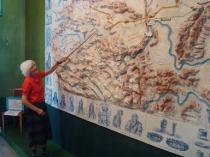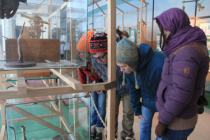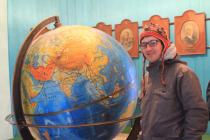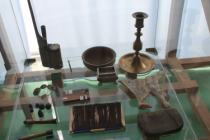 Музей Пржевальского - Nikolay Przhevalsky museum
Обработка видео...
From Karakol city
You need go to this
bus station
and take bus (marshrutka) which called Pristan' Prjevalsk. Bus will drive until village Pristan', but you need to stop before that village. Just tell about driver and he will stop. Price - 15-30 som per person. Also to enter museum you need to pay - appro. 50-100 som per person.
Travel or Taxi Company
You can order car through us, but price will a bit expensive and you don't need to worry.
Concact us
or call to taxi compamy - Salam 03922 52222