Visit Karakol

,

Kyrgyzstan

,

Karakol

,

Gagarina st.

,

28/26

,

722200

This is no match for Kashgar's Sunday Market, but is still one of the best Animal Markets in Central Asia. Locals like to load their Lardas with livestock - quite a spectacle if the beast in question refuses to be pushed into the back seat. Fat-tailed sheep, worth their weight in shashlik, don't come cheap.
Located in the northern edge a few kilometers from the center of Karakol, and only open on Sundays, the animal bazaar is an interesting place to visit where villagers will often travel for days to sell their animals. The bazaar ends around 10 AM, so get there early for all the action. The market is divided into two compounds, one for sheep and goats; the other, for horses, cattle and the occasional camel.

Whether you're interested in the animals or not, the weekly bazaar gives a good insight into the culture and the livelihood of the people here. Scattered among stands of tightly tethered, complaining livestock are Kyrgyz who have come to examine and bargain for the goods on offer, trying out horses with a short test trot or assessing the weight of the fat on the behind of a fat-tailed sheep with their palms. This is Kyrgyz rural life in its unadorned form . The market, which is remarkably calm and dignified given all the activity going on, is as much as a country fair as it is a place of commerce. It is a great place to wander, take photographs and watch the morning unfold.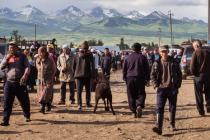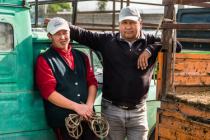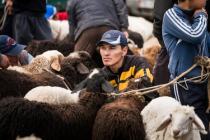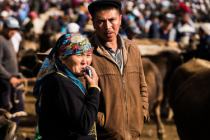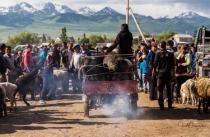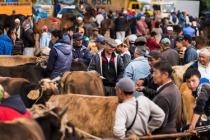 Animal Market in Karakol, Kyrgyzstan (HD)
Обработка видео...
From Karakol city
You can get there by walking. Copy the coordinates below. From center of Karakol till here will be about 20-30 min
Taxi Company
You can order taxi till this place. Price is 70-100 som for whole car. Contact: Taxi Salam 03922 52222, 0555 301630