Visit Karakol

,

Kyrgyzstan

,

Karakol

,

Gagarina st.

,

28/26

,

722200

Karakol grew in the 19th century after explorers came to map the peaks and valleys separating Kyrgyzstan from China. In the 1880s Karakol's population surged with an influx of Dungans, Chinese Muslims fleeing warfare in China.The town itself boasts a number of places that would be of interest to tourists, such as a very pretty wooden mosque built by Chinese artisans for the local Dungans between 1907 and 1910. Completed in 1910, the mosque was built to serve Karakol's community of Dungans (Chinese Muslims who fled persecution in the 1880s). Designed by a Chinese architect, the building is constructed entirely without nails and much of its imagery, including a wheel of fire, reflects the Dungans' pre-Islamic, Buddhist past. Instead of a minaret the mosque has a wooden pagoda. Despite being closed by the government from 1933-43, the mosque continues to be used as a place of worship. These days worshippers are not exclusively Dungan and include a large Kyrgyz contingent. The 'Dungan Mosque' has therefore become simply 'The Mosque' in local parlance. Women are not always allowed to enter, but the friendly caretaker, who lives in the grounds, will open its doors and allow you to peer inside.
All colors represent different Dungan cultural concepts, red - protects from evil spirits, yellow - contributes to the accumulation of wealth and brings prosperity and green - symbolizes happiness.

The History of Dungan Mosque in Karakol begins in the end of 19th and early 20th century. Due to the rebellion in 1877 about 300,000 Dungan, passing through the dangerous Torugart Passover fled from Chinese punitive squads. Many Dungan died of cold, died of starvation, but many of them have reached the Karakol town, where they were warmly received by representatives of Russian and Kyrgyz peoples.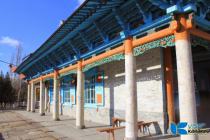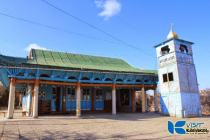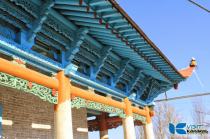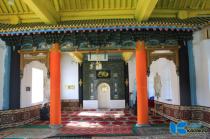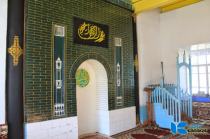 Дунганская Мечеть в городе Каракол
Обработка видео...
From Karakol city
You can get there by walking