Visit Karakol

,

Kyrgyzstan

,

Karakol

,

Gagarina st.

,

28/26

,

722200

KYRGYZSTAN UNTOUCHED BEAUTY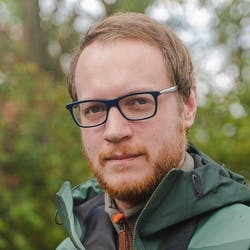 Albert Dros
Professional Landscape Photographer
Join me and my local friends for this epic adventurous tour in Kyrgyzstan! This tour has it all: Amazing mountains, lakes, valleys, canyons, sleeping in yurts, the real experience! If you've never visited Central Asia and are interested in a new experience than this is for you. Kyrgyzstan is an amazing country that I visited multiple times over the last few years and it's really a landscape photographer's paradise.A lot of these areas (especially the canyons) have been explored by me and the team and we made them famous personally. We even gave them names! By Google maps scouting and visiting sights we found some hidden gems almost never explored by anyone. Recently in 2019 CNN Travel joined us for a mini documentary and article, that can be seen here.In this tour me and my team will bring you around some amazing areas that this country has to offer.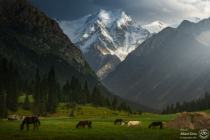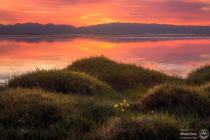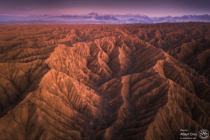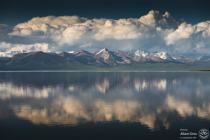 «As a landscape photographer I have travelled lots countries in the world so I guess I can say I am 'used' to beautiful landscapes. Until recently Central Asia was unknown territory for me. I always love to explore countries that are not really on the radar of photographers and travellers in general. It inspires and pushes my creativity. As a photographer and nature lover, you know that feeling when you see that untouched beauty? Crazy mountains with open valleys? It triggers you somehow. That's what Kyrgyzstan did to me. » - Albert Dros
Please note : This is a Photography Tour. You'll see the most beautiful places during the best light. We spend a good amount of time at every place so everyone can take the best photos. Next to that there will be instructions in the field and when time allows: lectures in the hotel. We want to make sure you come home with the most beautiful photos!
Hidden Gem for Photographers - The land of Kyrgyzstan | Doc Film
Обработка видео...
Visit remote area - Sary-Jaz valley

Peak Yeltsin with panoramic view

Hiking and visit canyons which found by Albert Dros (Canyon Mars, Forgotten Rivers)

Exploreing Djety-Oguz valley

Visit Tree of Wisdom which found by Albert Dros

Drive through Chon-Ashuu pass 3822m (highest point)

Stay at yurt camp in Son-Kol lake 3000m

Drive around Issyk-Kul lake
DAY 1: Bishkek (arrival day)
You may arrive in Bishkek any time of day. Our welcome dinner starts at 7 PM. You'll meet me (Albert) and our team that will be guiding you for the rest of the tour. We'll discuss itinerary and have a nice local meal. If you need any help with transfers from the airport, feel free to let us know. Accommodation: Hotel
Today we will mainly be travelling to the east side of the country; The Karakol region. After breakfast we'll be on our way. Today we'll explore a bunch of Canyons on the way. Some of these we explored (and named) ourselves. We'll shoot sunset at one of the canyons and have a late dinner at Karakol where we'll be staying for the night. Accommodation: Hotel
DAY 3: Karakol's surroundings
We'll give you a good rest and a good breakfast to get you started on a day of local exploring around the city of Karakol. In the afternoon we head to valleys and mountains nearby in our 4x4 cars. These cars will take you anywhere during out tour and you'll immediately experience the 'Kyrgyz way' of exploring. Driving on roads you can hardly call roads and crossing rivers but most importantly: beautiful scenery. You'll see the typical Kyrgyz wild scenery with horses, shepherds, rivers and mountains. We'll bring you to some 'secret' spots that only we know, have a picnic and so a sunset shooting session. And when the weather allows we shoot the super clear night sky! Accommodation: Hotel
After everyone is rested from the previous day we'll have a daily excursion to the Jety Oguz valley along with peak Eltcin. This day will be packed with epic mountains and canyons. First we visit the famous 'red rocks' and after that we'll be heading into the spectacular valley where we can see peak Eltcin. Another 5000m+ mountain and a valley that are absolutely stunning. After another bumpy 4x4 we eventually have to walk. It's an easy hike which is through a valley that is flat but surrounded by epic mountains. You'll have a view of Peak Eltcin all the way. We'll have a picnic in the valley, say hi to the local shepherds and you'll also have the chance to photograph them on their horses with the mountains as a backdrop. We'll stay here until the end of the afternoon, shoot sunset and make our way back to our hotel to have a late dinner and get some rest. Accommodation: Hotel
If you think the previous days were wild, the real adventures start now. We'll be visiting the Sary-Jaz area which is an area close to the border of China. This area is unique. You'll see absolutely no one here except maybe a shepherd that is completely on its own far from civilisation. This area requires a special permit (we'll take care of it for you) to access. The atmosphere here is something you have never experienced before. We'll be crossing the Chon-Ashu pass (over 3800m) and Echkilitash gorge. We'll be driving a lot today and our end destination are the Adyr-Tor mountains. This area also has a lot of wild eagles and if we're lucky we may photograph some in their natural environment. We'll spend the night here in camps so we can experience the true serenity of this place. We'll see the sun go down and rise behind these giant peaks. Followed by the clearest night skies. An experience you won't forget. Accommodation: Tents
You may rise from your tent to shoot the sunrise and see the first light hit the mountains. It's very possible that it was freezing this night! As this area is well above 3000m it can get very cold tonight. When the sun rises and hits the frozen grass, it will soon start to warm up. Mornings hare can be magical. We'll take it easy in the morning and depart as soon as we're ready. We'll take a different route back to Karakol so we can explore some different valleys. We'll be back late afternoon, have dinner at our hotel and rest for our new adventure the next day. Accommodation: Hotel
Day 7: Karakol - Son-Kol lake
Today we'll drive to Son-Kul lake, the last but definitely not the least adventure of our tour. This area will amaze you. Son Kul is a huge lake located at around 3000m with mountains surrounding it. It's a location that will take your breath away as its completely flat and has its own climate. Weather conditions can change rapidly here and there's a big chance it will freeze during the night. To make the experience complete you'll stay in yurts (which is the only option, there are no hotels in this place). The yurts themselves are great photogenic objects. You'll experience the local lifestyle here and see the family's life in the summer months. If the winds calm down you can see the mountains reflecting in the lake. We'll stay here for sunset, night and the sunrise the next day. You'll enjoy the super clean fresh air and this area will really make you feel at peace. Accommodation: Yurt
DAY 8: Son-Kol lake - Bishkek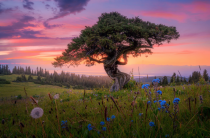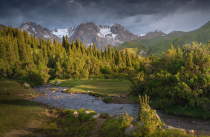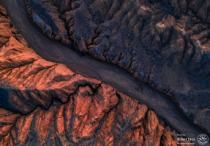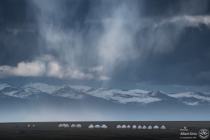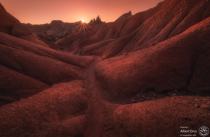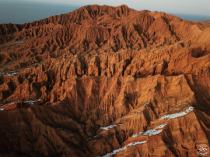 All meals: breakfast, lunch, dinner

Guidance by a professional team (Albert Dros + locals)

Permits needed to access some areas
Potential Visa fee (most countries don't need visa for Kyrgyzstan, for details check:

https://caravanistan.com/visa/kyrgyzstan/

)

Flights to and from Kyrgyzstan