Visit Karakol

,

Kyrgyzstan

,

Karakol

,

Gagarina st.

,

28/26

,

722200


Barskon, Barskoon or Barskaun, ancient Barsgan, Barskhan is a small settlement on the southern shore of Lake Issyk Kul in the Issyk Kul Province of Kyrgyzstan. It is on the A363 highway between Bokonbaevskoe to the west and Kyzyl-Suu to the east.
According to his testament Pand nāma, Saboktagin was from the tribe (or place) of Barskhan and according to C. E. Bosworth's summary from preface of the book, the tribe was "so named because in ancient times, one of the rulers of Persia had settled in Turkestan and become a ruler there. He was called Pārsi-khwān that is, one who is literate in Persian, and this became contracted to Barskhan.

Ancient caravan ways dispersed from here, ancient Barsqan, to the East and South, to China and India, the ruins of a caravanserai are quite evidences of those times. The 11th century scholar Mahmud al-Kashgari (also known as Barskhani) was a native of this area. He is best known as the author of the first Turkic languages comparative dictionary which he wrote whilst living in Baghdad in 1072-4. His map of the then known world has Barskon at the centre of the world. His tomb is South of Kashgar - on the road to Pakistan. The modern town began as a military post.

The road south from Barskon which passes up the Barskon valley (A364) used to be one of the routes of the Silk Road, passing over the Bedel Pass (4,284 m) into China (the section from Kara-Say to Bedel Pass is now closed). It is now the main road leading to the Kumtor Gold Mine - hence it is well maintained and there is a reasonable amount of traffic - including lorries making their way up to the mine and back.

Barskon is a village at the mouth of the Barskon valley - which has an impressive Barskoon waterfall in 90 km to the south-west of Karakol on one of the tributaries of Barskaun River and is a good centre for trekking and horse riding.

There is a sad legend about beautiful waterfall. Female of snow leopard gave birth to three wonderful small snow-leopards. After she had left her children in lair, she went hunting. But when she came back, she saw that her unwise children went out of the lair and hurt on mountainous cliffs. And she started cry, and her tears became a waterfall with three ledges. In the beginning of the gorge there is an ancient fortress (IX-XIVcc).There are two interesting monuments along the road - a Soviet lorry mounted on a plinth and a bust of Yuri Gagarin, who holidayed on the South shore of Issyk Kul after his historic first manned space flight.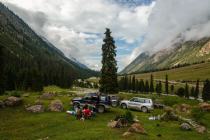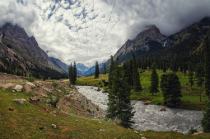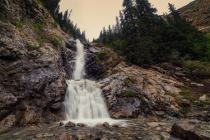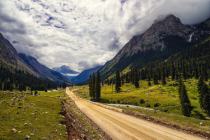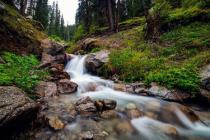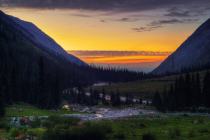 From Karakol city
You need go to this
bus station
and take bus (marshrutka) to Barskoon village. And from that village start to walk. Price will be from 100-150 som per person.
From Bishkek city
You need go to this
bus station
which called "Zapadniy vokzal" and take bus (marshrutka) or taxi to South part of Issyk-Kul lake (Yuzhnyi Bereg) to next places: Baarskon, Tosor, Kyzyl-Suu or Karakol. And say to driver to drop you on
Barskoon village
. So you will stop before that places. Just make sure that driver will remeber your destination. And from that village start to walk. Price will be from 250-500 som per person.
Somewhere in Issyk-Kul region
You can try hitchhiking. It is possible but you need time. Say to drivers: "Zdravstvujte podbros'te nas pozhalujsta v ushelie Barskoon, esli vy v tu storonu edete" which means - Hello! Please drop us to Barskoon valley, if you are going to same way.
Travel or Taxi Company
You can order car through us, but price will a bit expensive and you don't need to worry.
Concact us