Autumn has already come and it's cold outside. Daytime +16, and at night -1. In our mountains you can see that snow has fallen already and that upcoming winter is almost there. Now it's October and you decided to visit Karakol, but you don't know what to do here? Especially for you we have prepared 6 ideas for traveling in Karakol!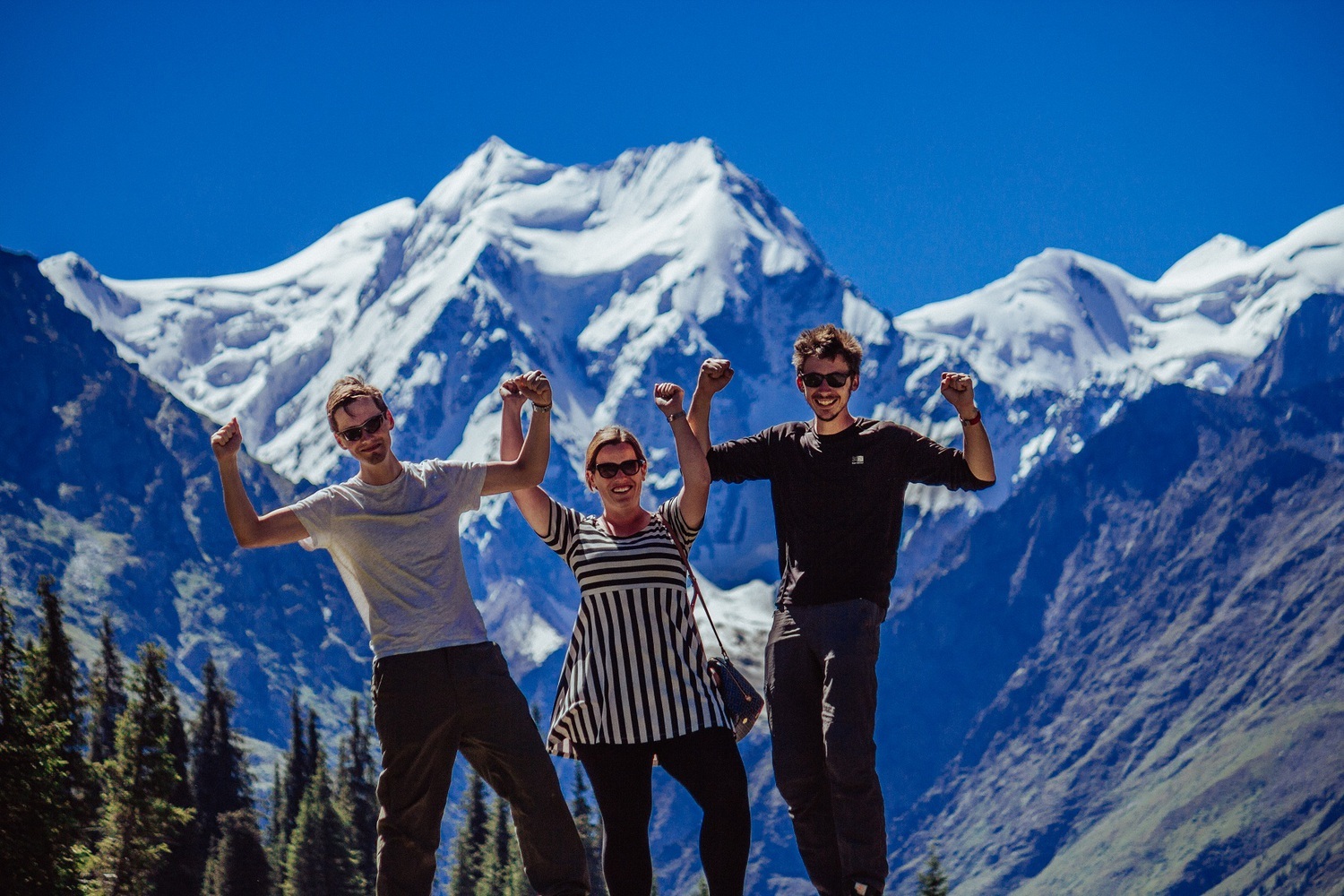 ---
1) Visit Altyn Arashan gorge -
2 DAYS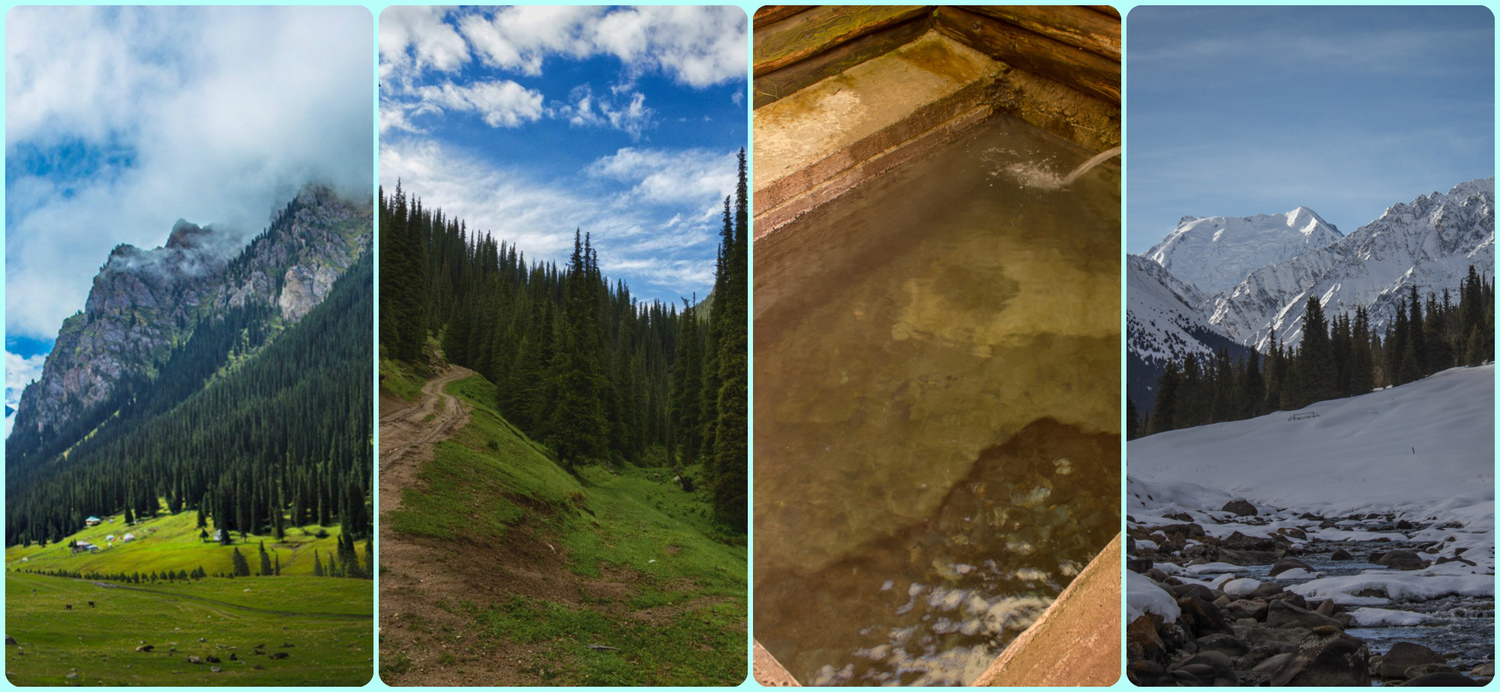 This is a favorite destination of tourists from all over the world. Altyn-Arashan (2400m), which translates to Golden Spa, is a valley retreat, high up in the mountains, filled with natural hot springs and quaint guest houses. It is located near Karakol and Issyk Kul Lake, in northeastern Kyrgyzstan.
There are numerous different soaking pools at your disposal. From self contained tubs in private wooden huts to open stone pools along the river's edge and even pools high up in the peaks. The average temperature varies from 30-40 degrees celcius with some ability to control the temperature based on the pool. The sulfurous water is believed to cure aching joints, skin ailments, and even indigestion. The valley itself is in the Arashan State Nature Reserve and is classified as botanical research area.
Guest houses and hot springs are available.
2) Horseback riding to Chon Kyzyl-Suu valley - 1 DAY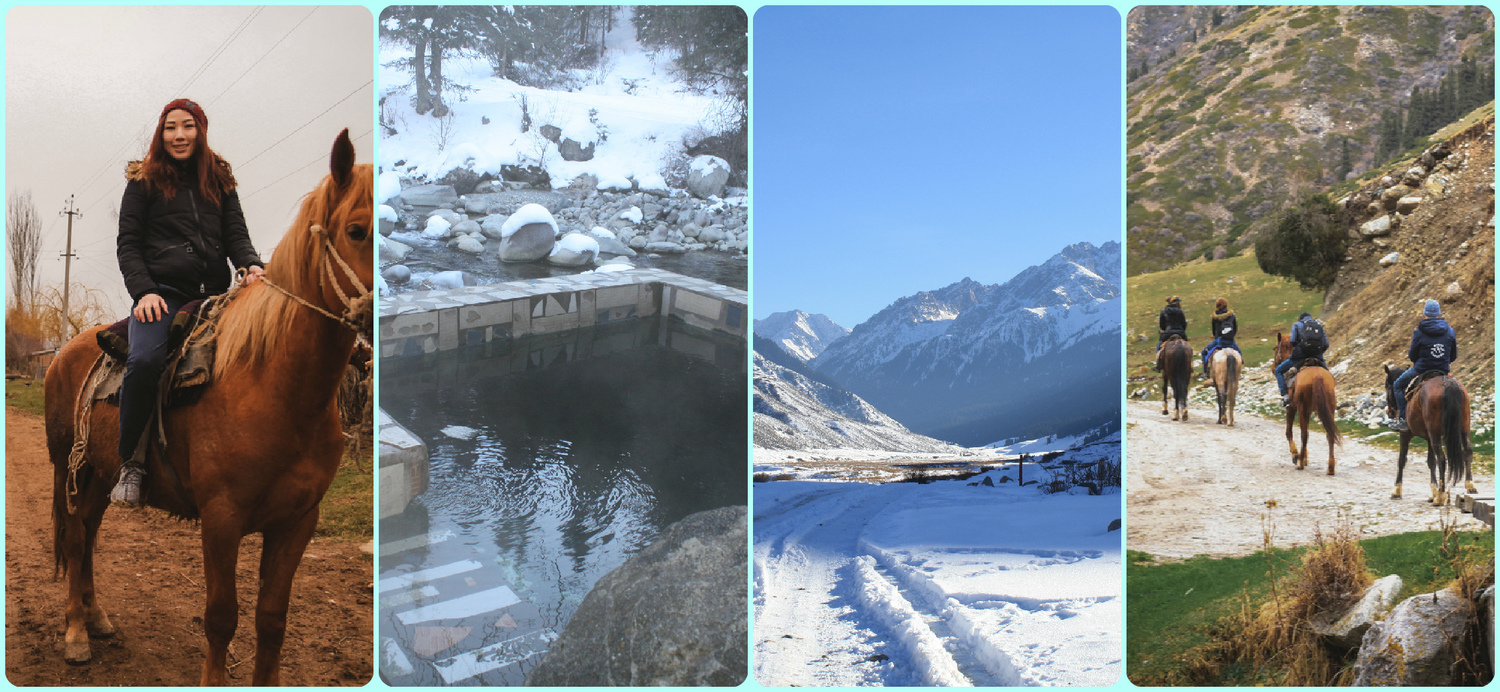 Chon Kyzyl-Suu translated to Kyrgyz language as ("large red water") is one of the most beautiful places on the south coast of Issyk-Kul. The river got its name because the water going by red sandstones than becomes red. At an altitude of 2000 meters in the Chon-Kyzyl-Suu valley. The animals are found wild boars, partridges, deer, ibex, marmots, ular, marcopolos, pheasants, huge vultures and snow leopards. In the valley of the Chon-Kyzyl-Suu there exits hot sulfurous mineral springs Dzhyly-Suu. The temperature of water reaches about 43 degrees. You can warm in the water 43 degrees and plunge in the scarring icy waters.
Hot springs are available.
3) Horseback riding to Juuku valley - 1 DAY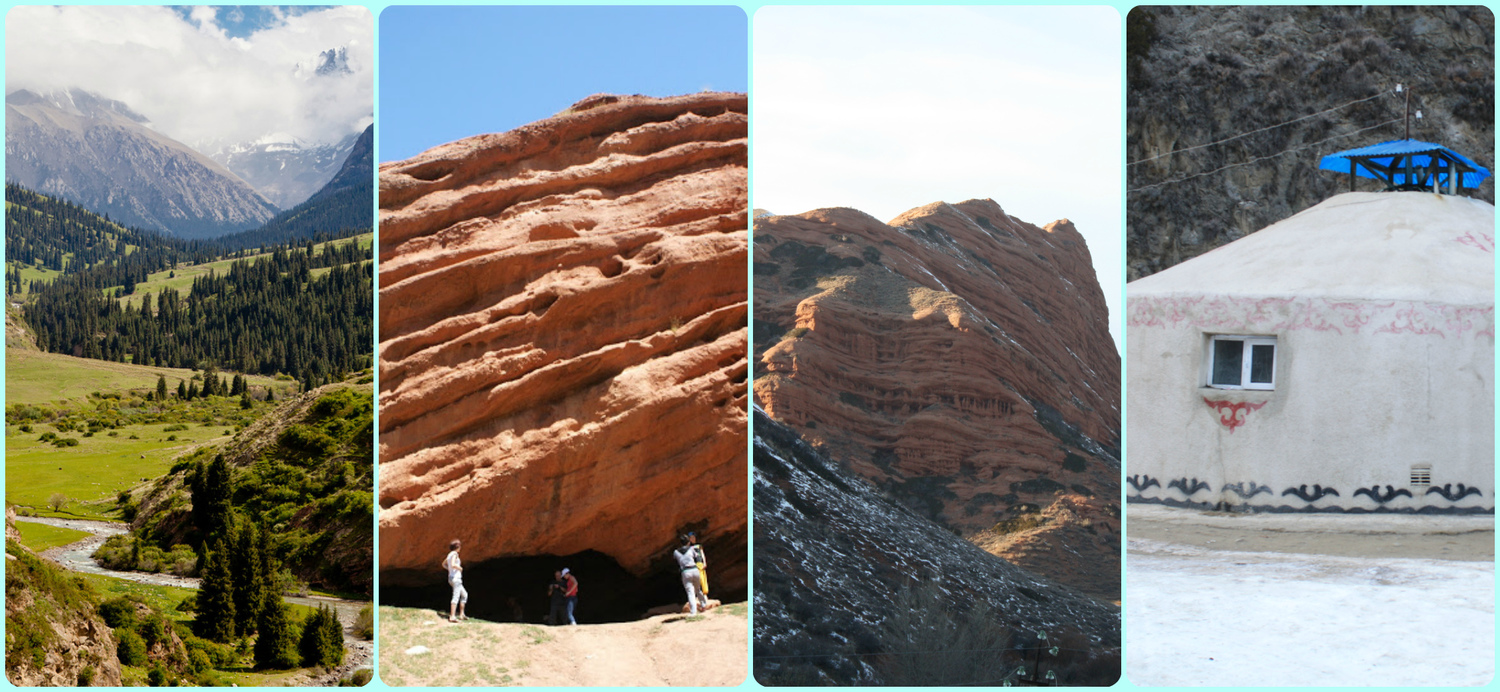 Juuku gorge is located 75 km away from Karakol city, to the west of the Chon-Kyzyl-Suu gorge. The length of the valley reaches 50 km. There are thickets of spruce forests for more than 30 km on the slopes of the gorge. In the lower part of the gorge there are red rocks. If you look around you can see powerful glaciers and the main peak of It-Tash with a height of 4808 m.
Juuku Valley is one of the few places on the shore of Lake Issyk Kul, famous for its thermal springs. In the hot springs of Juuku flows water enriched with radon.The water temperature is 34°C. Radon baths are just in the open air, allowing you to spend time with health benefits and enjoy the surrounding scenery.

Hot springs are available.
4) Off-Road Tour to Djety-Oguz gorge - 1 DAY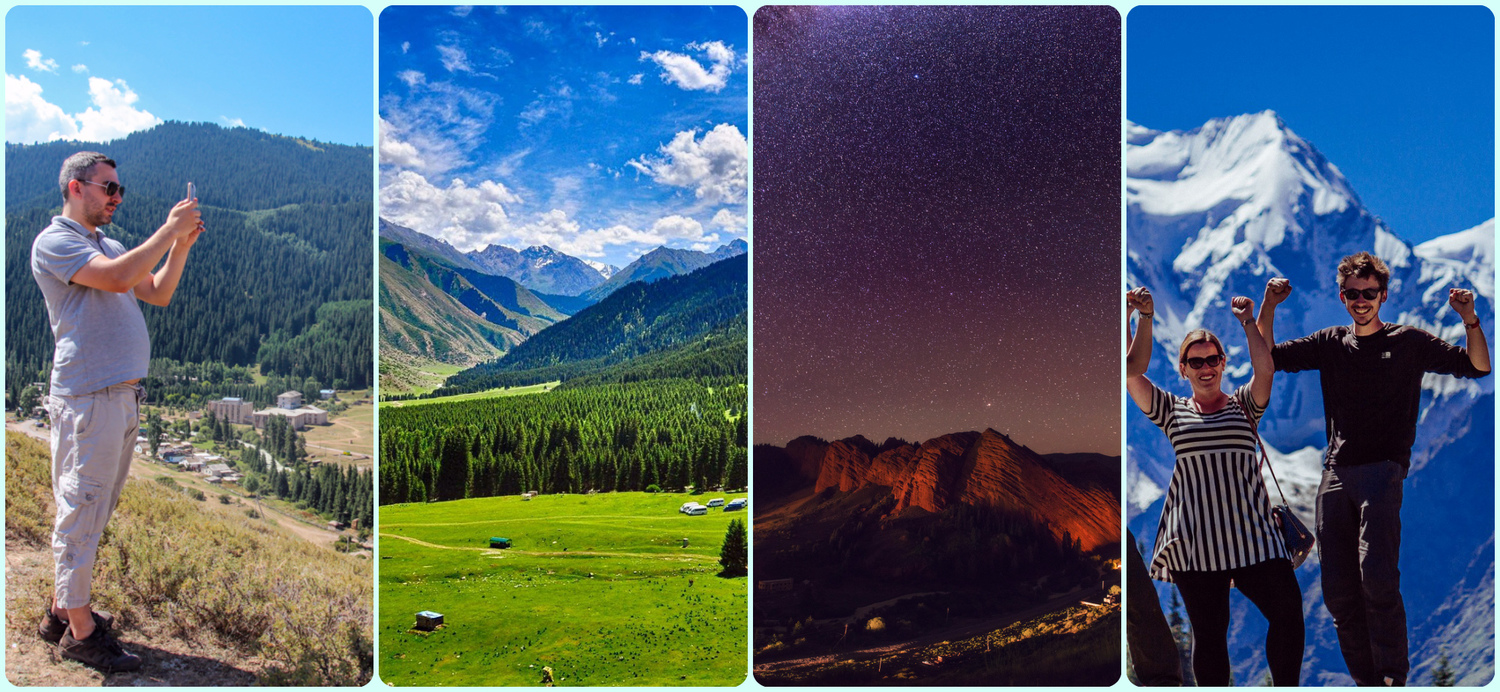 Djety-Oguz in kyrgyz language means "Seven Bulls" - this is how people name of one of the most beautiful places of the Tien Shan, located in the southeast of the Issyk-Kul basin. The mountain valley, which was formed by the river of the same name, descends to Issyk-Kul from the northern slopes of the Terskey Ala-Too ridge, rounds a well-known resort located at the entrance to the valley. On the way there, we will visit main local attractions such as Broken Heart, Seven bulls, we will have a walk in Djety-Oguz Canyon, which looks like a small version of Grand Canyon. If we go higher, there are Kok-Jayik valley and waterfall Lady's plat. It is a very beautiful and popular place.
After that, you may drive by gorge up to last bridge where you could see beautiful Peak Yeltcin 5168m (1st President of Russia), its previous name was Oguz-Bashy (Head of Bull).
5) Off-Road tour to Sary-Jaz valley (Border Zone) - 1-2 DAYS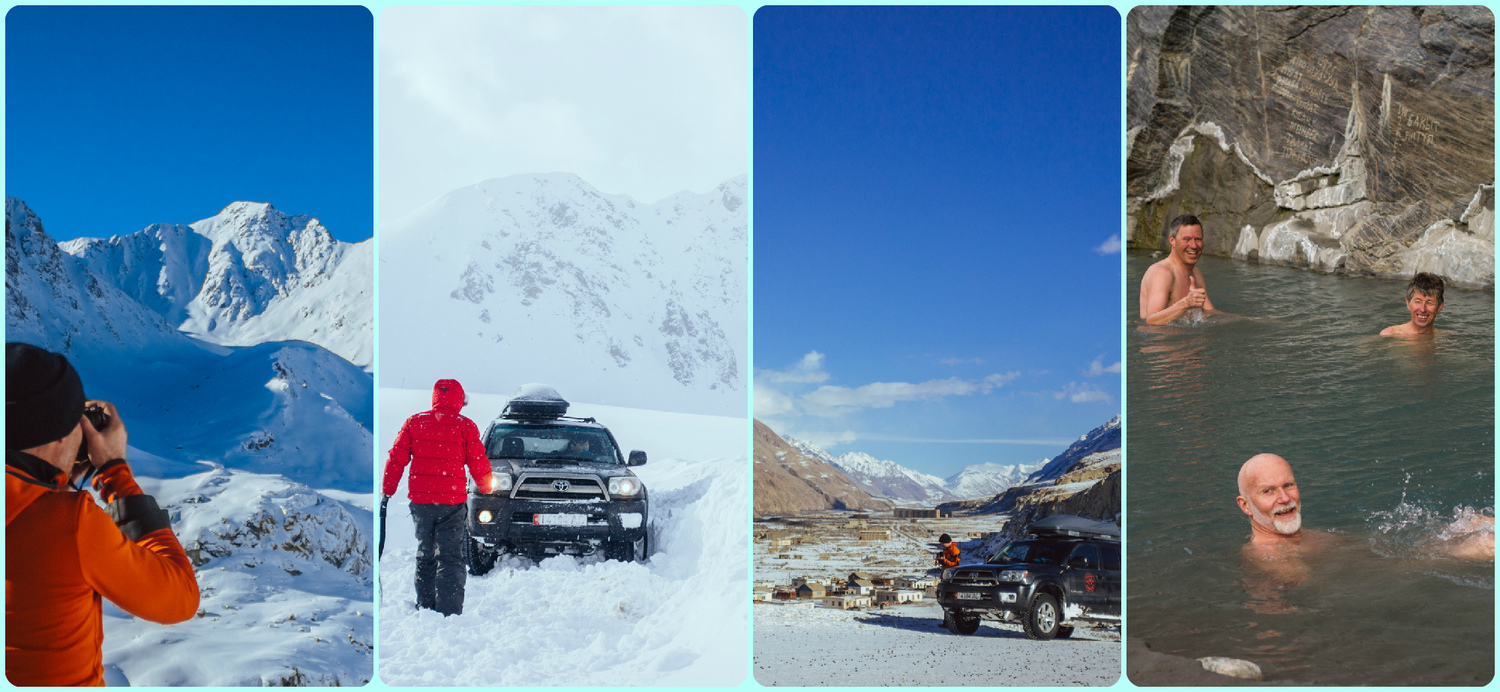 Sary-Jaz - is a unique place where you can fully retire and escape from bustle, in an embrace of beauty, tranquility and majesty of the valleys and mountain ranges. On the way there, you will see

Engilchek (Inylchek) which is considered to be a lost city and attracts many tourists by its mystery, located 150 km away from Karakol and close to border with China.

The Engilchek Glacier is about 50 km to the east from the town. This is a region rich with deposits of minerals — tungsten, tin, molybdenum and other metals, mining started here in the beginning of 1980. During Soviet Union times all the youth from soviet countries used to arrive there and were planning to settle down and to get employed there. However, after the collapse of the Soviet Union, life in the city began to fade away due to the unemployment. Nowadays population consists of 30 families. You can see many abandoned blocks of flats, houses, school, hospital, playgrounds and many other buildings, even a runway and airfield here.
Also you will see Kara-Tash hot springs with hot radon water, which flows under high black rock. The width of the spring is 4 meters, the length is about 50 meters and the depth is about 1.7-2 meters. The water temperature is about 55C degrees.
Note: This is already border area, it is necessary to take out
permits
in order to enter. Therefore, this tour must be booked in advance.
6) Rest in health resorts on north shore of Issyk-Kul lake - 2-3 DAYS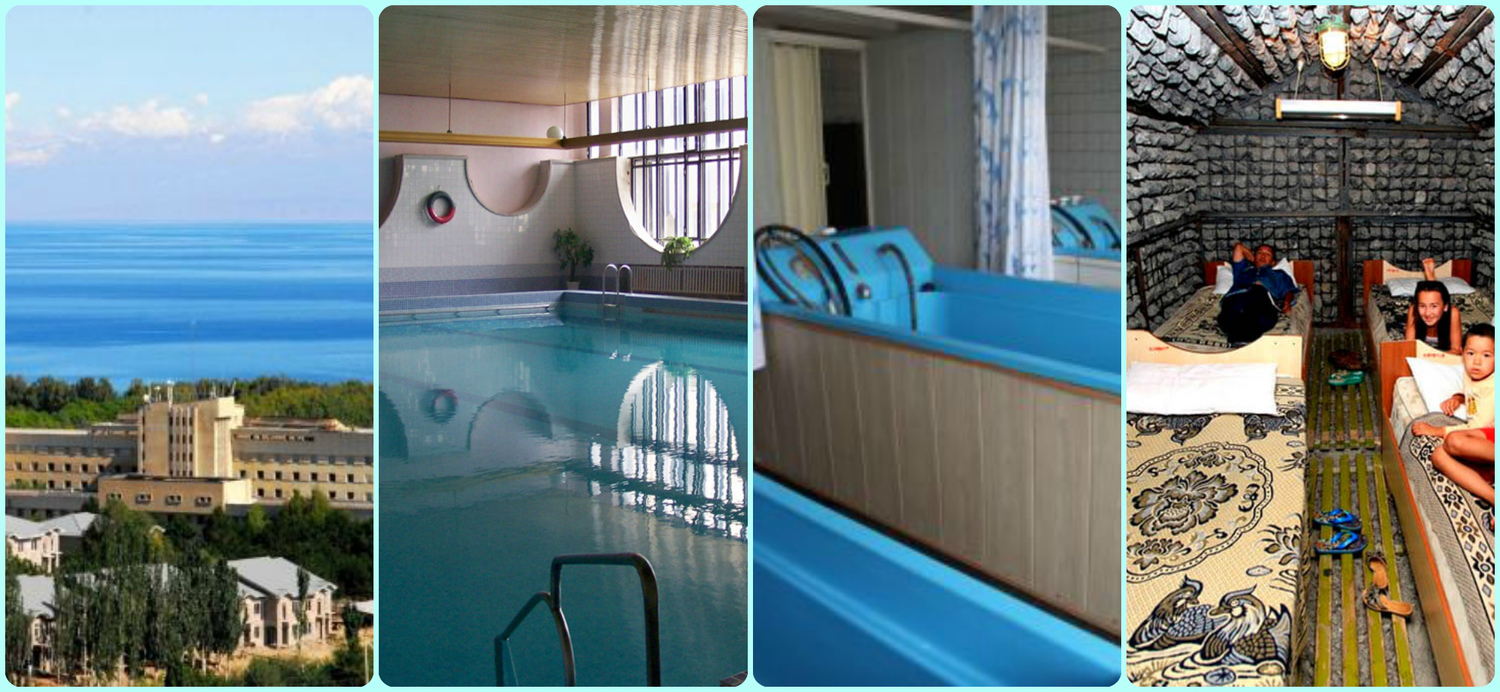 The sanatorium is a place for treatment and recreation, where people can improve their health and learn how to manage their way of life. An extensive selection of medical procedures and programs, as well as nature walks and healthy meals, activate the body, enlighten and expand consciousness, the accompanying cultural program raises their emotional spirit. All this happens in a special atmosphere of the sanatorium, where guests are freed from the hustle and bustle of everyday life and where an atmosphere of harmony and freedom is created. All the surrounding space, architecture, soft and delicate colors of interiors and materials - all have a therapeutic effect.




Concact us if you want to get more information or you want to order the tour.




E-mail.: info@visitkarakol.com