Visit Karakol

,

Kyrgyzstan

,

Karakol

,

Gagarina st.

,

28/26

,

722200


Challenging Conquest of Tian-Shan Mountains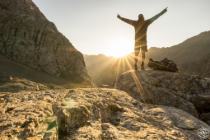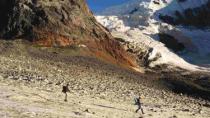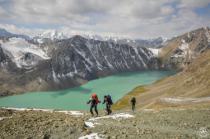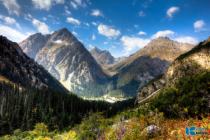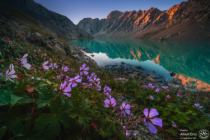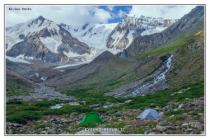 This unique program is our new tour with coustom itinerary. It is considered as a difficult trip because we combined with trekking, climbing and biking activites around Tien-Shan mountains.

Here

you can read feedback of Henrik and his friends. They were the first group who have gone this route.
Day 1: Bishkek – Karakol Meeting at airport and transfer to Karakol.
Dinner and accommodation in Green Yard hotel.
Day 2: Karakol - Irdyk valley - Karakol
This day we will do hiking day trip to Irdyk valley. It is great place for acclimatization before trekking. We will walk through forests and green valley. Our hiking destination will bring us to Djety-Oguz valley where we will seen famous seven bulls. Car will pick us up to Karakol.
Day 3: Karakol - Sirota hut (overnight in local camp), 15km, + 900m
Meeting with trekking team. We will start trekking from beggining of Karakol valley to have more time to walk.
Day 4: Sirota hut - Ala-Kul lake - Keldike gorge, 10km, + 900m, - 450m
We continue hiking to Ala-Kul lake (3533m). Ascent from Sirota hut to the lake takes approximately 2-3 hours. The lake is 2.3 km wide and 700 meters across, frozen from October to May and and surrounded by peaks and glaciers, you will have an amazing view of Terskey Ala-Too mountain peaks chain. The descent from the pass by the rocky path to the lake and continue along the coast to the waterfall, flowing from the lake. Dinner and camping in Keldike gorge.
Day 5: Keldike gorge - connection of rivers Aksu and Iyri-Tor, 15km, -700m, + 300m
Overnight in tents, taking wild hot springs in Takyr-Tor valley. Half of the day will be on touristic route)
Day 6: Connection of rivers Aksu and iyri-Tor - bottom of summing Ak-Suu wall, 8km, 4 hours.
Walking deeper to Iiri-Suu valley, crossing the few rivers and setting the camp under Ak-Suu wall mountain. We can walk in neighbor gorge, if you want to walk more that day. (overnight in tents). No tourists
Day 7: Ak-Suu wall - Sary-Chat valley, 
15km, +600m, - 700m.
Climbing to Hatiga pass using climbing gear and further crossing the glacier and descent to Sary-Chat valley, (overnight in tents). No tourists on the way.
Day 8: Sary-Chat valley - Koiluu valley (7km, - 400m)
Meeting with shepherds and having lunch together, meeting with MTB and bike further by Koiluu valley (26km, -300m). Dinner in shepherds family (overnight in tents or shepherds house). No tourists
Day 9: Koiluu valley - Echkilitash, 
80km, +-700m
Biking to Echkilitash check point by the shore of Sary-Jaz river and enjoying with the view of Enylchek range.
Sary-Jaz area is part of Khan-Tengri National park. It is the largest national park in Kyrgyzstan for the protection of rare and endangered species of flora and fauna, primarily to preserve the snow leopard population.
Day 10: Echkilitash - Cholpon-Ata
After breakfast we will continue our final bike trip to Karkyra valley through Turuk pass. After pass we will mostly will do downhill. In Karkyra valley we will have a lunch and then car will pick us up to Cholpon-Ata city which is located on North side of Issyk-Kul lake.
Day 11: Karkyra valley - Bishkek 
We will do short city tour in Bishkek and festive dinner in Supara restaurant.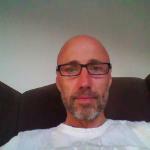 We did all 7 days in tent, Yurt and homestay. For 11 men we had 11 porters, 2 guides and 2 cooks. We were very statisfied with the organisation of the tour...
Distance:
Total 1034km (Walking/hiking/biking part 204km)
Route:
Bishkek - Karakol - Sirota - Keldike valley - Aksu river - Aksuu wall - Sary-Chat valley - Koiluu valley - Echkili-Tash - Cholpon-Ata - Bishkek
Highest point:
pass between Ala-Kul lake and Keldike valley 3860m
Area
: Issyk-kul region, Terskey Ala-Too mountains range
Connection:
No signal connection
Level of difficulty:
This trek is very difficult. It is oriented for people with good health and physical fitness, because the route consists of long passages over rough terrain, include parlty climbing activity.