Visit Karakol

,

Kyrgyzstan

,

Karakol

,

Gagarina st.

,

28/26

,

722200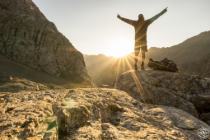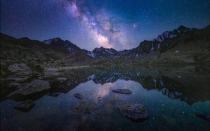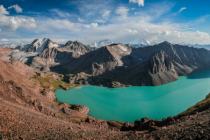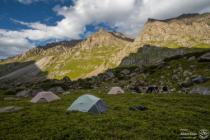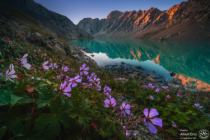 1 Day
:
Karakol – Djety-Oguz – Telety pass, 7km, +500m
Meeting at hotel and driving to the beginning of Telety pass in Djety-Oguz valley. You will get to the beginning of hiking through some villages. You will see local life, houses and buildings through the car window. The last village on the way is Djety-Oguz (means Seven Bulls on kyrgyz language). It is famous for its unusually bright, red sandstone rock formations, some of the most popular rocks are Seven Bulls and Broken Heart. Driving further through green forests up to the mountains. Start our trek at the feet of Telety pass upon arriving. Tent camp on altitude 2800 in front of Muz-Too Rocks.
2 Day
:
Telety pass – Alp camp, 12km, +700m, -1200m
We are moving to Karakol valley today and starting with climbing to Telety Pass (3800m). There are two steep ascents at the beginning of this pass, but you will enjoy the view on the top. Descent to Telety-East valley until the first convenient place to have a lunch. After lunch it is a descent to Karakol Valley to Alp Camp, located on altitude 2500m.
Encampment in tents or yurt.
3 Day
:
Alp Camp – Ala-Kul lake – Keldike valley, 9km, +1200m, - 300m
We are starting our climbing to Ala-kul lake (3533m). You will be amazed by this extraordinary lake. Ala-Kul lake is a rock-dammed and hidden treasure between lofty Terskey Ala Too Mountains. It is located at an altitude of approximately 3533 meters. In addition, you will be able to see the glacier where this lake begins. Ascending this pass you will also have an opportunity to enjoy inexpressible view of mountain summits, such as Djigit, Karakol and Tashtanbek peaks. Climbing to Ala-Kul peak (3800 m) and descending to Keldike valley.
4 Day
:
Keldike valley – Altyn-Arashan, 11km, -1100m
Our next point is Altyn-Arashan valley. Extremely picturesque views of Altyn-Arashan attract large number of tourists. You will meet foreigners from around the world. Some of them visit that place for a day, but some of them stay there a week or more, enjoying the peace and beauty of this valley. Altyn-Arashan resort is famous for hot springs. There are 8-9 pools with radon water of different temperatures. Some of them were built in the open air and near the river. They are on a distance from each other. So, you can arrange a romantic night for your couple.
Dinner and accommodation in guesthouse or yurt.
5 Day
:
Altyn Arashan valley – Almallu river, 11.5 km, +1100m
Descending from Ala-Kul lake to Altyn Arashan valley or coming from Karakol city on a car or on foot, which is covered by lots of flowers and surrounded by forest. You will be able to see 5020m ice glacier, which was formed in a form of a tent, and called peak Palatka. Then you will start easy hiking in the valley, where you will be able to take a photos of horses, goats and shepherds. You will start climbing in the middle of a day to Ortok pass at 3780 meters, then descending to Ak-Suu Almallu river for a night.
6 Day
:
Ak-Suu Almallu river - Jergez valley, 11km, +910m, - 500m
Starting your day in Almallu valley, which is full of rocks and bushes, you are going up to Ailanysh Pass 3670m. Passing the Ailanysh pass, you will get down to Jergez valley at an altitude of 2400 meters.
7 Day: Jergez valley - Boz-Uchuk lakes, 10km, + - 600m
Crossing a 3524m pass, you will get to Boz Uchuk lakes. Not small lakes are surrounded by rocks and hills. We will set our camp on the shore of the lakes and it is great possibility for sunset and sunrise shots.
8 Day
:
Boz Uchuk lakes – Boz uchuk valley, 15 km, – 1300m.
Descending in the last day is a pretty easy hike. It takes a full day to get back to not wild life. You will hike a first part of a day, then our team will take you on a car to the Karakol city.
Distance:
Total 140km (Walking part 88km)
Route:
Djety-Oguz valley - Telety Passover - Peak Karakol 5280 m - Ala-Kul lake - Keldike valley - Altyn Arashan valley - Karakol 
Highest point:
pass between Ala-Kul lake and Keldike valley 3860m
Area
: Issyk-kul region, Terskey Ala-Too mountains range
Connection:
No signal connection
Level of difficulty:
This track is oriented for people with good health and training, because the route consists of long passages over rough terrain, sharp fluctuations in temperature and ascents to a height of 3860 meters above sea level.