Visit Karakol

,

Kyrgyzstan

,

Karakol

,

Gagarina st.

,

28/26

,

722200


Trekking to Celestrial Mountains 2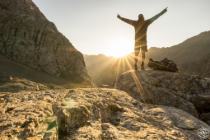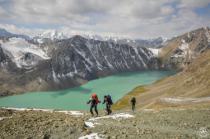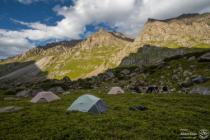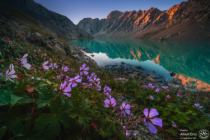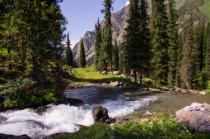 Day 1: Karakol – Djety-Oguz – Telety pass, 10km, +600m, 4-5 hours of trekking
Meeting at hotel and drive to beggining of Telety pass in Djety-Oguz valley. Djety-Oguz (means Seven Bulls) is famous for its unusually bright, red sandstone rock formations, on of the most popular rocks are Seven Bulls and Broken Heart. Start our trek to the feet of Telety pass upon arriving. Tent camp on altitude 2800 infront of MuzToo Rocks.
Day 2: Telety pass – On-Tor gorge, 12km, +700m, 7-8 hours of trekking 
Climbing to Telety pass (3800m). There are two steep ascents at the beginning of this pass, but you will be amazed by the view. Descent from the pass to Telety - East valley until the first convenient place to have lunch. After lunch coming down to Karakol valley. Camping (2500 m) at the conflux of Telety East and Karakol valley. Dinner and camping in tents.
Day 3: On-Tor gorge – Peak Karakol, 18km, +700m, 8-9 hours of trekking 
We will go to radial trekking deeper to Karakol Peak 5216m by On-Tor gorge. Enjoying with scenic views, taking pictures and returning back to camp. Dinner and camp in tents.
Day 4: On-Tor gorge – Sirota hut, 8km, -400m/+500m, 5-6 hours of trekking 
We start climbing to the next camp named Sirota hut. Serebryannikov Valeriy Nikolaevich, famous guide, instructor and alpinist, founded this place. This place suits for camping. 
Day 5: Sirota hut – Ala-Kul lake – Keldike valley, 10km, +1000m, 5-6 hours of trekking 
We start climbing to Ala-Kul lake (3533m). Average time of climbing from Sirota hut is 3 hours. The Ala-Kul is 2.3 km wide and 700 metres across, a rock-dammed lake in the Terskey Alatau mountain range. It lies at an altitude of approximately 3533 meters. After rest and lunch, we continue our a bit complicated climbing to Ala-kul Passover (3860m), where you will have an inexpressible view of summit of the mountains of Terskey Ala Too. The descent from the pass by the rocky path to the lake and continue along the coast to the waterfall, flowing from the lake. Dinner and camping in Keldike gorge (3200m).
Day 6: Keldike valley – Altyn-Arashan, 11km, -1100m, 3-4 hours of trekking 
Next point is Altyn-Arashan valley. Picturesque views of Altyn-Arashan attract large number of tourists. Altyn-Arashan resort is famous for hot springs. You will take a bath in the pool with radon water. Dinner and accommodation in guesthouse or yurt.
Day 7: Altyn-Arashan - Karakol, 10km, -450m, 3-4 hours of trekking
After the breakfast hot wild morning springs are waiting for you. Walking to "Lastochkino gnezdo" (swallow's nest), Queen Frog and heart shape bathes. Walking down by Altyn-Arashan gorge to Aksu village. Close to noon car will pick you up and bring to hotel in Karakol. End of the service. 
"Highly recommend Visit Karakol! Have been recommending them to friends (& strangers) over the past few months! Ibraim helped us to plan for a 8d7n trek that brought us through gorgeous mountains & valleys (slight variation of the Celestial Mountains trek), and at the same time was not overly challenging for my dad. We thoroughly enjoyed our stay because of them, and are looking forward to visiting them & visiting Kyrgyzstan again one day!"
Distance:
Total 140km (Walking part 88km)
Route:
Djety-Oguz valley - Telety Passover - Peak Karakol 5280 m - Ala-Kul lake - Keldike valley - Altyn Arashan valley - Karakol 
Highest point:
pass between Ala-Kul lake and Keldike valley 3860m
Area
: Issyk-kul region, Terskey Ala-Too mountains range
Connection:
No signal connection
Level of difficulty:
This track is oriented for people with good health and training, because the route consists of long passages over rough terrain, sharp fluctuations in temperature and ascents to a height of 3860 meters above sea level.