Visit Karakol

,

Kyrgyzstan

,

Karakol

,

Gagarina st.

,

28/26

,

722200


CLIMBING TOUR TO PEAK PALATKA -

4770m
Palatka mean Tent due to summit looks like a tent. This Summit one of the highest point in Teskey Ala-Too ridge and seems quite close from Altyn-Arashan resort, ice falls on its north wall attract the eyes of climbers. The north wall is complex and is available only for experienced climbers, but our guides, developed a route that allows beginners to climb to the top. 
Day 1 – Karakol - Sary-Chat valley, 7km + 300m
We are going to remote area of

Sary-Jaz valley

to Koilu valley, where from we will start our climbing. We need to make a

permits

beforehand to get to this area. Places here very wild and except military guys we will meet with few shepherds on our way and that's it. However high chance that we will see wild animals as Marco Polo sheep, ibex or who knows maybe even Snow Leopard. We will drive around 4 hours and about same time of trek. Trek starting from altitude 3000m.
Day 2 - Sary-Chat valley - Glacier of Peak Palatka, 10km, +1000m
Continue trek by Sary-Chat valley, we will see three beautiful waterfalls and absolutely amazing wide and wild valley. We will cross few times river and blurred riverbeds on the way. Climbing on glacier to saddle of Peak Palatka and set camp on the glacier 4300m.
Day 3 - Storming the mountain,
We are storming the mountain early morning. Great views around on altitude 4770m to different mountain ranges and summits will take your breath away. Group pictures and descending down to camp to collect it and descent down from Hatiga pass to green campsite infront of summit Ak-Suu wall.
Day 4 - Ak-Suu Wall - Altyn-Arashan, 15km, - 800m
Descending down to

Altyn-Arashan

valley. Hot springs and cold beer will be your reward for your efforts. We will meet some tourists here and you will get back slowly to civilization, you will sleep today in yurt or guesthouse.
Day 5 - Altyn-Arashan - Karakol, 13km, - 600m
Walking down by Altyn-Arashan gorge to Aksu village. Close to noon car will pick you up and bring you to place of your stay in Karakol. We say goodbye to each other, exchange photos and video materials from your unforgettable climbing trip.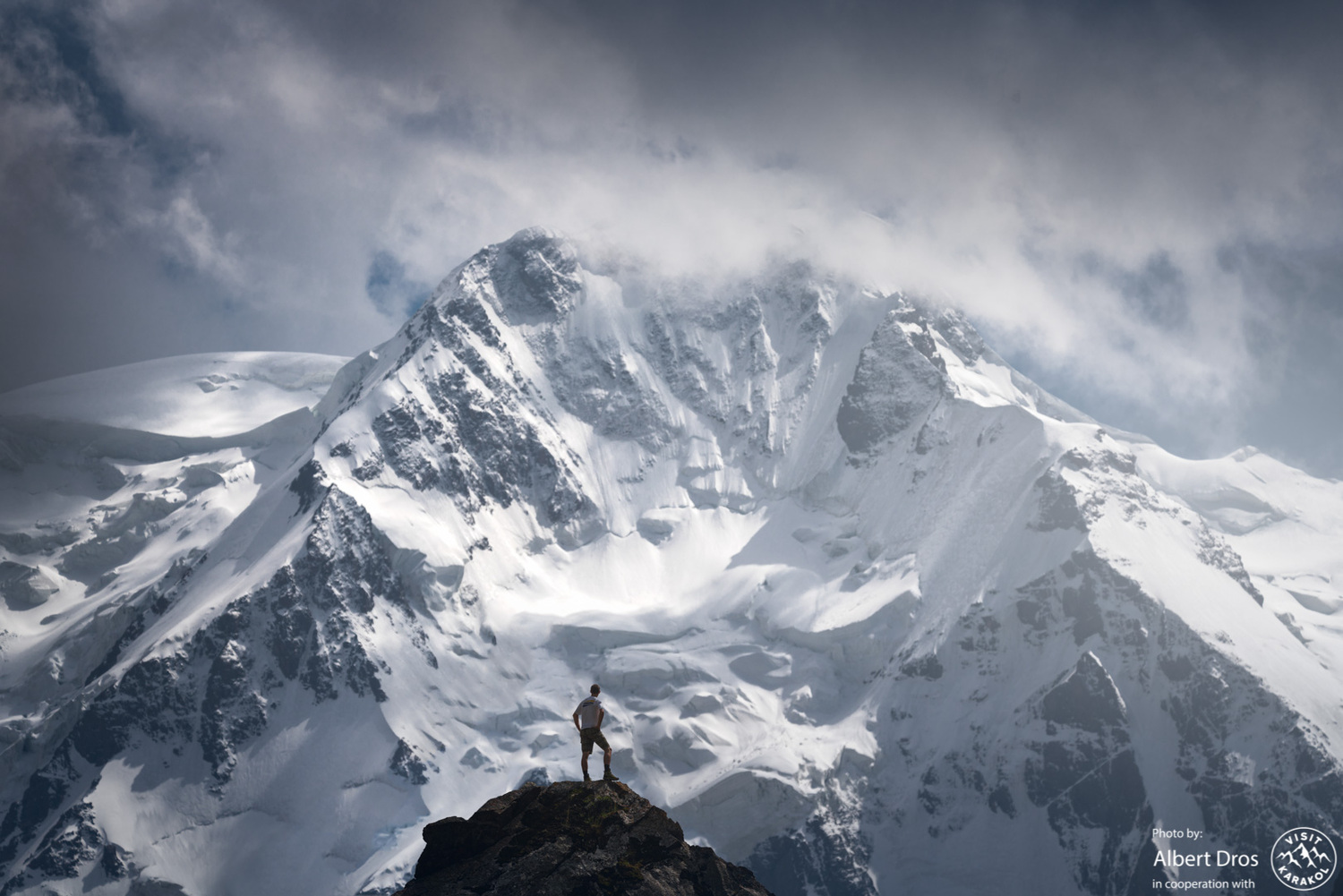 Timur and the Visit Karakol team organised an eleven day expedition for us, culminating in climbing Peak Palatka. The organisation and communication were excellent, and the guides and porters hard working and good company (think singing round bonfires and sharing a few shots of vodka!). Timur found an experienced mountain guide for the summit climb itself, which was important as the peak was pretty demanding (not really for beginners, so it was good we had a bit of experience). I would certainly use Visit Karakol again - Timur did everything he did to ensure our trip was successful, down to accompanying us up Palatka and magically some whisky to celebrate our achievement! Thanks again to him and the whole team.
Duration:
5 days, + 1-2 extra day(s) in case of bad weather.
Category of difficulty:
3A 
Period:
from July - September (also depend from precipitation amount)
Highest point:
peak Palatka 4770m
Area
: Issyk-kul region, Terskey Ala-Too mountains range
Connection:
No signal connection
Climbers should have their own equipment and staff for climbing. Possibility to rent all the necessary equipment. 
This trip passes at altitude of 2,000 to 4770 meters, in the area of glaciers. In case of good weather temperature rises up to + 30C during day time, and may fall to -10C at night. Sometimes it snows, snows with rain and biting wind. The weather is unstable in the mountains. The weather may change quickly several times a day. Protracted rains are possible. That's why sleeping bag shouldn't be less than "medium" class, with comfortable conditions up to -10C. Also must have: windbreaker, water-repellent, thermal underwear, fleece sweater, mountain shoes suitable for crampons, spare shoes sandals ( it is possible cross the river ford), sunglasses, cap, gloves, flashlight, headlight, supergaiters, rainwear.