---
Winter in Kyrgyzstan. It is not the most popular time to visit this Central Asia country, but we didn't really have a choice. We are cycling from the UK to New Zealand and after leaving Europe in mid-summer we then found ourselves travelling through Kyrgyzstan in December and January. It's not as bad as it sounds, I promise. We had a month off in Bishkek over Christmas, so we decided to hop on a bus east towards to Karakol for a few days.
We had done a bit of research about Karakol and the surrounding area and seen some beautiful photos but hardly any information of what to do in winter. We arrivied in Karakol with our new friend from Karakol and he informed us of a trek we could do over 2 days in Altyn Arashan (Arashan valley). We were also informed of numerous geothermally heated hot springs along the way, some of which were free to use (if you can find them).
With our plans made we woke up early to get the bus to the start of the Altyn Arashan trek. The valley is only a 20-minute bus ride east from Karakol town centre and costed less than $1 for the 2 of us. We were dropped off at the end of a snowy road and started hiking up along the river. There was about 20 cm of snow, but the path was easy to follow and very well signposted. It would be hard to get lost too as the valley is so narrow there is only one direction to go.

I found myself a walking stick.
The hike was beautiful and during the 5 hours up to the valley plateau where the guest houses were, we only passed 1 other hiker! The temperature was cold (around -2) but because the path has a gradual climb, we were warm enough in our coats. The path also follows the Arashan river almost the whole way so you can fill up your drinking bottles whenever you need. Near the plateau, the snow started getting a lot deeper and our cheap boots from Uzbekistan were starting to show their worth as our feet were beginning to get wet and cold, we arrived at the guesthouse at the right time. There are quite a few guesthouses and yurt camps near the top of the valley but all of them were closed at this time of year. Luckily for us, one was open and when we arrived, we were greeted by a wonderfully friendly man whose name I cannot remember (Kyrgyz names are difficult to pronounce and remember for us English). Being the only guests, we were treated like royalty with unlimited tea and coffee and a delicious dinner. The guesthouse also has several geothermal springs inside huts which we were welcome to use.
The springs were the perfect temperature (around 40 °C) and just what we needed after the cold 5 hour trek through the snow. We stayed in there for several hours swapping back and forth between the hot spring and the super hot spring which was actually, a little bit too hot for us! We also attempted to lay down in the snow between bathes, but this didn't last very long before we needed to run back into the springs to escape the cold. The best part about this whole experience was that we were the ONLY people in the entire valley apart from the guesthouse owner and his friend.
We slept in 2 very warm beds that night next to the heat from the fire (where we also dried out our socks and boots) and woke up early to an amazing sunrise in the valley exasperated by the white snow and pine trees surrounding us. We left the guesthouse and our friendly host in search of another hot spring a few kms off the main path. It was hard to find due to the deep snow, but after half an hour of searching, we found it and got straight in to warm our feet and hands. This spring wasn't as hot but as the ones at the guesthouse, but still pleasant. The perfect thing to warm yourself after hiking in the snow.

This hot spring was pretty well hidden, but we found it in the end!
The hike back down the valley was stunning with views through the valley of the snow-capped North Tien Shan mountains. We walked passed several friendly lumber jacks chopping down trees for wood and loading up their old soviet trucks with huge amounts of timber. We also passed several locals on horseback who must have been wondering what on earth we were doing there in winter.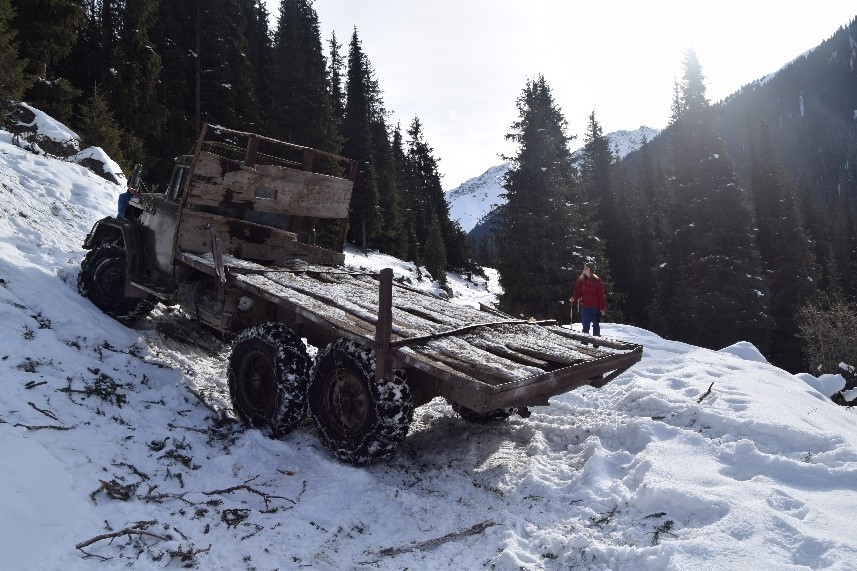 An old truck used to transport timber.
We arrived back at the road and easily found a bus back to Karakol and to the Lighthouse café where we sat for a few hours warming ourselves with some nice food and coffee. What an amazing few days. We were basically the only people in the valley and had the hot springs all to ourselves! Most people come to Karakol in winter to go skiing but there are also so many other things to experience, even in a short weekend like us. We would love to come back in summer and explore the mountains around Karakol further, but that will have to wait until a future trip.