---
The town of Karakol offers a little something for everyone from historical sites and markets to food and cultural tours. Most visitors that head to Karakol however, will usually embark on day or multi-day treks to explore the surrounding natural sights.
On these treks, you'll be able to discover gorgeous mountain scenery with snowy peaks along with spectacular views of waterfalls, lakes, glaciers and more. Beginner hikes can opt for day treks that will allow you to immerse yourself in both nature and adventure for a day. More experienced hikers on the other hand, can opt for more difficult hikes that will involve traversing through a range of terrain. Either way, Karakol is still an untapped market, and there's plenty of hiking trails to explore in this vast landscape.


To get you started, we've curated some of the best and most beautiful trekking adventures for you to embark on in Karakol. Here you can read additionaly :
The Best Gear, Equipment and National Parks in 2020
Peak Karakol 5218m

Photo by @arpandas_photography_adventure
This is an incredibly popular hike, and can range in difficulty depending on the route that you choose to go. If you're heading for Karakol Base Camp, you may not even need to bring your own tents and bags as it's provided. On the other hand, you can opt to hike up to Peak Karakol, and explore the area there instead.
As you trek towards Peak Karakol, it's not too difficult of a hike. At one point during the hike after you've come over a rise, you may catch a glimpse of Peak Karakol. While it may seem relatively close by however, you'll still be about two-hours away from the end of the trek. The good news however is that you've reached this far, there isn't that much more of an elevation gain, and you'll be going through areas that are flat and grassy. As you approach the base of Peak Karakol, don't forget to explore the Ontor glacier to find a wide variety of plants, minerals, and even glacial formations.
Peak Palatka 4730m

Photo by Sebastian Muller
If you're attempting to hike Peak Palatka, it's important to note that this hike requires a higher than average fitness level in order to achieve the summit. You'll be facing some very challenging conditions, and the terrain isn't easy to traverse. Once you get to the peak however, you'll be handsomely rewarded with 360 degree views of the surrounding Tian Shan Mountain range.
'Palatka' essentially means tent in Russian, and the twin peaks are named as such because of its beautiful symmetrical shape that resembles the old Soviet tents that were used in the region. While Peak Palatka is recommended for experienced climbers – especially if the north wall route is used, there are some routes that can allow beginners to climb to the top. One such route includes climbing over the pass Hatiga to get to the top of Peak Palatka. The route then takes you down to Atlyn-Arashan hot springs before ending off at Aksu village.
Ak-Suu Traverse Trekking Route

Photo by @the_crowded_planet
This multi-day hike will take you through some of the most varied and colourful landscape in the Ak-Suu trekking corridor. Some of the scenery that you will encounter includes alpine gorges, rock walls, lakes, and red rock canyons. You'll have to be prepared however, as this isn't an easy hike. The hike itself can usually take about nine days, and you'll be facing some steep climbs and descents at high elevations along with short treks across valley bottoms on exposed rock. Hence, you should be wearing the right clothes, and have some sturdy boots on hand. The toughest climb that you'll encounter on this route will most likely be a steep and unstable slope which would take you up to 3,800 metres. There, you'll get to soak in the views of several peaks including a massive glacier, and the emerald green lake of Ala-Kol.
Inylchek Glacier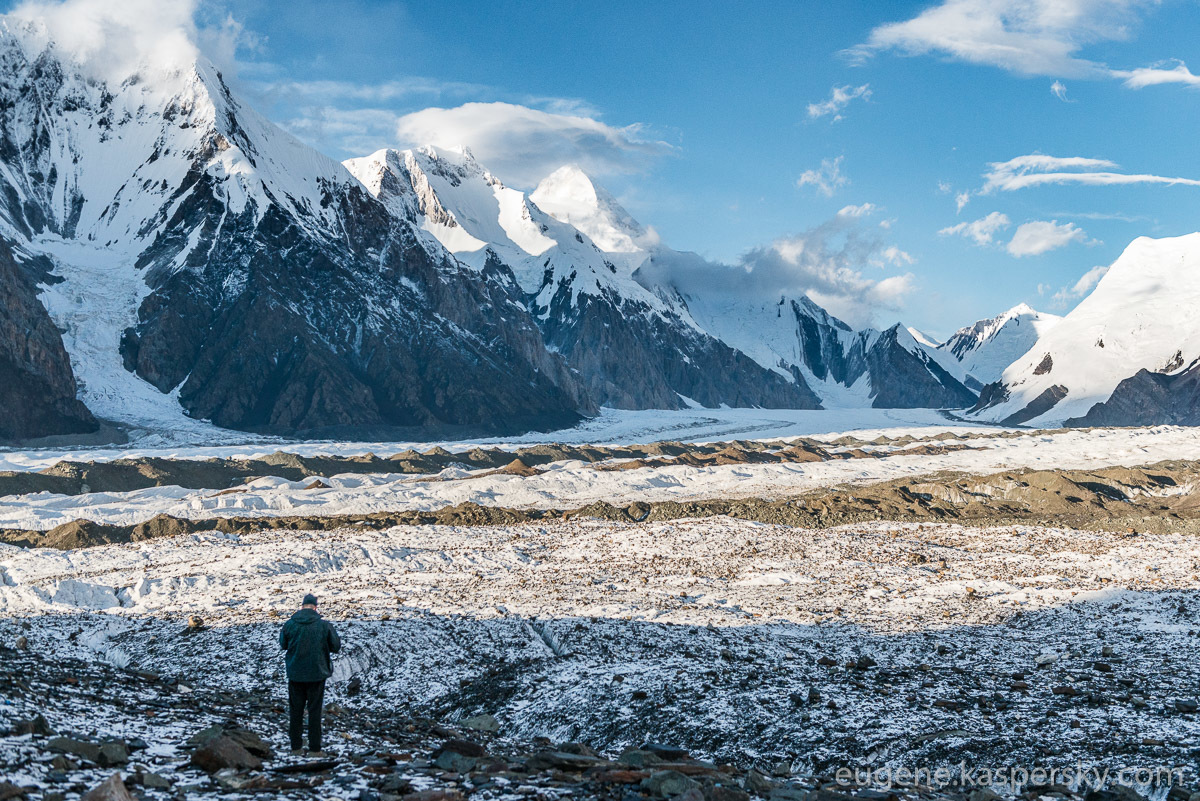 Photo by Eugene Kaspersky
There are a couple of different routes when it comes to the Inylchek Glacier, and what's special about this trek is that the route changes every year. With geological forces at play every year, it alters the route taken. In previous years, the route might take you high above the river. More recently however, a lower route has opened up as well.
If you'd like to trek all the way to the heart of Tian Shan, there are two different routes to do it. One way is via Tyuz pass – where you'll be rewarded with spectactular views of the Inylchek glacier, the valley of Inylchek River, and Inylchek-Too range. Alternatively, there's another route that's via At-Jailoo. On this route, you'll actually cross the Inylchek River to the beginning of the glacier, and continue to trek on a variety of terrains with different degrees of steepness along a narrow trail. The Inylchek Glacier itself is the largest glacier of Central Tian Shan and extends up to 62km in length.
Chelpek and Irdyk Valleys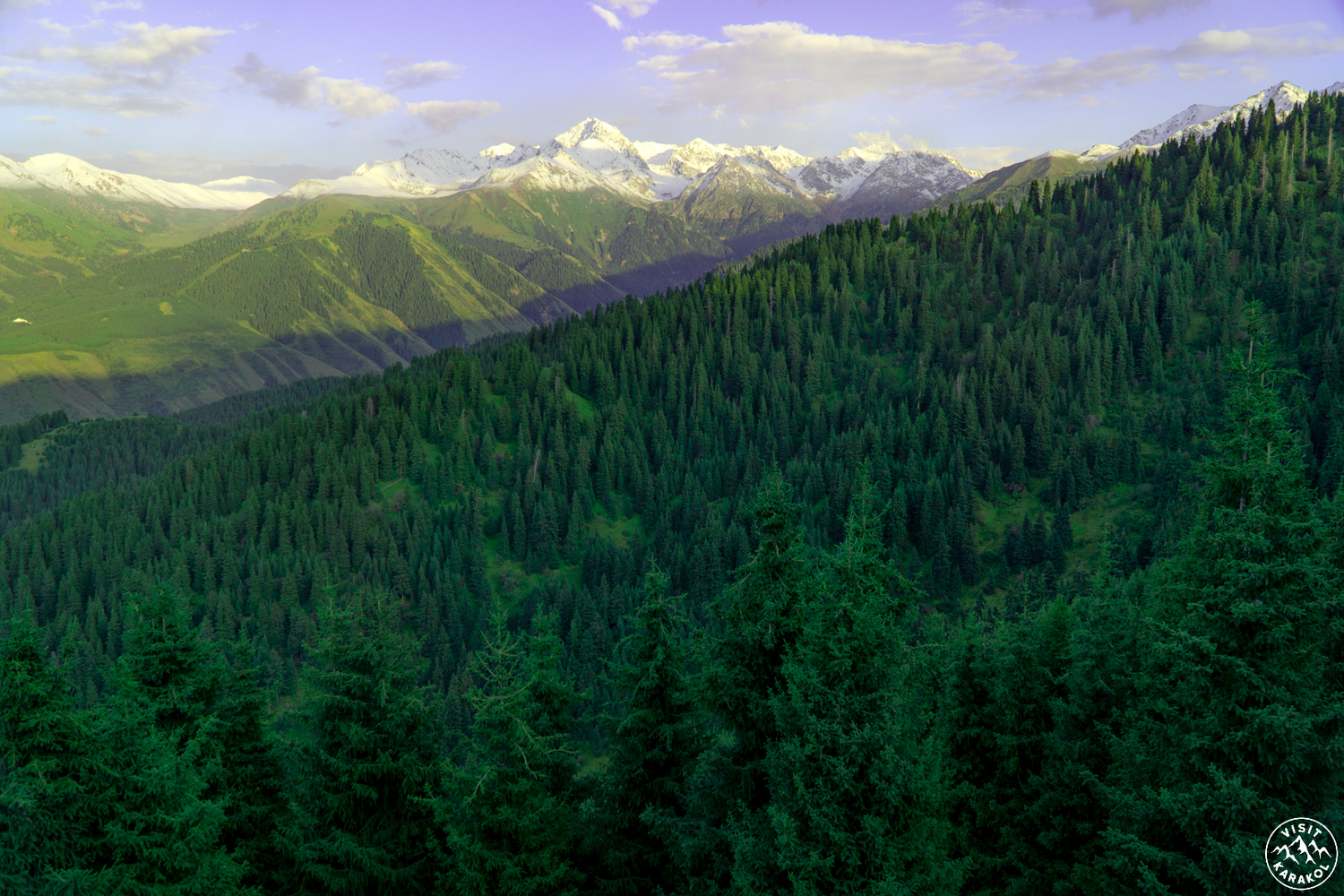 Photo by @ibraim_almazbekov
This hike is a relatively easy hike in comparison to the other ones. Spanning over three days, you'll start off at the Djety-Oguz valley where you'll get to have a glimpse of the famous Djety-Oguz rocks. Thereafter, you'll begin to trek through beautiful valleys and forests before reaching Irdyk Valley. After soaking in the sights, you're off to the Chekpek Valley where you'll be sleeping 3,000 metres above sea level with panoramic views from the Issyk-Kul region all the way to Karakol city. Wake up early in the morning and you'll even get to catch the sunrise – a truly unforgettable experience.


Conclusion
There are plenty of gorgeous hikes to explore in Karakol, and the best part is you won't even need to bring any camping and trekking gear with you as they can be easily rented in Karakol. This includes sleeping bags, tents, and even cooking equipment. If you're visiting Karakol, why not also visit the capital of Krygzstan – Bishkek. Either than being a gateway to mountains and Ala Archa National Park, it's also the centrepiece of the city's art scene. You can also stay in one of these

lovely vacation rentals in Bishkek, Kyrgyzstan – the perfect way to end your vacation.