---
Creed Garnick first discovered the exotic sport four years ago in Kyrgyzstan while teaching American rodeo games in the Central Asian country. Played with a freshly slaughtered, decapitated goat, the object of kok-boru is to drag and lift the roughly 70-pound carcass into a "taikazan," a circular goal that looks like a shallow well, more times than your opponent. Competitors do this atop a horse while getting wrestled and rammed by their opponents and their horses.
"It's like rugby on horses," Garnick, a former competitive bull rider, said of the game (pronounced coke-bah-RU).
Never did he imagine that he would captain the first United States team to compete in Kyrgyzstan at the World Nomad Games, a burgeoning international display of ethnic sports popular in Central Asia, such as salburun, which combines falconry and mounted archery, and er ernish, a game somewhat like wrestling on horseback. Even though he was raised riding horses in Wyoming, Garnick is a 28-year-old Juilliard graduate who now makes his living as an actor. He spends time on New York City stages as well as the ranch these days, and he certainly isn't typically playing sports involving decapitated goats.
But in August, World Nomad Games officials reached out to Garnick to pull together an American team for its second installment. (The invite arrived via Vista 360, a U.S.-based non-profit that works in the country. The travel would be paid for by a State Department grant, along with a small stipend and per diem.) The Games were set to kick off about two weeks later, so Garnick quickly contacted friends with equestrian experience. Naturally, he was the only one who had ever played, or even heard of, kok-boru.
He sealed commitments from his younger brother Sky, his brother-in-law Steve Zimmerman and two childhood friends, T.J. Moulton and Brendan Bryant. His show-business contacts yielded three more: indie-film-making partner Brock Harris, photojournalist Max Snow and fellow actor Billy Magnussen,
who may look familiar from his portrayal of Kato Kaelin
in this year's acclaimed television miniseries "The People v. O.J. Simpson: American Crime Story."


The eight-man team dubbed itself the Nomad Cowboys, but they were unable to meet in advance for training as an entire group. The first time all eight assembled in the same place, they were in the Istanbul airport gathering for the final leg to Bishkek, the capital and largest city in Kyrgyzstan.
With precious little preparation, they arrived in the country Sept. 3 after a 40-hour trek, just in time for the opening ceremonies. They were greeted with a sobering observation, courtesy of one local: A bunch of American amateurs in the Nomad Games' kok-boru event is akin to Kyrgyzstan sending a team over to play football in the Super Bowl. Thing is, he was probably right.
"These dudes were good,"

Garnick said, via a video call with the group as they traveled home last week.
"They're professional athletes,"

Zimmerman chimed in. "This is what they do. They don't have any other jobs."
"Their hands were like vices,"

said Sky Garnick, 26. "We're all healthy, relatively strong men who all play sports and are active, but you can't mimic this goat-picking-up motion. … It's just so foreign to all of us."

@brockeddyharris
Team USA is getting ready to fly home! It's been an incredible ride! Here is a great highlight from our game against #kazakhstan. Our very own creed Garnick losing his mount as he tries desperately to score! We love you #kyrgyzstan #sittingcatprod #kokboru #nomadcowboys #teamusa #indiefilmmaking #worldnomadgames
After their saddles were lost on the flight to Kyrgyzstan, the team was forced to borrow some from a local village, which may have actually been a blessing in disguise. The saddles used for Western riding and kok-boru have little in common. The kok-boru saddle's horn — the metal handle designed for riders to grab on to — doesn't sit vertically, as it does on Western saddles. Instead, it is parallel to the back of the horse, which allows riders to lean off the animal's side,

sometimes 90 degrees or more,

to scoop the goat up off the ground.
"I want to build a kok-boru saddle,"

Creed Garnick said. "When we compared our gear to the professionals' gear, the guys that we were playing, they just had better stuff."
But they had no complaints about their footwear, which was provided by the U.S. Embassy in Bishkek along with Team USA's uniforms.
"We had awesome boots,"

he said. "You wear these knee-high boots with these boiled-wool knee and shin pads underneath. If we didn't have those, we couldn't have played. We would've definitely broke shins. … It's brutal. You're getting pounded by a 1,200-pound animal at any given time."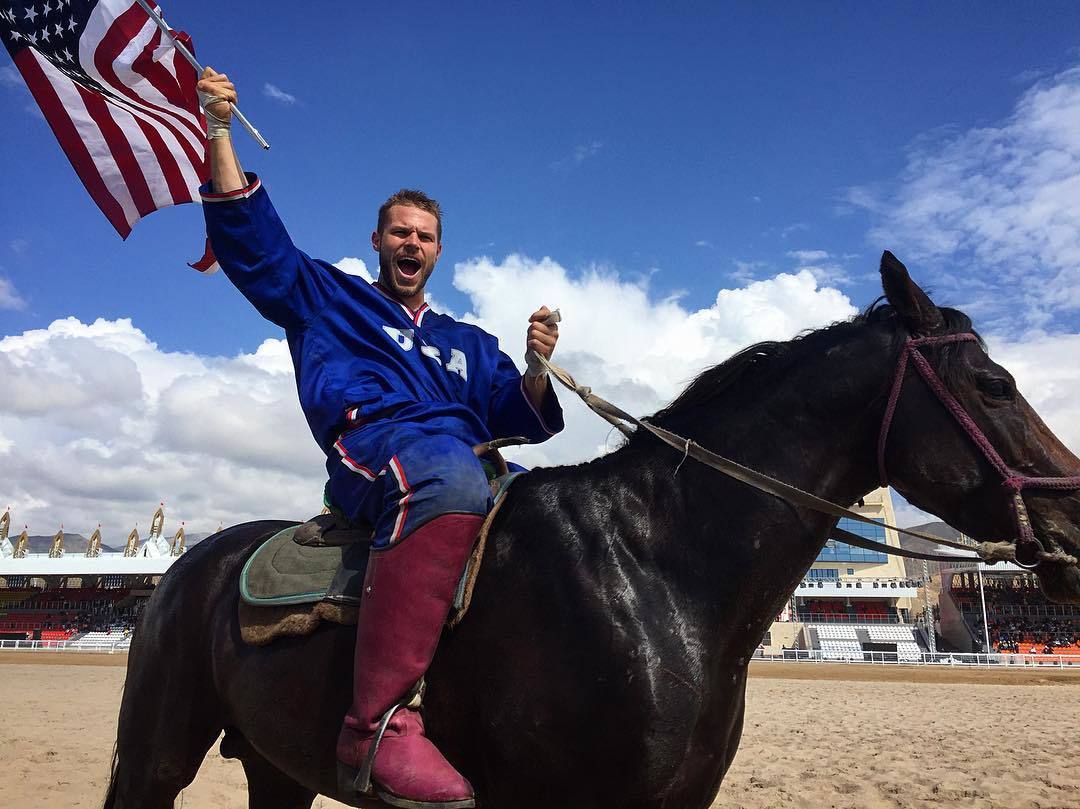 Speaking of those horses…
"The horses are the real MVPs," Moulton quipped on the group call last week.
"These are special horses that really push against each other, and it's insane watching them, like, how low and how much weight these horses push," Sky Garnick said.
"The horses will literally get sideways, pushing against each other trying to gain possession over the goat," Creed Garnick added.
The goat, by the way, is slaughtered just minutes before the game commences, often after the animal has just eaten. That can lead to some unsavory playing conditions.
"You'll get some of that grass coming out of [the goat]," Zimmerman said. "We all wore something at some time or another …"
"Blood and feces," Creed Garnick clarified.
"But that's the least of your concern most of the time," said Moulton, a 28-year-old fly-fishing and ski instructor.
The winning team receives the goat as a

prize to eat afterward.

"They don't waste anything," Garnick said.


One of the hardest aspects of the game was lasting through three 20-minute periods. With just eight U.S. men to play four-on-four, the team had fewer substitutes than its opponents.
"I don't know if I've ever felt that worn out after 60 minutes ever," said Zimmerman, 36, who wrestled and played football in high school.
But the scant preparation and lack of professional equipment didn't hamper the excitement of the U.S. games, said Audrey Scott, an American travel blogger who attended this year's Nomad Games.
"We saw two U.S. kok-boru games and we could hear the crowds cheering on the Americans when they would finally pick up the goat or score," Scott wrote in an email to The Post last week. "It was like the Americans were their special guests and they wanted them to feel welcome.
"One of our Kyrgyz colleagues later translated some of what the was saying and it was along the lines of: 'This is the first time our American friends have played this game so we need to support them.' Also, 'If I spoke English, I'd be speechless right now,' in response to the Americans getting a well-earned goal."
Nonetheless, as expected, Team USA did not medal. On the bright side, however, the upstart Americans didn't come in last: They placed seventh out of eight squads, though they also suspect the competition went easy on them.
"Ultimately, those guys could've smashed us. They could've hurt us. They could've just not been gracious and been extremely competitive, but they weren't," Creed Garnick said last week, adding that his team donated its roughly $1,500 in prize money back to the host community. "They were lovely human beings."
The group agreed that one of the reasons they didn't come in last was because their opponents — China, Russia then Kazakhstan — let them score every once in a while.
"It doesn't mean they didn't make us earn it," Zimmerman said. "We had to earn every bit. It was still a very physical game, but we could've probably not scored a single goal in three games. … But they knew we weren't a threat to their game, so they knew they could have fun with us."
"And they wanted us to learn," Creed Garnick said. "They loved the fact that we were there and wanting to compete."
That's not to say there weren't a few injuries along the way. Garnick broke his finger during the team's second game against China. His brother took a whip to the eye. Magnussen injured his knee. Pretty much everyone left bruised.
But Zimmerman, who works in land management, had no hesitation about whether he'd return for the next World Nomad Games, slated for 2018.
"Yeah," he said. "It's the most awesome game we've ever played."
"The whole team wants to go back," Creed Garnick added, noting they've already received an invitation. He and his brother are developing a documentary about this year's experience.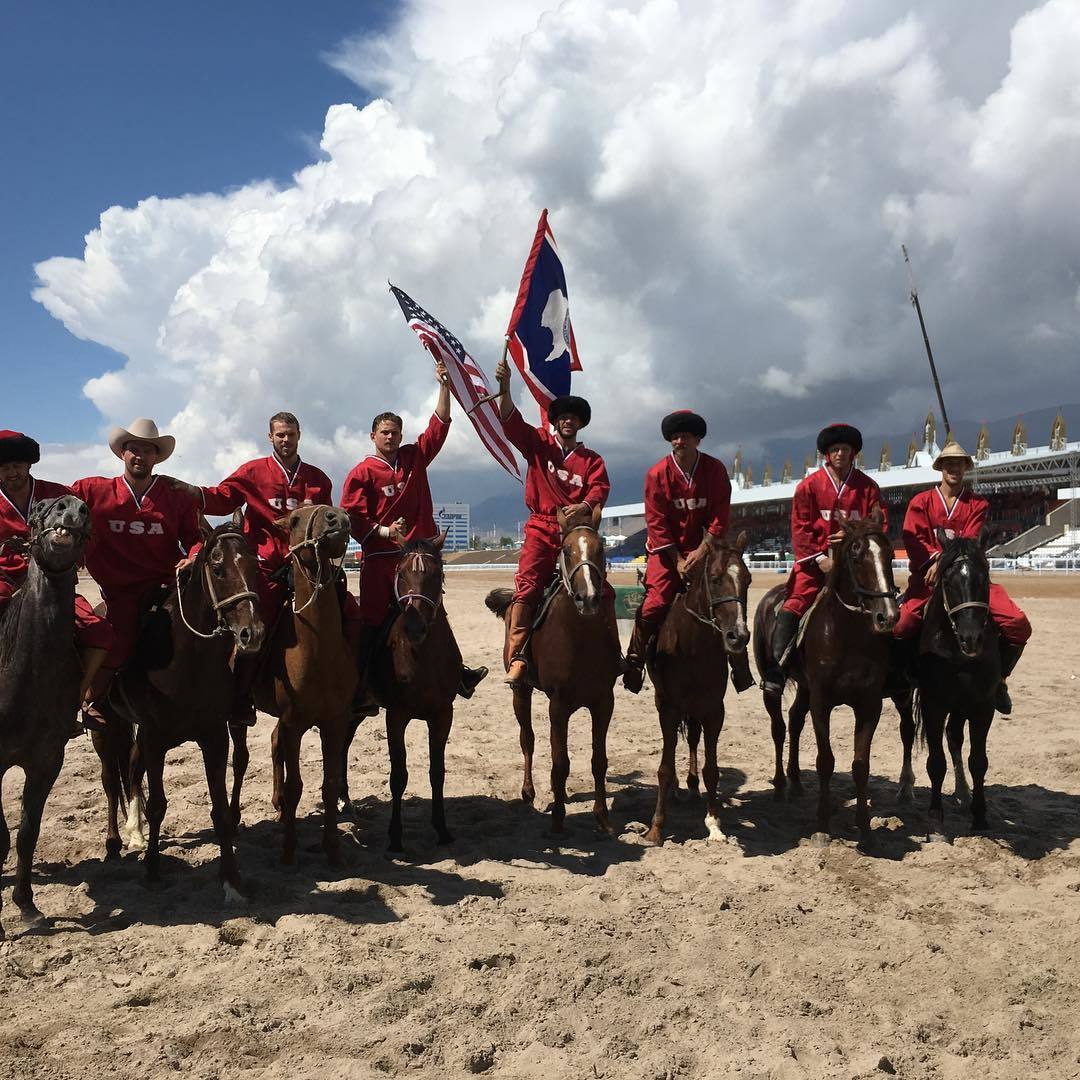 "We're the first U.S. kok-boru team ever to play kok-boru, let alone in Asia, where the game's from," Zimmerman said. "I mean, he talks to 12-year-olds who play in the Little League World Series …"
"We were ambassadors while we were playing this game," Creed Garnick added.
He's not wrong. After the Games concluded last week, the U.S. Embassy in Bishkek posted a video of the group engaging in what sure looks like diplomacy.