Visit Karakol

,

Kyrgyzstan

,

Karakol

,

Gagarina st.

,

28/26

,

722200

Engilchek Glacier (Kyrgyz: Эңилчек, Russian: Энильчек - Enilchek, also Иныльчек - Inylchek) is a glacier in the Central Tian Shan Mountains of Issyk Kul Province, northeastern Kyrgyzstan.
Its snout is 50 km east of the village of Engilchek. The South Inylchek Glacier ranks as the sixth longest non-polar glacier in the world and is the largest and fastest moving glacier in Kyrgyzstan. The main glacier has two arms, the North and South Engilchek Glaciers. The latter is longer and provides an overall length of 60.5 kilometres (38 mi).[1] with an area of 17.2 square kilometres (7 sq mi) and an ice thickness of roughly 150–200 m in the bottom parts.
The glacier stems from the Chinese-Kazakh-Kyrgyz massif of Khan Tengri and Pik Pobedy and the upper part of the glacier falls in all three countries. Meltwater from the glacier feeds a tributary of the Aksu River, which crosses the Chinese border into the Tarim Basin. Water from this glacier also feeds the seasonal glacial Lake Merzbacher which ultimately flows into the Engilchek River.
Pictures by: Eugene Kaspersky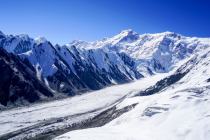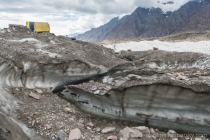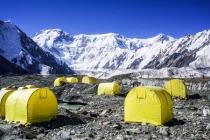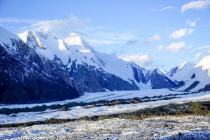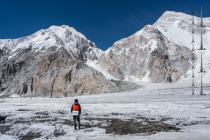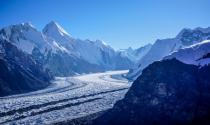 Droning at the Enilchek Glacier in Eastern Kyrgyzstan
Обработка видео...
Trip to Inylchek Glacier in Tien-Shan mountains, Kyrgyzstan.
Обработка видео...
Travel or Taxi Company
There is no public transport. You need to order car 4x4 or military truck, through us or taxi company.
Concact us
Rent car in Bishkek
You may also rent car in Bishkek and get there by yourself. Be sure that you have permits and information abour this area