Visit Karakol

,

Kyrgyzstan

,

Karakol

,

Gagarina st.

,

28/26

,

722200

with Jack Harding & Kai Grossmann
KYRGYZSTAN SONY EXPEDITION, AUGUST 2020.
Explore one of the most beautiful countries in the world. Based in the heart of Central Asia, Kyrgyzstan is an absolute gem. Towering mountains, endless lakes, glaciers and beautiful meadows are just a few small reasons you should visit. This unique adventure will allow you the opportunity to submerge yourself in the nomadic lifestyle. Kyrgyzstan has it all. It's beautiful, safe and untouched.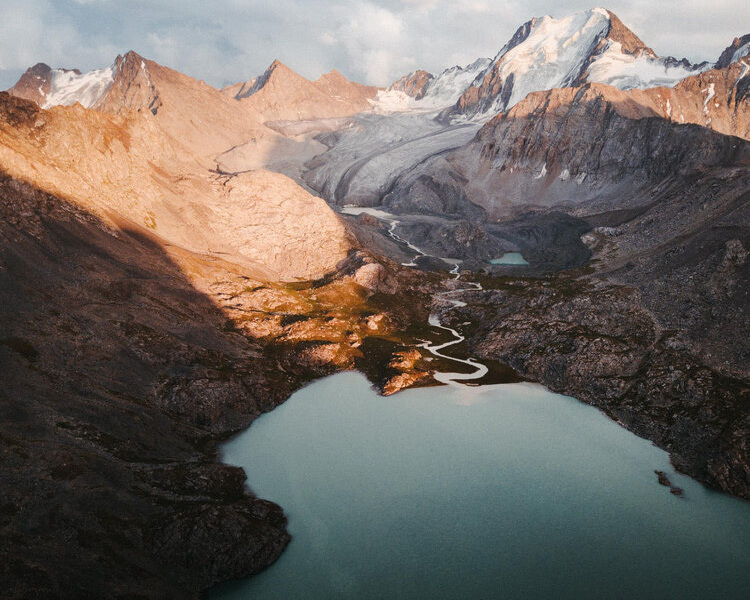 Ala-Kul, a place you'll never forget. Photo Jack Harding
Hidden Gem for Photographers - The land of Kyrgyzstan | Doc Film
Обработка видео...
I can't believe this is our third summer in Kyrgyzstan. We're very happy to be sharing this opportunity with you! Read a selection of reviews 

here

.
During previous workshops, we have had guests that are beginners and some professionals, there are no restrictions, and we welcome all levels. We all learn from each other; that's the joy of photography. Usually, we have guests from many different nations, a variation of ages and gender.
You'll be provided with your very own Sony camera body for the week and a selection of lenses. Jack and Kai will be sharing their shooting techniques out in the field. As an ambassador of Sony, I'm very excited to see your growth with this equipment.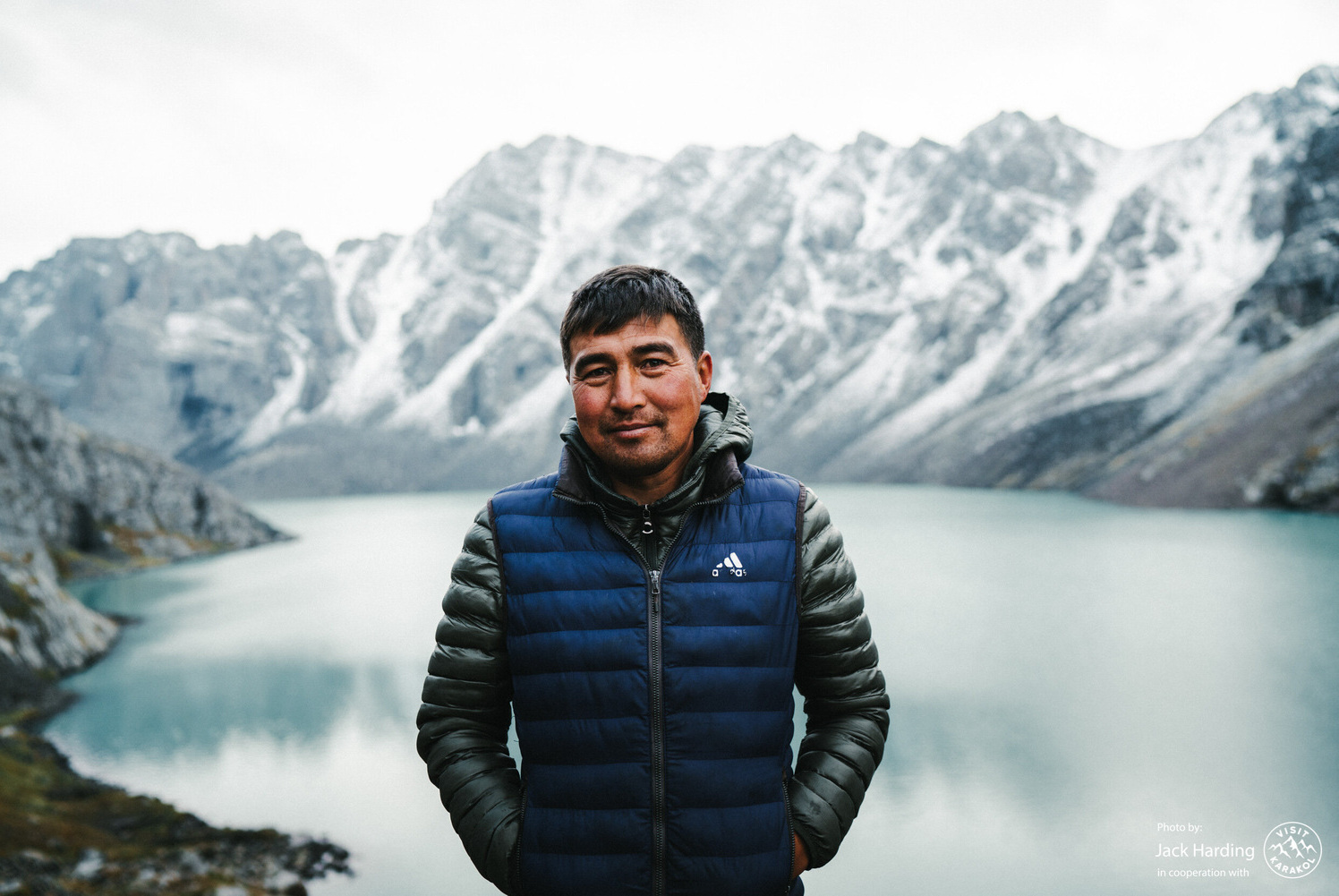 Nurlan, one of our guides from the last few years! Location Ala-Kul, Karakol. Photo by Jack Harding
If you don't know already, Jack's British and Kai is Swiss. The latter being fluent in German, French and English. So we can cover a few languages if that's a query you had.
WHERE DO SONY COME INTO THIS?
When Jack decided back in 2018 that he wanted to start workshops, he realised that there was an issue in the market. Some photography workshops had up to ten guests, with many using different camera manufacturers. This often meant participants wouldn't get the specialist advice they deserve, nor were they able to gel with others in the group around the equipment they're using. After a few discussions, we managed to put together a selection of Sony photography workshops across 2019 and 2020. These adventures are led only by Sony ambassadors or specialists that have the knowledge to educate others.
During all Sony workshops, guests are provided with a top of the range Sony Alpha body and a selection of lenses. They keep the body for the duration of the adventure, and the lenses are swapped around the group as and when you wish to try something new.
The great thing is that you don't have the nuisance of going through an airport or the worry or the extra weight with current airline limits.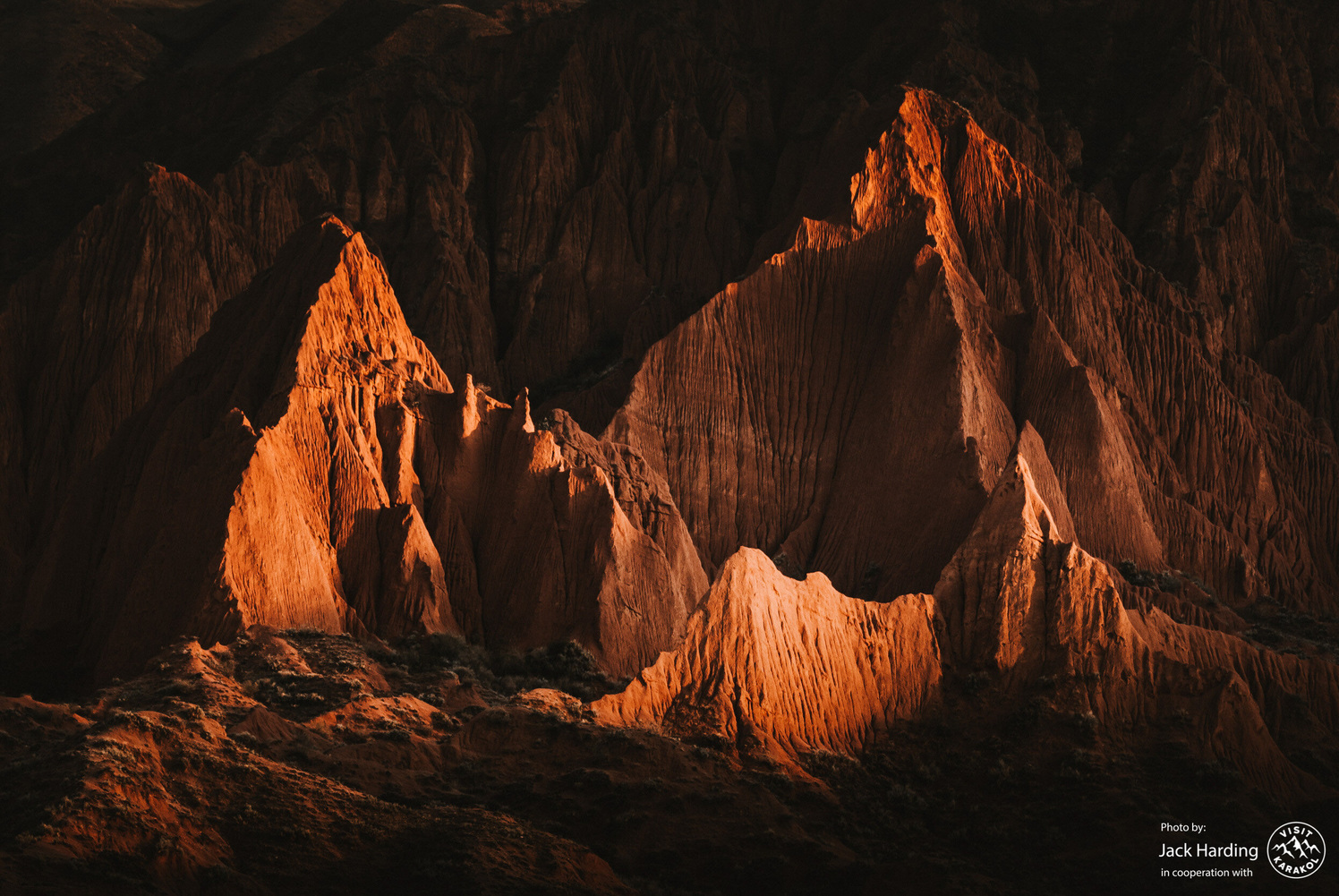 Mars Canyon, one of our magical stops along the way. Photo by Jack Harding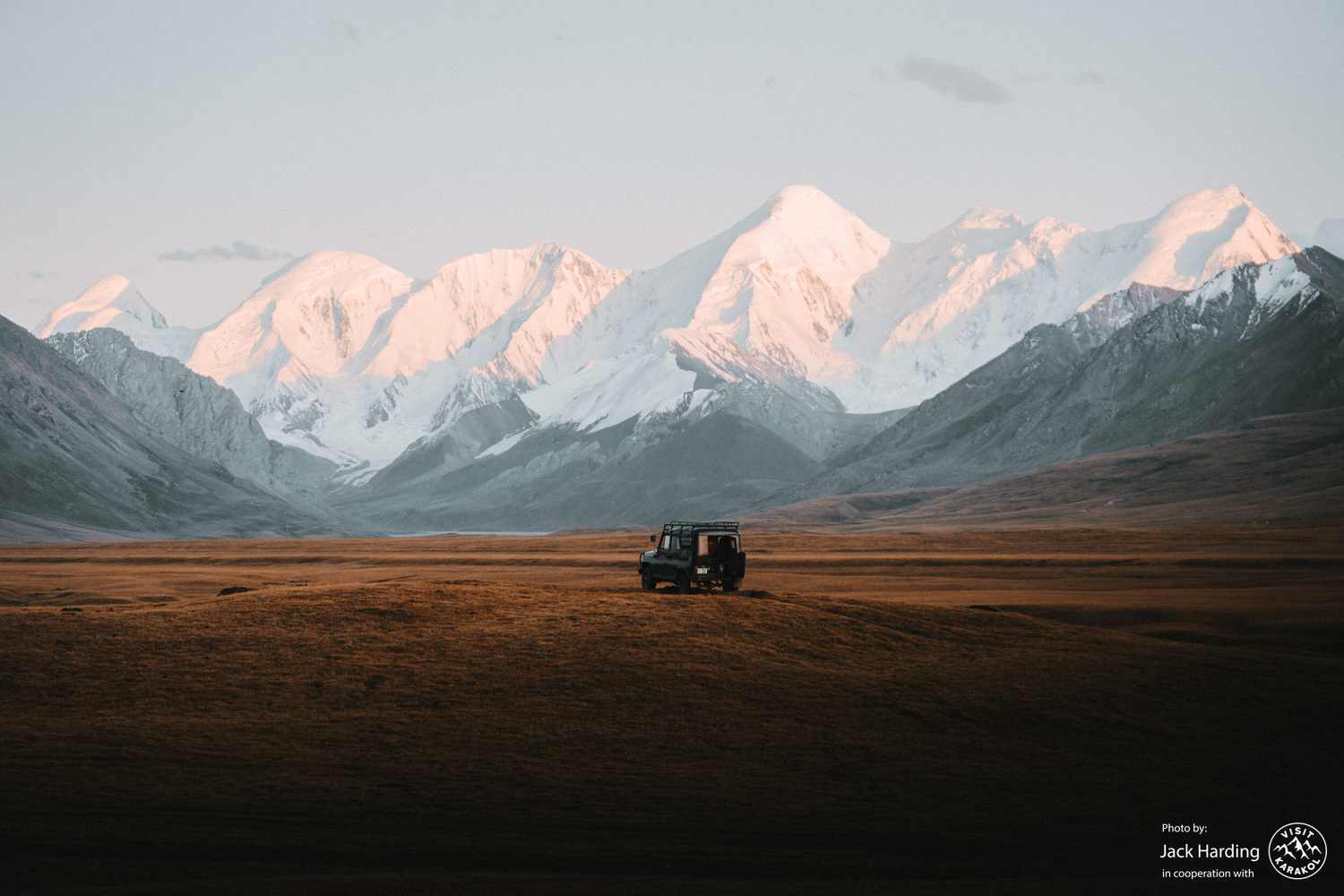 Sary Jaz, an area bordering the mountains of China. Photo by Jack Harding
Day One - 4th August - Bishkek
On this day you will arrive in the city of Bishkek and will be transported to the hotel. You'll have the opportunity to relax upon arrival or explore the city. It's quite a modern city with a lot of parks and Soviet architecture. During the evening we will have a group dinner, where you'll have the opportunity to meet fellow guests and discuss the upcoming days. Jack, Kai and our Sony specialist will go through the itinerary and equipment with you. At this point, we can cover any questions that you may have before we begin the adventure.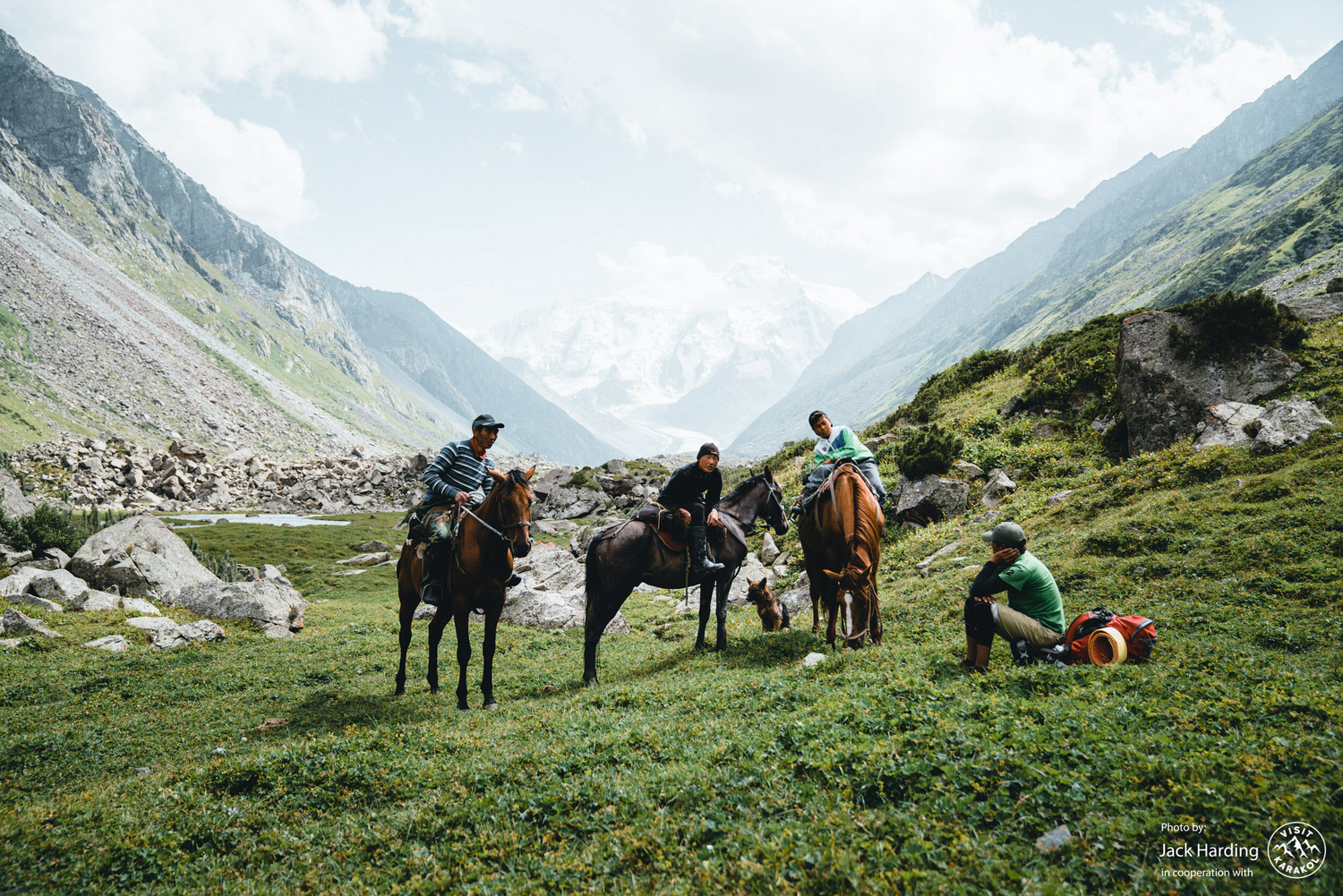 A normal day at the office for a few of the very friendly locals. Photo Kai Grossmann.
Day Two - 5th August - Bishkek to Karakol (via Issyk-Kul).
We will begin day two with breakfast at the hotel and then make our way in mini bus towards the region of Karakol. An area filled with beautiful meadows, canyons and endless peaks. For lunch, we will stop at a restaurant, grab some fresh air at the crystal clear waters of Issyk-Kul and make our way to a viewpoint outside Karakol for sunset. After this, we will have dinner and accommodation in our hotel in Karakol. The old town of Karakol is based at 1,760m and will be there will allow you to acclimatise.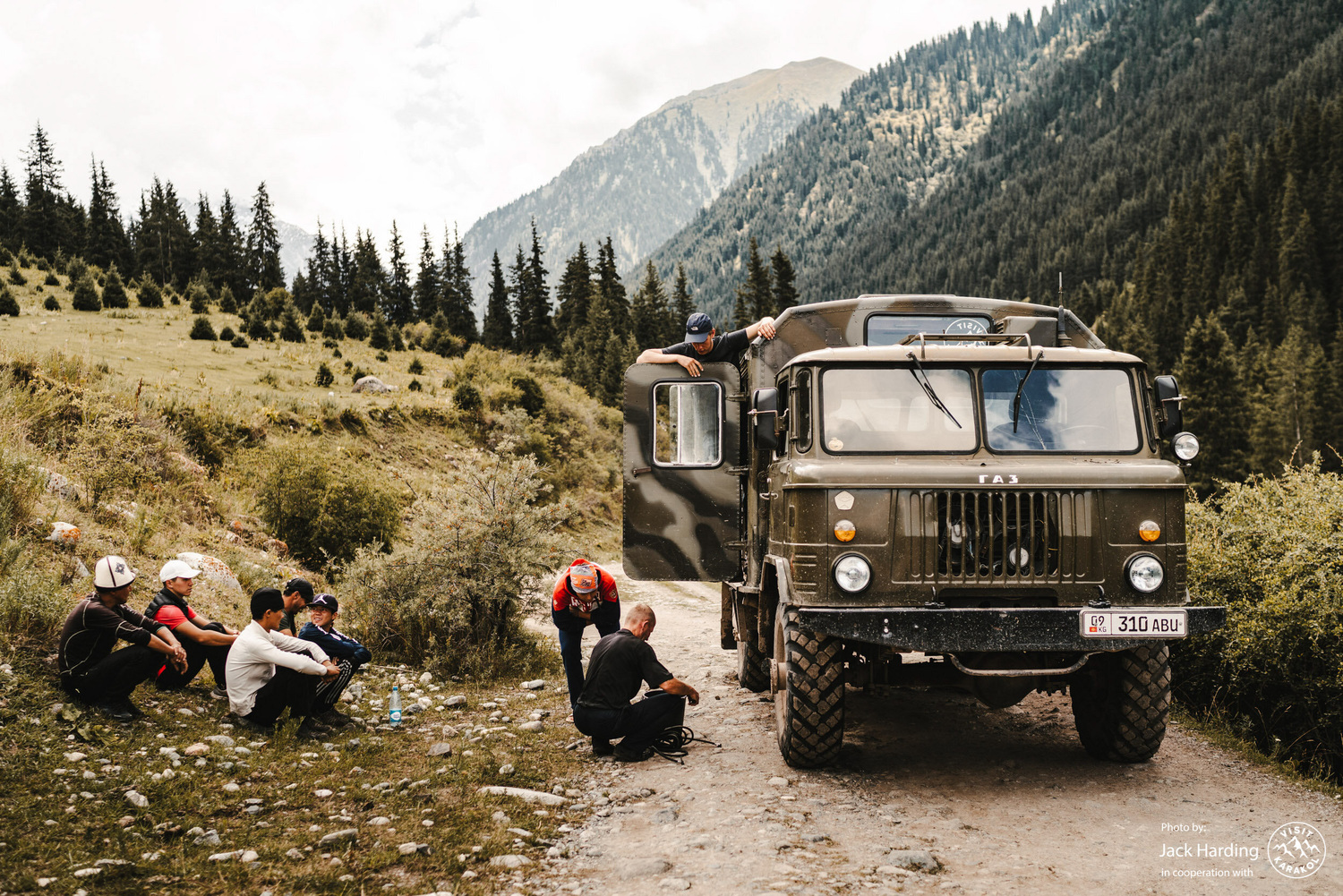 Our military style truck, one of the few ways to get around this part of town. Photo Kai Grossmann.
Day Three - 6th August - Karakol to Karakol Valley (via Alp Camp).
Now we will head into Karakol Valley, an area which I often refer to as Canada on steroids! Our military-style truck will transport us to Alp Camp, which is at located at an altitude 2500m. Here we will complete a simple two-hour hike, and we will camp in front of the beautiful Peak Karakol. This huge mountain with glacier sits at over 5200m and is a towering sight. We will spend the night in tents in front of the glacier and watch out for starry skies.
Optional - Horse riding if you would prefer not to hike. We can discuss this option before you arrive in Kyrgyzstan.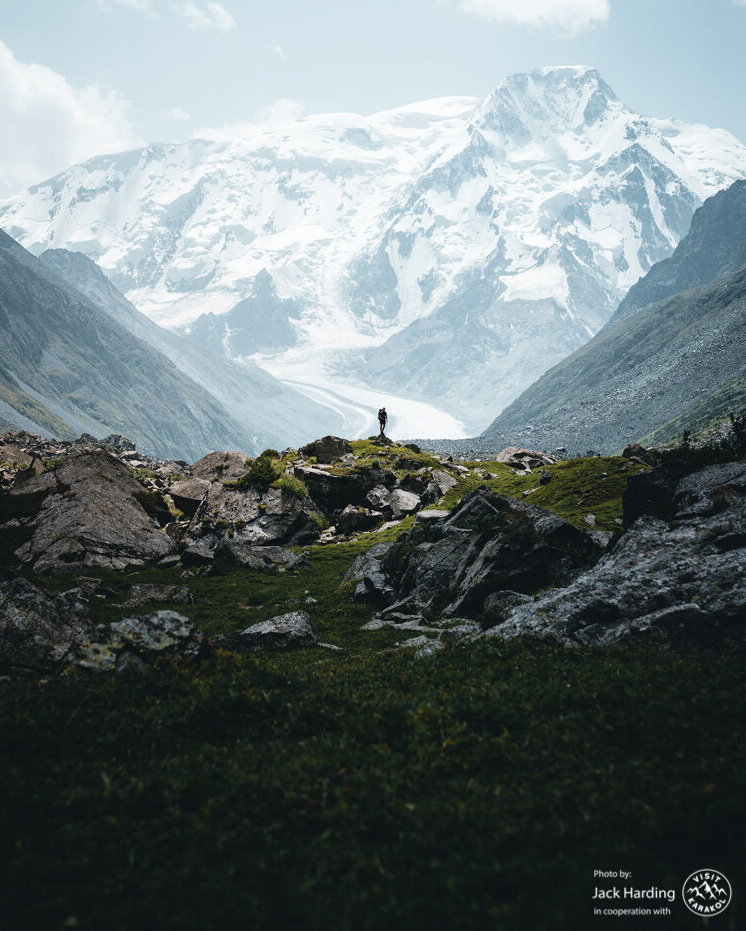 Jack standing in-front of Peak Karakol during the first Kyrgyzstan adventure in 2018. Photo by Kai Grossmann.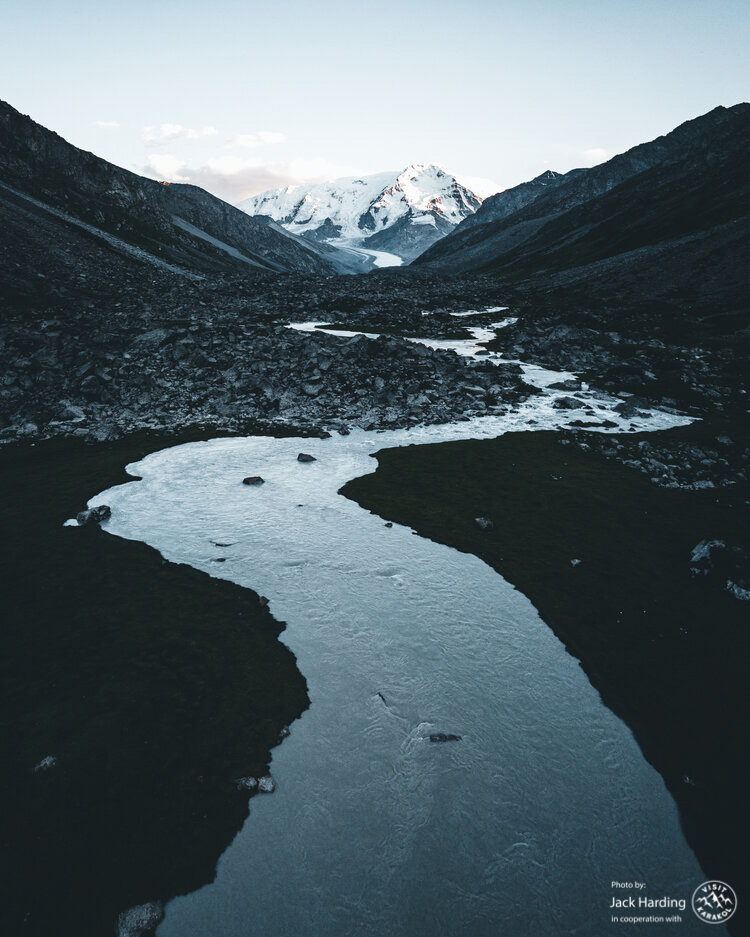 Huge Peak Karakol in the distance at over 5200m. Aerial by Kai Grossmann
Day Four - 7th August - Karakol Valley to Ala-Kul Lake.
After a good nights sleep under the stars, we will pack up and make our way to the beautiful Ala-Kul lake. This will be the most challenging day of the trip but will be no problem for someone with an OK level of fitness. We will make it up to this beautiful lake for Sunset camp overnight. This crystal blue lake is one of the most beautiful in the world, situated at approximately 3560 meters.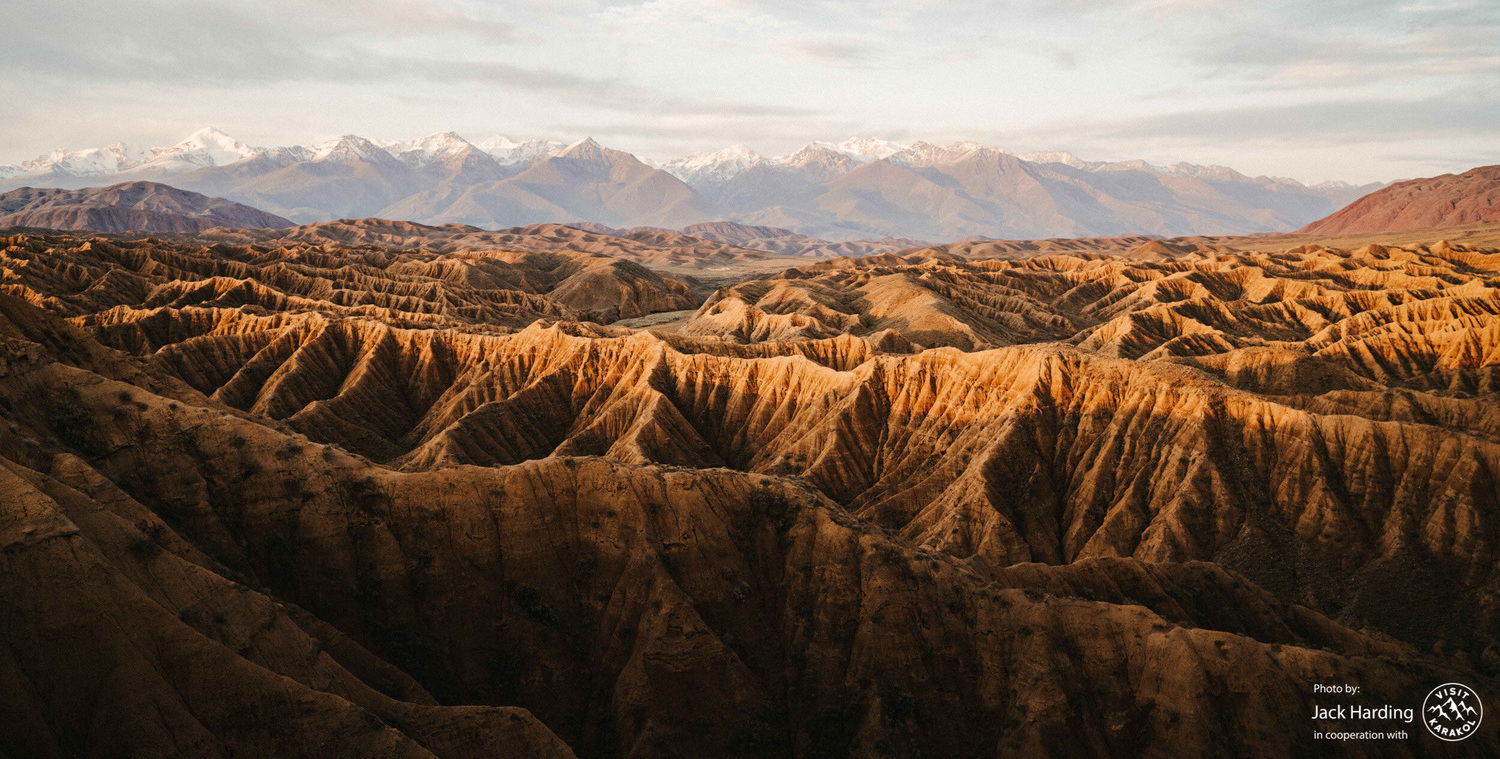 Forgotten Rivers Canyon, a location which is still a secret for many. Photo Kai Grossmann.
Day Five - 8th August - Ala-Kul Lake to Karakol (via Alp Camp).
You'll be awake at 5 am ready for a magical sunrise! After shooting, you can then take a couple of extra hours of sleep if you need to rest. After this, we will together hike down to Alp Camp, and our military-style truck will return us to the hotel at Karakol. We can then refresh for the evening as we recover from our couple of days in the mountains. This will be a great opportunity to back up your images and have a little look together at what you've already captured — dinner and stay in the hotel.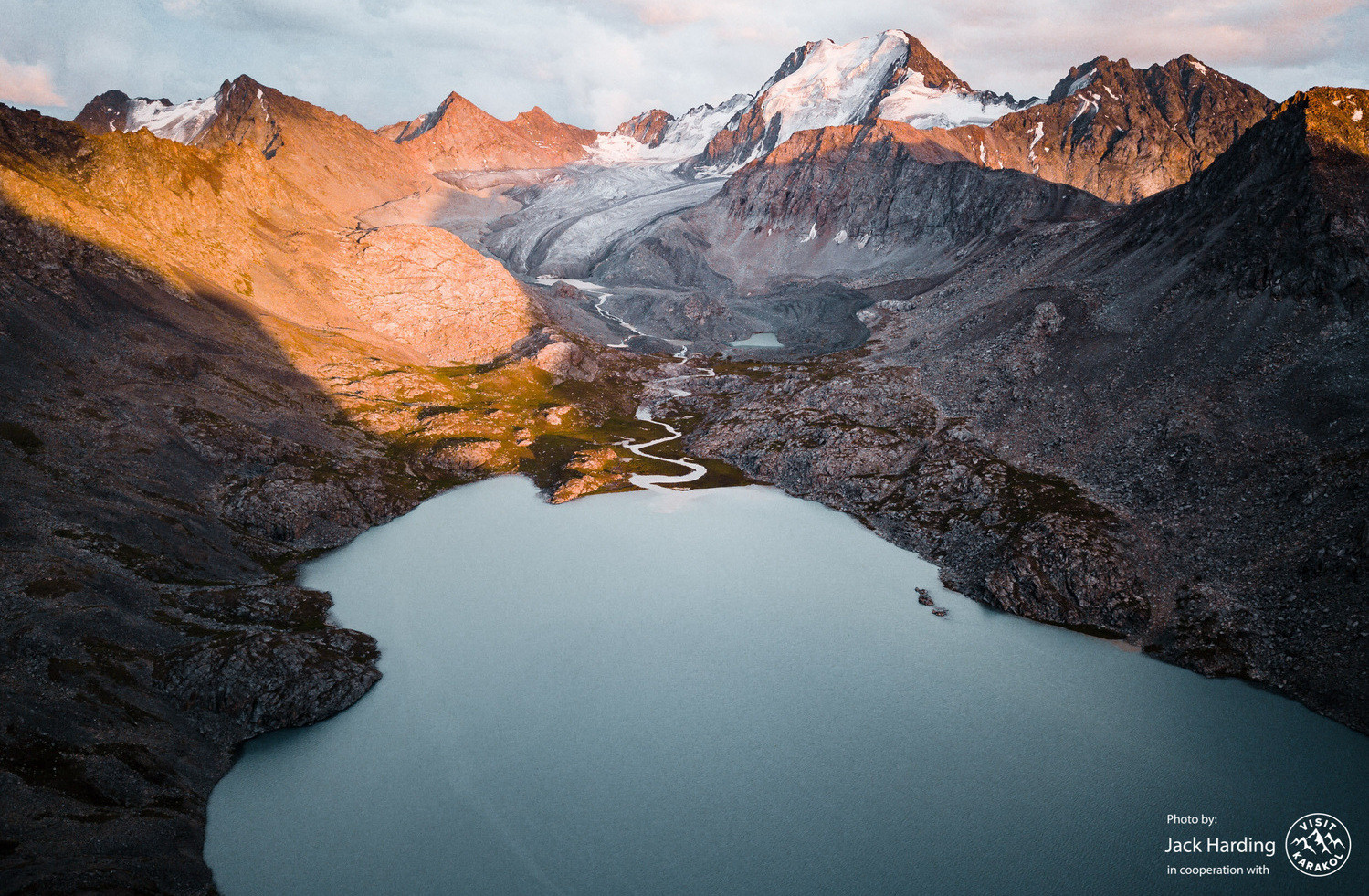 Ala-Kul, potentially the most beautiful lake in Central Asia. Photo Jack Harding
Day Six - 9th August - Karakol to Sary Jaz Mountains.
We will begin with breakfast at the hotel before making our way in comfortable 4x4s to the area of Sary-Jaz. We will be gifted with views of mountains at over 7000m, these are snowy all year round and are a sight you'll never forget. We will shoot these epic peaks for sunset before setting up camp for the night. We will be looking out for local farmers and horses for photography opportunities. 
For this area we will require a special permit which we will obtain before the trip for you, this is due to the location being on the border of China.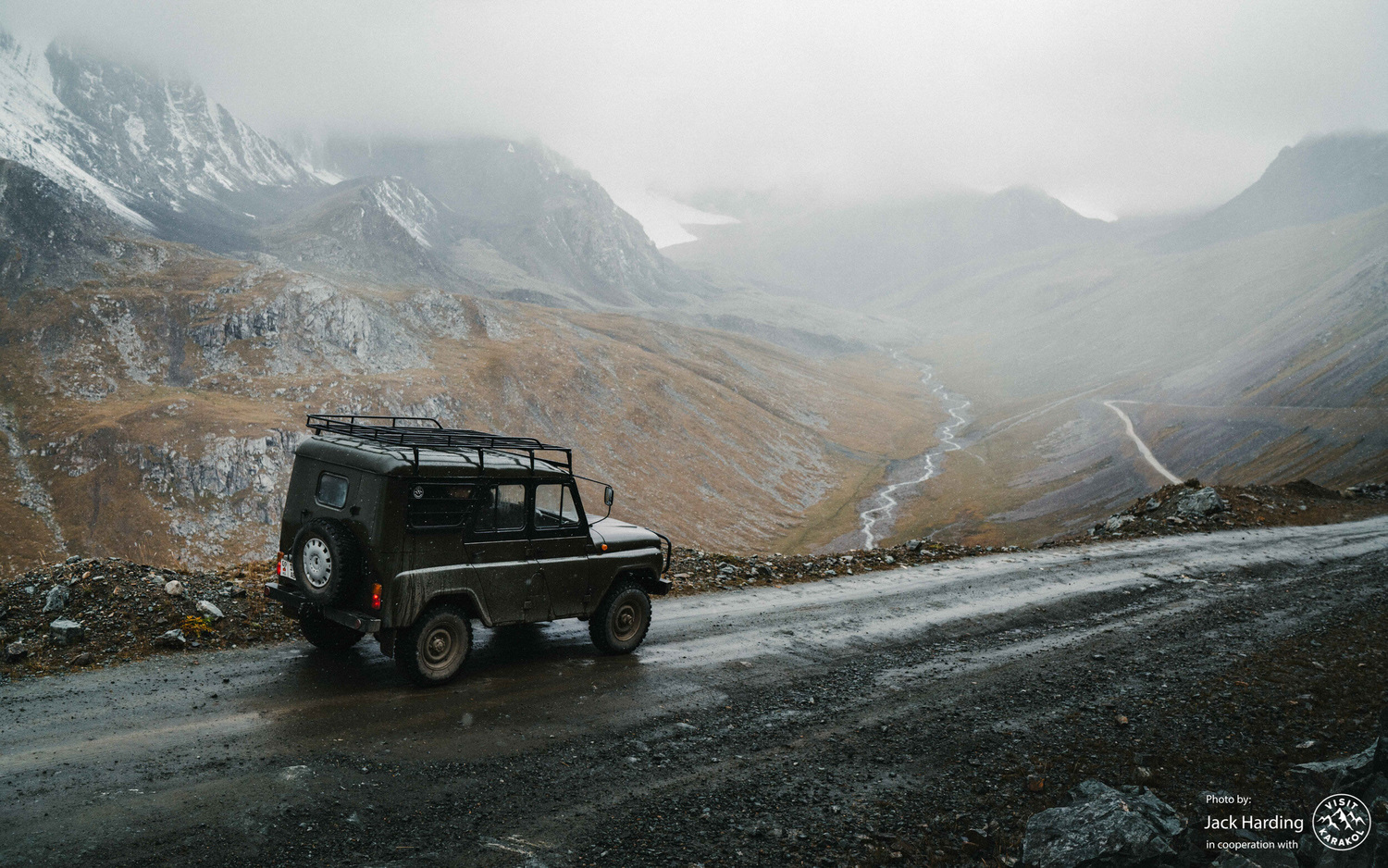 On the way through Basharin pass. Photo Jack Harding
Day Seven - 10th August - Sary Jaz Mountains to Karakol.
On the beginning of day seven, we will shoot the huge peaks where we wake up. If you wish, you could even shoot from your sleeping bag! Once we've finished sunrise and had breakfast, we will make our journey back towards Karakol. We will explore Karkara valley, and Basharin pass on the way back to the hotel. Once back in Karakol we will enjoy dinner and overnight at the hotel. This will be another opportunity to back up images and edit.
Day Eight - 11th August - Karakol to Mars Canyon (via Arabel Plateau and Fairytale Canyon).
After a good nights sleep in the hotel, we will head towards Arabel Plateau, which is located at over 4000m. After shooting this area and having lunch, we will and then make our way to Skazka Canyon (AKA Fairy Tale Canyon) for the early afternoon. Finally, we will shoot sunset at Mars Canyon, a new location which was only discovered in 2019! At Mars Canyon we will get the opportunity to photograph both the raw peaks and a local eagle hunter. Overnight stay and dinner in a cosy yurt at Mars Canyon.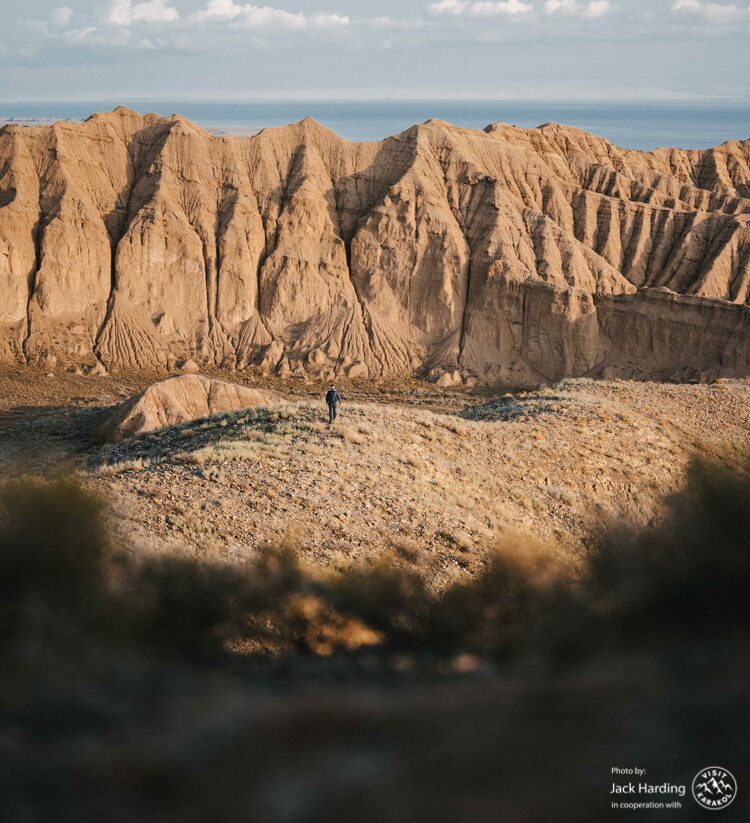 Forgotten Rivers Canyon with the famous Issyk-Kul in the backdrop. Photo Kai Grossman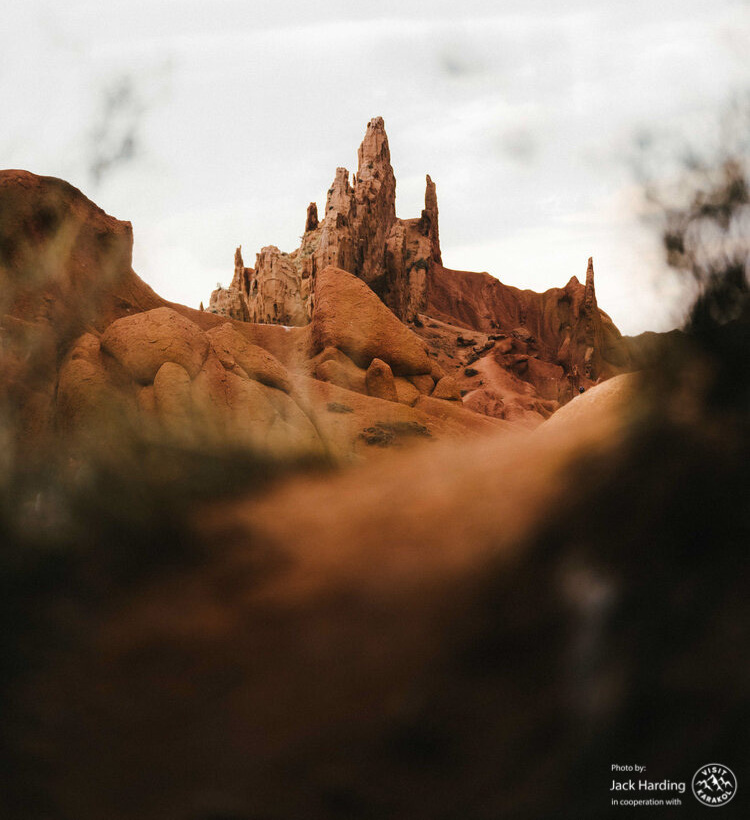 Fairytale Canyon. Photo Kai Grossmann.
Day Nine - 12th August - Canyon Of Forgotten Rivers and Son Kul.
We will begin the day by driving forty-five minutes to the Canyon of Forgotten Rivers. We will ascend on foot for fifteen minutes before sunrise to make it to a viewpoint looking over this incredible canyon. Once we've shot sunrise and had breakfast at the yurt camp, we will be driving to Son-Kul lake via Dolon pass and 33 parrots pass. We will shoot sunset at the beautiful Son Kul area, which is an alpine lake in northern Naryn Province. It lies at an altitude of 3016m and has towering peaks which often provide a magical view. We will stay overnight at a yurt camp on the edge of the lake.
Day Ten - 13th August - Son Kul to Bishkek.
Our tenth day in Kyrgyzstan will begin with shooting one of the most beautiful alpine lakes in the world. Son Kul Lake is considered by many to be the 'Jewel in the Kyrgyz Crown' for natural beauty, and this is a land of nomadic shepherds tending their flocks. After sunrise shooting and breakfast, we will make our way back to Bishkek. There will be stops at Tuz pass with great views to Kyzart village mountains and Kilemche pasture. Dinner and overnight stay in Bishkek.
Day Eleven - 14th Bishkek.
After spending many days taking images, we would like to assist you with making selections, editing and post-processing tips. This would be a final opportunity to explore the city and wind down after our busy itinerary. There is a spa at the hotel, dinner and overnight stay in the hotel.
This day is optional, you can fly out from Bishkek if you wish.
Day Twelve - 15th Bishkek.
Breakfast at the hotel and then you will be provided transport for your journey to the airport. Final goodbye, many hugs and kisses.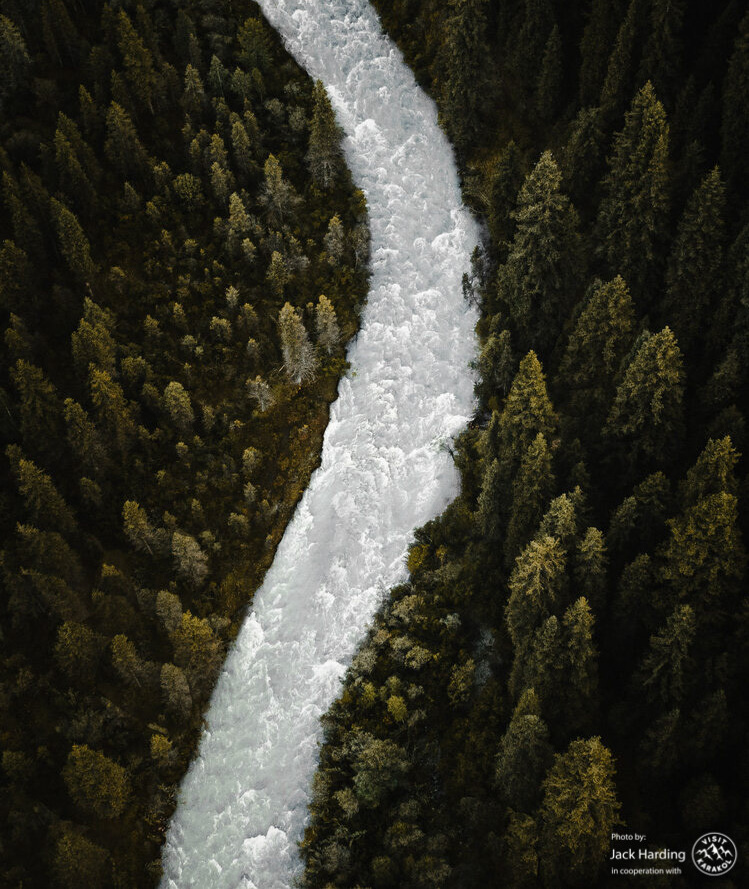 The valley of Karakol, a place I often refer to as Canada on steroids. Aerial Photo Jack Harding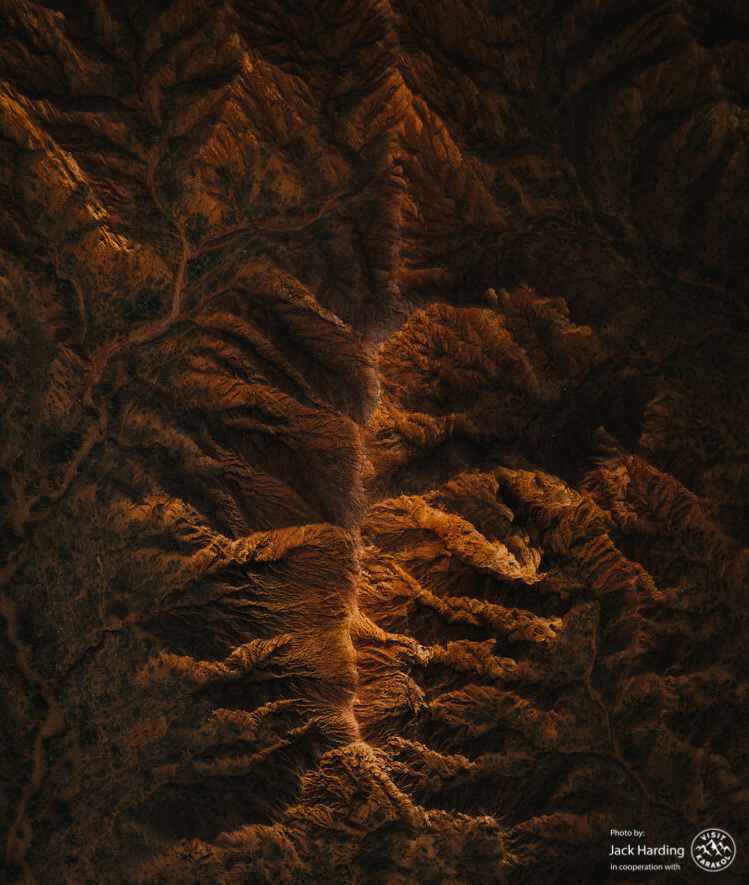 Mars Canyon from the sky. Aerial Photo by Jack Harding
You'll get to borrow all the equipment you need during the trip from Sony. To research the current Sony lineup please click

here

.

Live support in the field from Jack and Kai. Shooting landscapes, nightscapes, automotive and lifestyle situations.

All travel from arrival until departure, no driving will be required.

Hands-on education for both Adobe Lightroom/ Bridge/ Photoshop. We will have areas booked for working together on an evening. *Software not included.

Accommodation during the entire stay. This will either be in local yurt, hotel and sometimes in tent when we are in the mountains. You will never have to carry a tent.

Transport throughout the trip with our local drivers and 4x4 or bus.

Food to ensure you don't go hungry.
Part of the 2019 expedition across Kazakhstan & Kyrgyzstan. Photo by Jack Harding
Transport to and from Bishkek. However, we can offer advice on this.

Any private insurances, taxes, levies, immigration, duty and visa fees where applicable.

Hard drive, computer and SD Card. Please bring your own for storage devices for any content you take.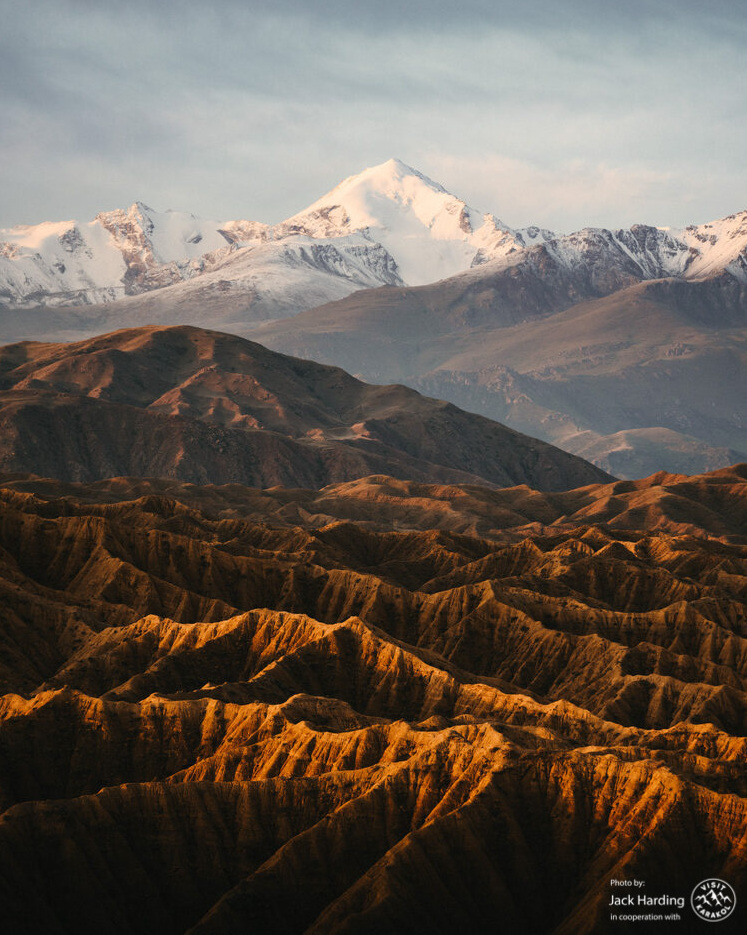 Fairytale Canyon, a secret of Kyrgyzstan. Photo by Jack Harding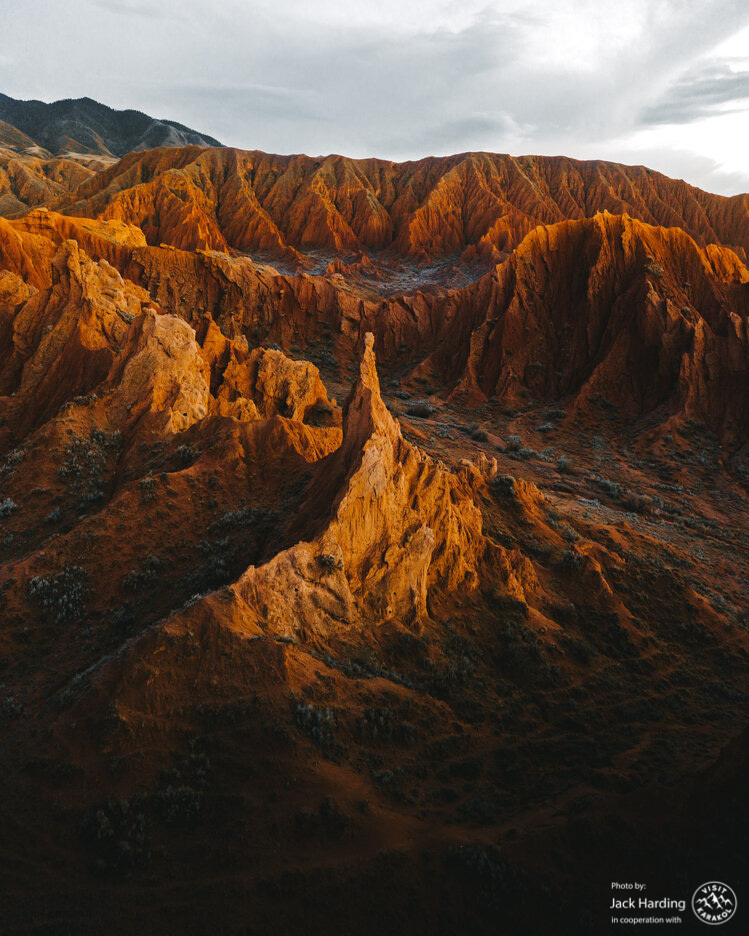 Mars Canyon, one of the most unique places on earth. Aerial by Jack Harding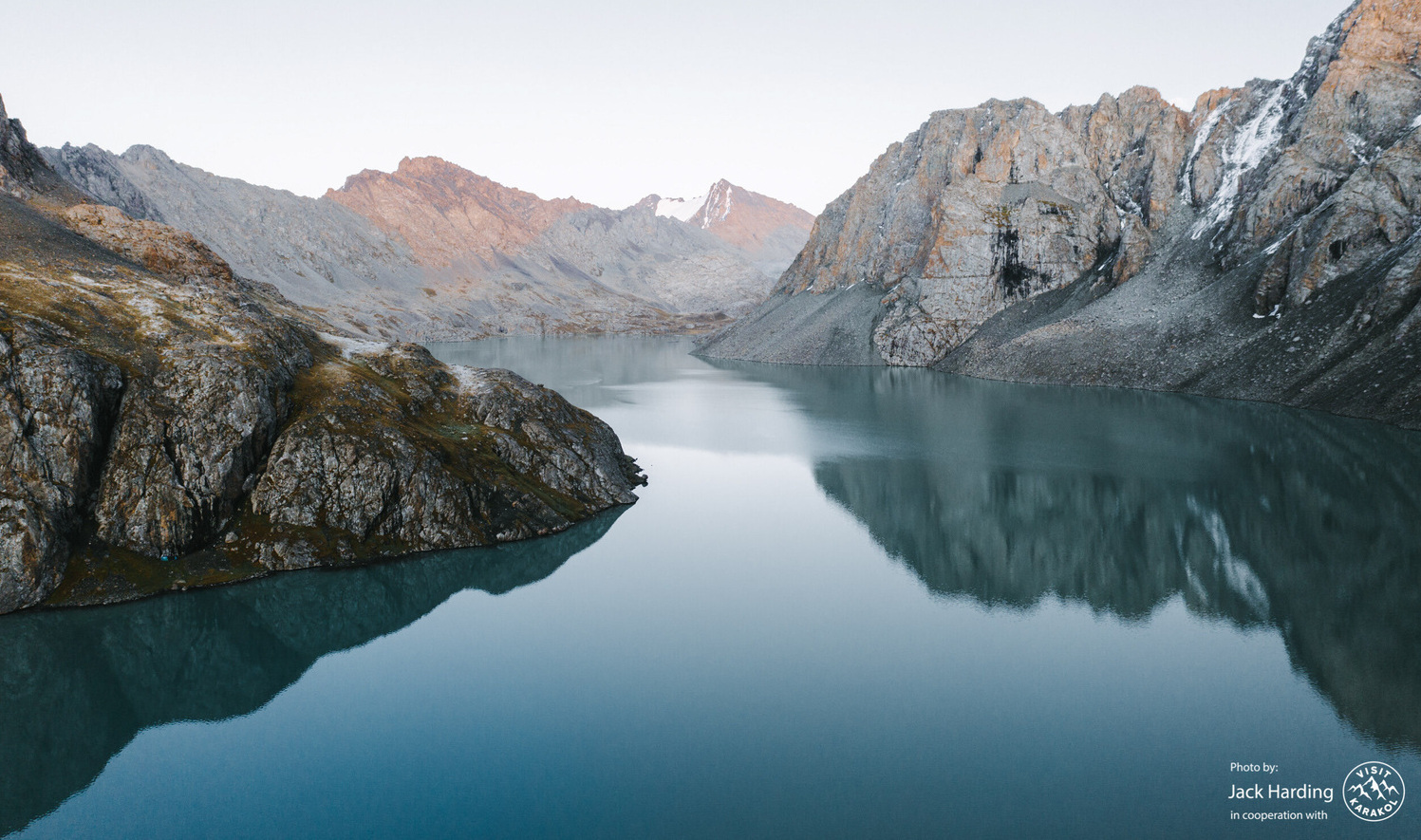 The magical Ala-Kul lake in Karakol. One of our sunrise spots during the trip. Photo by Jack Harding
FREQUENTLY ASKED QUESTIONS:
What level of photography is required?
The workshop is open to all levels of experience. The only thing I ask is that you bring some passion and energy, with the drive to be out in the field every day.
We will be sending out a clothing list for the trip. I'd recommend that you layer up! Bring comfortable clothes for during hot days and layers for when it's colder on an evening. A rain jacket, preferably Gore-tex and a wool under layer will help for any shooting after dark. Merino socks and hiking boots are your best friend. As the saying goes "there's no such thing as bad weather, only bad clothes."
Temperatures during the day could hit over 25 celsius and on an evening in the mountains close to 0 celsius. As this is a raw part of the world we will be ready for any kind of weather.
Does Kyrgyzstan have a difficult visa process?
Not often, more than 90 countries are visa exempt or can apply for visa on arrival. I'd recommend checking the link

here

to confirm.
Where will we be staying?
Accommodation in hotels, yurt camps/ home-stays and the occasional overnight tent stay in the mountains.
Of course! Please don't drone around any cities or airports. We'd recommend to bring a Mavic size drone to give you smooth travel. Please educate yourself of the

drone laws

in Kyrgyzstan before arriving.
What kind of weather can I expect?
Generally August is one of the best months for Kyrgyzstan, with clear skies and beautiful golden hours. However, this is a wild part of the world and I wouldn't rule snow out. We are in the mountains after all.
What and where will we eat?

During the hiking days we will have porters and a chef with us. On the other days we will eat at restaurants, our hotel or cafes. You will not be left to go hungry on this adventure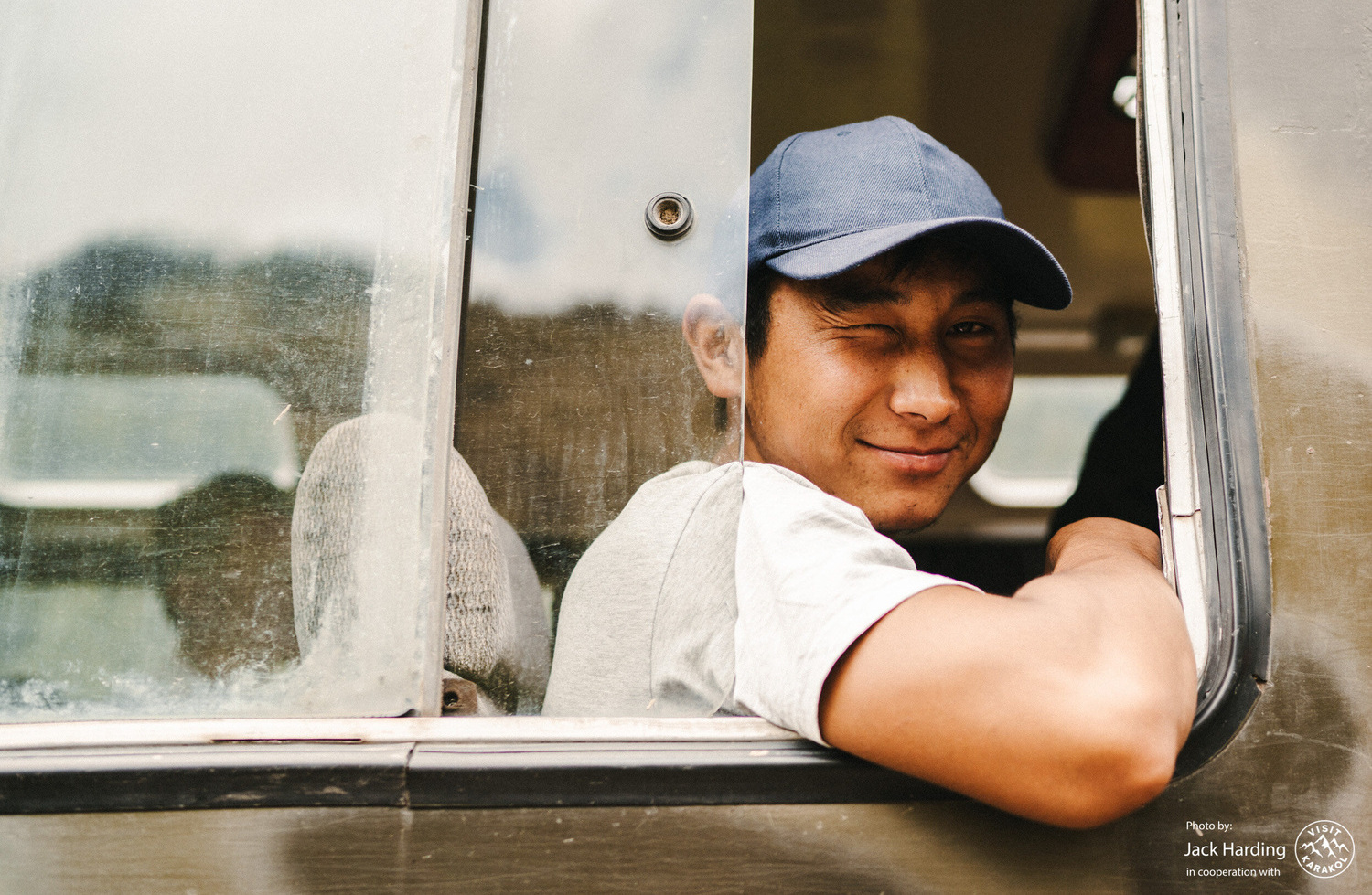 Let the adventure begin! There are only eight places on the expedition and finance options are available. To apply, please contact to Jack Harding. Jack or one of the team will be in touch to arrange a call and discuss your upcoming adventure.
To view the Terms and Conditions for photography workshops under Jack Harding Photography, please click

here

.