Visit Karakol

,

Kyrgyzstan

,

Karakol

,

Gagarina st.

,

28/26

,

722200

ADVENTUROUS KYRGYZSTAN 2022
Photo tour with Chris Konig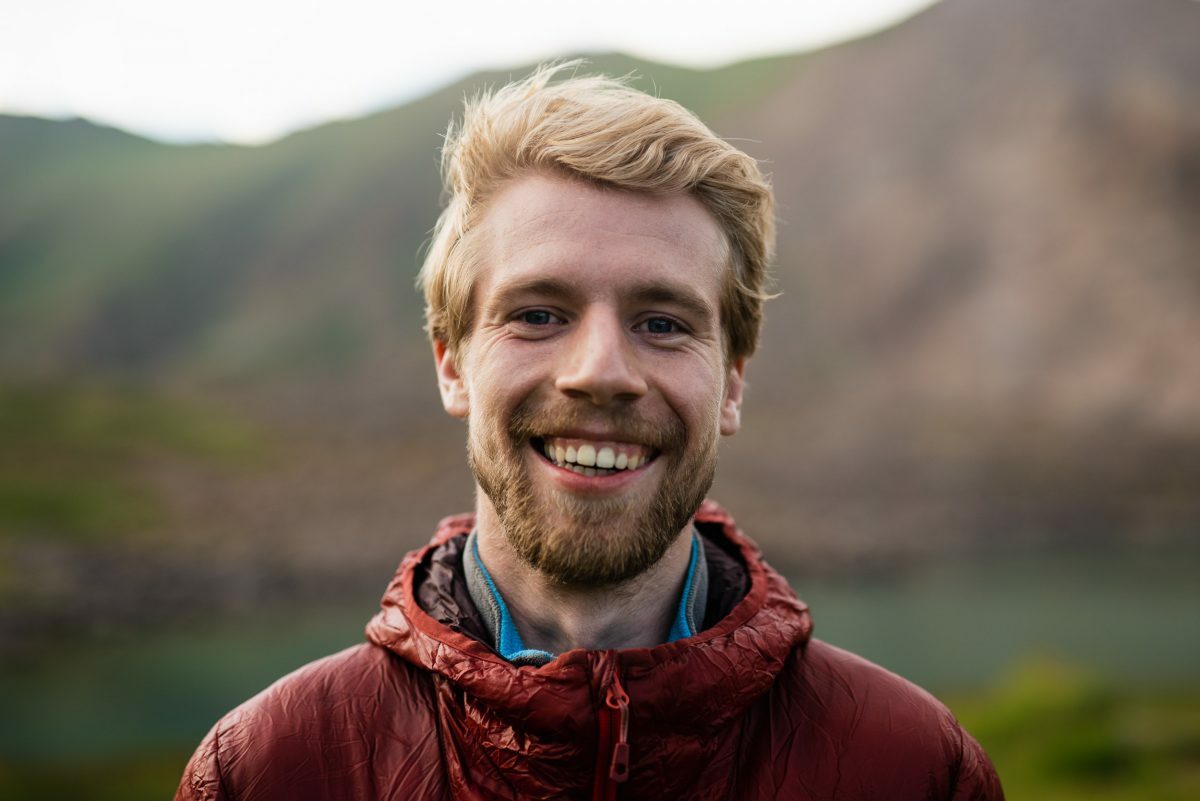 Chris König
Professional Landscape Photographer
We invite you to join us on a photo trip to this amazing and still unknown country for many. On this ten-day trip, we will take you through unspoilt places, you will get to know the local culture, and we will look for special places every day to photograph, experience and experience.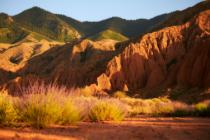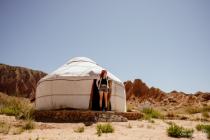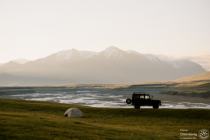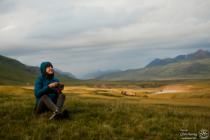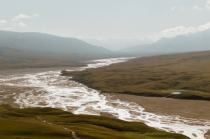 The trip is sponsored by Visit Karakol, a local organization with years of experience in guiding excursions and accompanying tour operators, which allows us to experience an authentic experience of adventure in remote landscapes as well as immerse yourself in the local culture. ...
On this photo trip, we will immerse ourselves in photography and take a lot of time to capture all the variety of situations as best we can. How do you prepare your photos and how do you tell the story? With great attention and feedback, we go through the entire process, including the post-processing of your images.
We will spend part of the nights with wonderful care in reputable hotels, we will spend the night in a yurt camp for an even more authentic experience, and to take it one step further, we will camp twice under the stars, overlooking unimaginable landscapes.
Hidden Gem for Photographers - The land of Kyrgyzstan | Doc Film
Обработка видео...
Visit remote area - Sary-Jaz valley

Peak Yeltsin with panoramic view

Hiking and visit canyons (Canyon Mars, Forgotten Rivers, Fairytale)

Exploreing Djety-Oguz valley

Panoramic view of Issyk-Kul lake

Drive through Chon-Ashuu pass 3822m (highest point)

Drive around Issyk-Kul lake
DAY 1: Bishkek (arrival day)
You may arrive in Bishkek any time of day. Our welcome dinner starts at 7 PM. You'll meet me (Chris) and our team that will be guiding you for the rest of the tour. We'll discuss itinerary and have a nice local meal. If you need any help with transfers from the airport, feel free to let us know. Accommodation: Hotel
DAY 2: Bishkek - Ton village
Road from Bishkek to the southern shore of Issyk-Kul. On the way we meet Kok-Moinok canyons. An extensive area full of winding paths of colored sandstone. Due to the large difference in height, this site offers many opportunities for photography. After that we will go to the Forgotten Rivers Canyon where we will walk and take photos. This location is ideal for drone photography. Overnight at the yurt camp.
DAY 3: Ton village - Kaji-Say
From Ton village, we follow the road along Lake Issyk-Kul, a giant lake that is also considered the coastline of Kyrgyzstan. We (optional) will go on horseback to the Shatyly panorama, from where a wide view of the Issyk-Kul lake opens. It doesn't require simple excursions or horse riding experience to enjoy it. Then a sunset photo shoot to capture the canyon of Mars. Only recently opened, this canyon offers many unique vistas for amazing photographs.
Photographing the sunrise in the Mars canyon. Next, we will visit another canyon: Fairytale Canyon. The day ends with a fantastic panorama of the Issyk-Kul lake. Stay at a hotel in Karakol.
DAY 5: Karakol - Karakol peak 
Today we will drive through a beautiful valley, where our final point will be a view of the massive Karakol peak. We can take detailed photographs of the sunset and spend the night in tents at an altitude of 3000 meters at the foot of the mountain, so that we can also photograph the starry sky or the Milky Way at night in this special setting.
DAY 6: Peak Karakol - Karakol
From the Karakol peak we have the opportunity to enjoy the sunrise as much as possible, and then walk through the valley towards Karakol. In the afternoon, there is time to explore Karakol and relax. Stay at a hotel in Karakol.
Day 7: Karakol - Sary-Jaz
From Karakol we will go on a two-day trek to Sary-Jaz. The adventure trail winds past expansive landscapes, high mountain passes and remote nomadic villages in the border regions. We will set up camp overlooking the Tien Shan mountains and have plenty of time to photograph the sunset. On the way to Sary-Jaz, we will have time to meet some of the locals to learn about the culture and traditional way of life.
DAY 8: Sary-Jaz - Karakol 
In Sary-Jaz, we start by photographing the sunrise and then explore the surroundings. We end the day in Karakol. Stay at a hotel in Karakol.
DAY 9: Karakol - Jety-Oguz - Karakol
Inspection of rock formations of Jety-Oguz; named after seven bulls sacrificed in a legendary tale during a romantic tragedy. The area offers many opportunities for photographing the valley and rock formations. We will continue our day with a trip to the Yeltsin Peak to photograph the sunset. Stay at a hotel in Karakol.
DAY 10: Karakol - Bishkek
We finish the trip with transport from Karakol back to Bishkek. After a joint conclusion, everyone can continue the journey in their own way.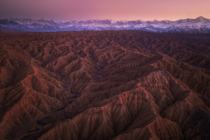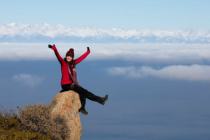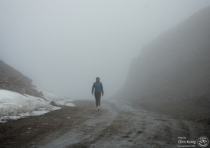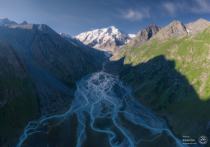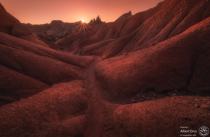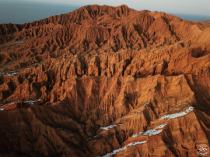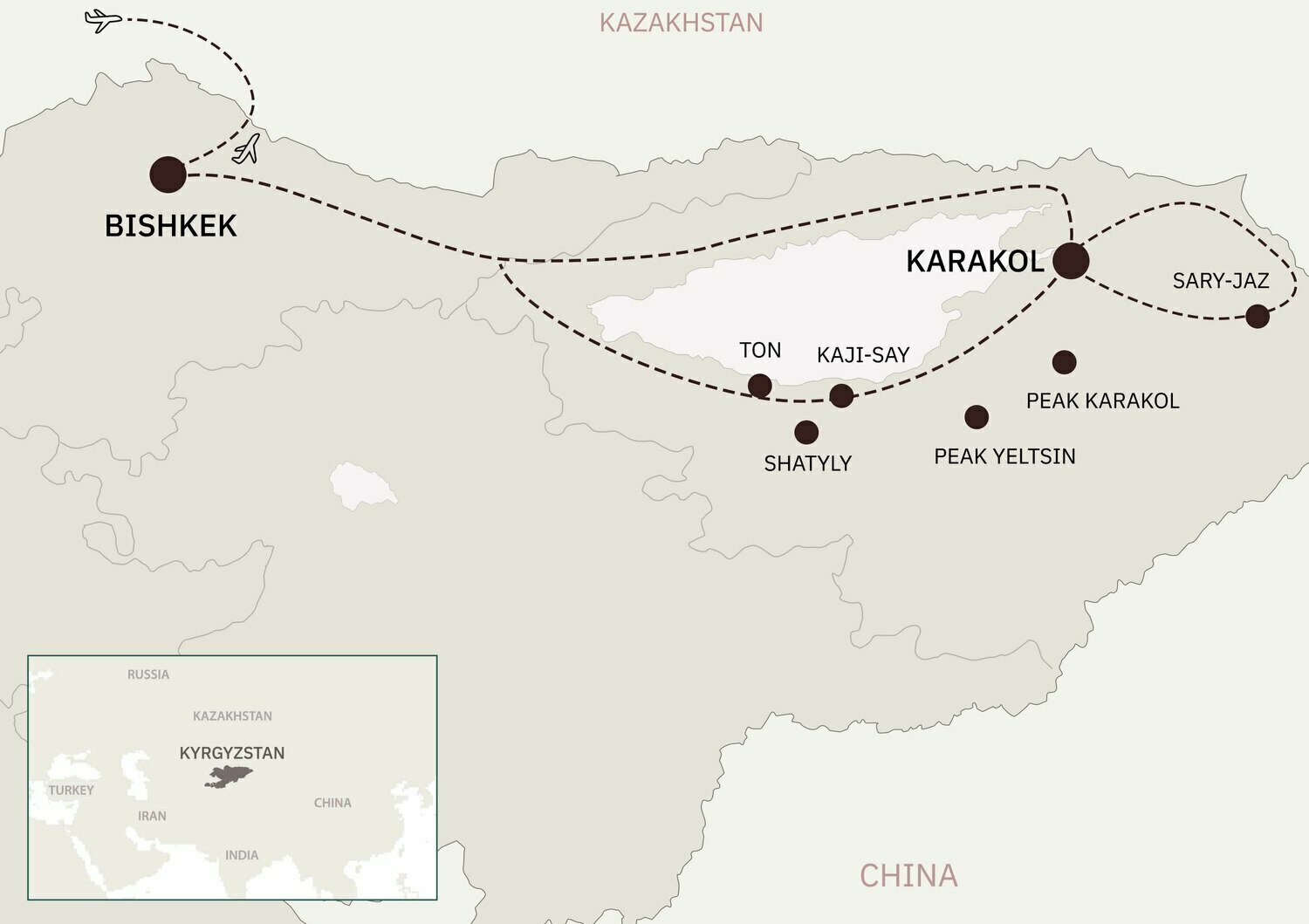 English speaking guide (middle level)

Payment to Karakol National Park

Equipment: Tents (2 person in 1 tent), mats and table equipment,

Accommodation for 9 nights
PCR test if people need on the way back