Visit Karakol

,

Kyrgyzstan

,

Karakol

,

Gagarina st.

,

28/26

,

722200

KYRGYZSTAN

- 9 days

FROM

- 1599€

MIN. GUESTS

- 2

MAX. GUESTS

- 16
The trip was incredible. We got more than enough delicious food. The tour guide's English was perfect and they took good care of us. The accommodations were clean, warm and beautifully located.I usually go backpacking alone and this was my first organized travel experience. I was worried that we would miss out on authentic experiences, but I was totally blown away by the trip and I really like the concept. We didn't worry about anything and just enjoyed ourselves!
Great trip through an unforgettable country which has so much to offer and is still absolutely under the radar of tourism.The guides Timur and Farhad were great. Always took care of us and were always flexible in adjusting the trip. Our driver Sascha has mastered even the largest off-road terrain suverän.A great experience were also the two nights in nature in a real yurt and riding with horses through this unique untouched landscape.This was definitely not the last trip with Triplegend.
Unforgettable trip with great group and competent guides in Kyrgyzstan. The trip was really excellently organized and the support by triplegend was top. Definitely not the last trip!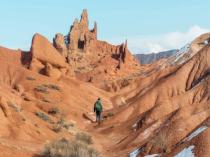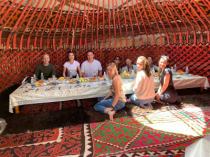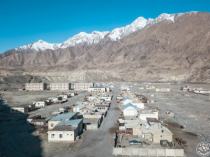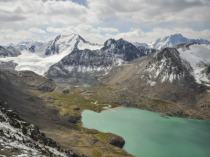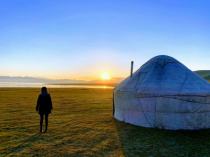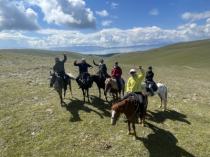 You may be asking yourself: where exactly is Kyrgyzstan and why should I travel there? We would answer it this way: It's probably one of the most beautiful places in the world when it comes to untouched nature, clear mountain lakes and endless steppes with grazing horses. This is what you can expect: travel off the beaten track, meet locals, learn about nomadic traditions, taste delicious Kyrgyz food and be surrounded by untouched, beautiful nature. Let us take you on an unforgettable adventure to explore a country unlike the ordinary.
Enjoy a meal with a local family

Meet one of the last nomadic falconers

Explores an abandoned city

Riding through untouched nature

Walks through surreal mountains

Celebrate in bishkek bars

Enjoy drinks at sunset around the campfire

Swims in clear mountain lakes

Play volleyball at the lake
Arrival: Bishkek Airport (FRU)
Day 1: Welcome to Kyrgyzstan (Bishkek)
Day 2: Build your own yurt before hunting with eagle (Bokonbaevo)
Day 3: Fairytale landscape & the legend of Sevel Bulls (Karakol)
Day 4: Abandoned ghost town and hot spring (Enilchek)
Day 5: Trekking Tour to Ala-Kul lake (Ala-Kul)
Day 6: A day at the beautiful Son-Kol lake (Son-Kol lake)
Day 7: Lush nature around Kochkor (Kochkor)
Day 8: Bazaar visit and traditional folklore show (Bishkek)
Day 9: Goodbye Kyrgyzstan! (Bishkek)
Departure: Bishkek Airport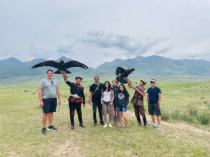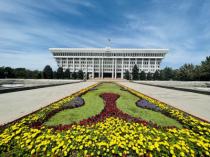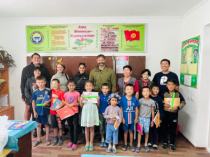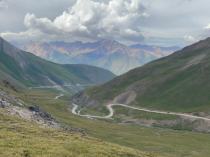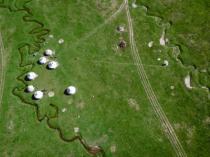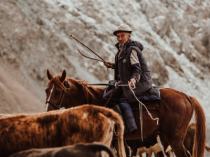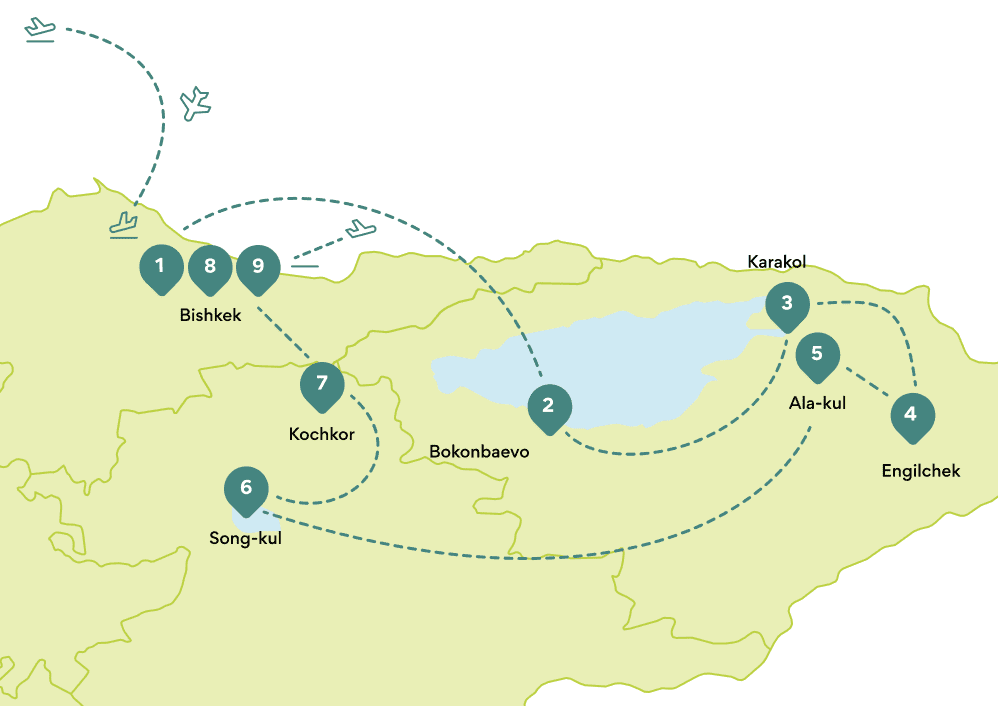 What is not included in the price?
DATES

PRICE

FROM 29 JULY

2022 TO 06 AUG 2023
1599€
FROM 27 AUG 2023 TO 04 SEP 2023
1599€