Visit Karakol

,

Kyrgyzstan

,

Karakol

,

Gagarina st.

,

28/26

,

722200


The Arabel Plateau is a highland area, located at altitude almost 4000 meters above sea level. This is a stunning place in the southern part of the Issyk-Kul region. It is situated near the Barskoon Gorge and the gold mine Kumtor.
High-mountain valleys (also called syrt) are a rare and very surprising phenomenon, especially at this altitude. The average annual temperature in these places is only 5-7 degrees and the earth is almost completely devoid of vegetation. In such places, only grass, mosses and lichens survive. Due to abundant precipitation and melting of glaciers, there is a lot of water in the valley. This water is used to form rivers, lakes and marshes. The Arabel Plateau is a peculiar high mountain tundra where you can find more than 50 lakes.
The plateu has such an interesting relief and a large number of lakes due to a very old glacier. It leveled the valley and left so many lacustrine basins.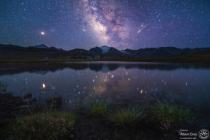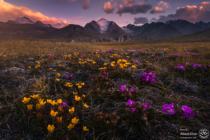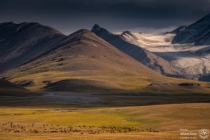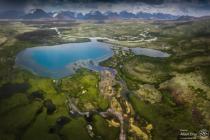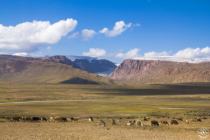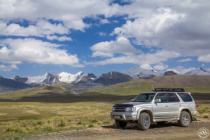 We depart early morning on 4wheel drive SUVs toward Barskoon valley where we will stop and see waterfalls and monument of Yuri Gagarin who was the first cosmonaut of the USSR.
We will start to drive and on the way we will see high pass which constructed by Canadian Gold Company Kumtor. and on the top we will on Arabel Plateu which is located almost on 4000 meters.
Further we will visit Arabel lake with view to mountains andaround of this lake grow different types of flowers and one of them is Edelweiss which is very rare.
Our next point is Suyok pass 4022m where we will see panoramic view to mountains of Kyrgyzstan and behind them will be China.
After we driving around of mountains we will see Kumtor Gold mine.And then start to drive to Karakol.
Duration:
1 day (7-9 hours of driving)
Highest point:
high pass Suyok pass 4022m
Road:
40% of the road is asphalt and rest is gravelly rammed by Cold Company
Area
: Barskoon valley, Arabel plateu (Jety-Oguz area)
Connection:
No signal connection in Arabel Plateu
Equipment
Equipment and items for tour:
Cap, sun glasess, high factor sun cream
First aid kit, if you have some disease
Recommended to have
Some Diamox pills against potential altitude sickness (if you don't have altitude adaptation)
Pocket knife
Important Notes
TOUR GRADE
This tour designed who want to see beautiful landscapes in untouched area with breathtaking views. Tour with long day drive.
INSURANCE
Travel insurance is NOT included. We recommend that clients have their own travel insurance against illness, injury, loss/damage to personal belongings. In case of emergency our staff will make all the best to delivery you to hospital or other point and solve your problem, insurance will cover your charges, if you don't have insurance, you will be required to cover charges by yourself.
TIPPING
Service of local staff is included to the program; however, it is polite to tip to local staff if the service has been very good. Also at your discretion, you might also consider tipping your tour manager in appreciation of the efficiency and service you receive.
Price
Price of tour:
up to 3 people – 180 USD, SUV 4х4
up to 5 people – 210 USD, Mitsubishi Delika 4х4
Price include:
Driver-guide
Vehicles selected category
Water
Notice:
Lunch is not included to the price. Please book lunch boxes beforehand (400KGS PP), if you need them. Otherwise, you can take a lunch individually.