Visit Karakol

,

Kyrgyzstan

,

Karakol

,

Gagarina st.

,

28/26

,

722200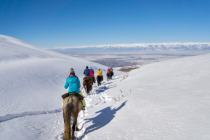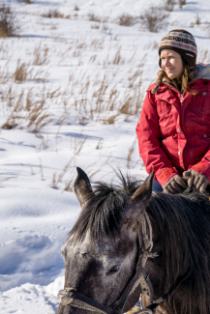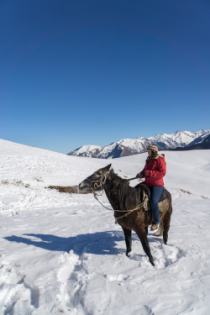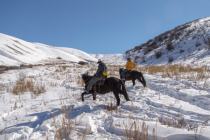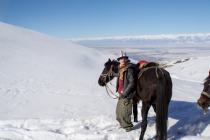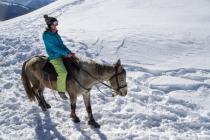 Winter horseback riding
Trip season: all season

Description: Horse Rider Team invites you to have fun a winter holiday in the snowy celestial mountains. Chon KyzylSuutranslated to Kyrgyz language as ("large red water") is one of the most beautiful places on the south coast of Issyk-Kul. The river got its name because the water going by red sandstones than becomes red. At an altitude of 2000 meters in the Chon-Kyzyl-Suu valley, you will meet: sea buckthorn, strawberry, wild rose, barberry, mushrooms and berries of different varieties. The animals are found wild boars, partridges, deer, ibex, marmots, ular, marcopolos, pheasants, huge vultures and snow leopards. In the valley of the Chon-Kyzyl-Suu there exits hot sulfurous mineral springs Dzhyly-Suu. The temperature of water reaches about 43 degrees. You can warm in the water 43 degrees and plunge in the scarring icy waters.

Trip program: In the morning at 8:00, the Horse Rider Team meets you in the village of Chong KyzylSuu. A little horse riding instruction. Start riding to celestial mountains along the river. Before lunch we arrive to the hot springplaces. Bathing and lunch. After lunch we move out river Chon KyzylSuu and climb the panorama with a viewto the lake Issyk-Kul. Walk in a circle and the descent to the village. Transfer to Karakol town. End of service Horse Rider.5h-6h horse riding. Start riding at 1950m. altitude. Top high place of trip 2300m. altitude.

Recommended list of personal items: warm clothes, a coat, tracking-boots, sleeping bag, mat, rucksack, flash light, your own First Aid Kit and sunglasses.

Price per person USD:
2-3pax – 48 USD/par per.
4-5pax – 42 USD/ par per.
6-8pax – 30 USD/ par per.
8-10pax – 24 USD/ par per.
Price include: