Visit Karakol

,

Kyrgyzstan

,

Karakol

,

Gagarina st.

,

28/26

,

722200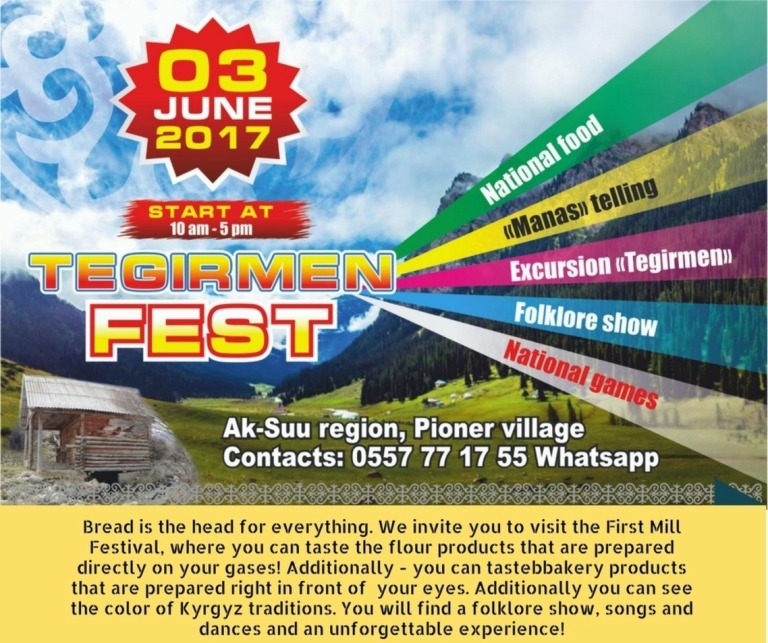 «Tegirmen fest - 2017»
Date:

03 - June 2017
Time:

10:00 am - 17:00 pm
Venue:

Issyk-Kul region, Ak-suu district, Pioner village,
Bread is the head for everything. We invite you to visit the First Mill Festival. Additionally - you can taste bakery products that are prepared right in front of your eyes! Also, you can see the color of Kyrgyz traditions. You will find a folklore show, songs and dances and an unforgettable experience!
Program:
08.20 - Departure to the festival
09.30 - The beginning of the festival
10.00 - Welcome words
10.15 - Manas Aytuu
10.30 - Performance "Nan Uluk"
10.40 - Comus
10.50 - Excursion "Tagirmen"
11.50 - Folk music12.00 - Lunch
13.00 - Folklore music
13.15 - Master class "Kiyiz"
14.15 - National Games
15.30 - Horse game
16.00 - Arkan tartysh
The entrance is 1000 soms with Transport There and back again
Transport:

Tagay Biy park - Toktogul st / Alybakov st., Karakol (8.20-9.20)
The programme includes visual shows, folklore music, dance, lunch, master class of kyiyz (this is a popular bar, wool, arts and crafts local), excursion to Mill, national games and horse game oodarysh.
Come for impressions!
Our contacts:
Tel:

+996 557 771 755
E-mail:

aiperi1011@gmail.com