Visit Karakol

,

Kyrgyzstan

,

Karakol

,

Gagarina st.

,

28/26

,

722200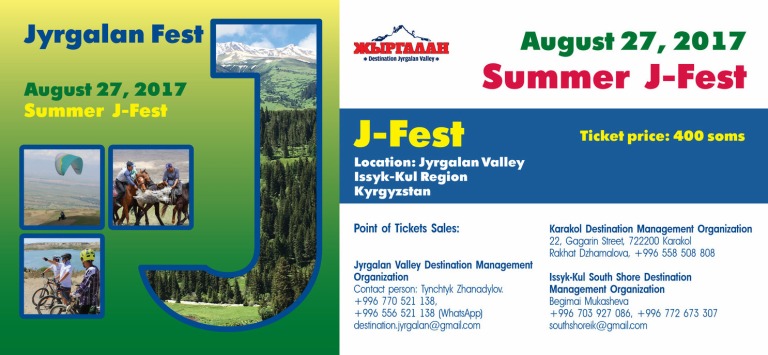 J-Fest Summer Tourism Fest
Location:

Jyrgalan village, 3, Asanbaev street, Gulmira Primova +996551916924
Dates:

August 27, 2017
Time:

09:30 - 16:00
Ticket costs:

400 soms (includes lunch)

Jyrgalan Destination Management Orgalnization (DMO) is happy to invite you to Summer Tourism Fest in Jyrgalan to promote and present summer tour products as horsetrekking, bike trekkings, hiking, accomodation, yurt camping and other services on August 27, 2017.
Summer Tourism Festival has following objectives:
Presentation of summer tourism offerings as horsetreks, hiking opportunities, bike treks, yurt camping, guest house services, folklore, Kok Boru
The handicrafts exhibition and workshop, ethno cultural folklore concert.
Event Program:
09.30-10.00 Registration of the guests and participants of the festival
10:00-10:30 J- Fest Opening Ceremony
10:30-11:00 J- Fest Horse Riders Parade, Bikers Parade
11:00-11:40 Folklore Concert and Ethno- Fashion Show
11:40-12.10 Handicraft workshops and exhibition, Food tasting and fair
12.10-12.30 Games with Guests and participants
12:30-13:30 Lunch
13:30-15:30 Traditional Horseback Game Kok Bory
15:30-16:00 Closing ceremony.

Ticket costs:

400 soms (includes lunch and transportation)
You can purchase tickets upon arrival, or prior to the event by following addresses:
1)

Karakol Destination Management Organization
22, Gagarin street, Karakol (Fact Cat coffee shop)
Aman Janserkeev +996 701 177766
2)

Ysyk Kol Southern Shore Destination Management Organisation
Begimai Mukasheva +996 703 927 086, +996 772 673307
3)

Jyrgalan village: 3, Asanbaev streetJyrgalan village
Gulmira Primova +996551916924
Contacts:
Tynchtykbek Zhanadylov,
Executive Director of Jyrgalan DMO +996556521138 (WhatsApp), destination.jyrgalan@gmail.com
Gulmira Primova: +996551916924 (WhatsApp) destination.jyrgalan@gmail.com