Visit Karakol

,

Kyrgyzstan

,

Karakol

,

Gagarina st.

,

28/26

,

722200

All products of the OVOP Association, both felt and food are promoted and marketed under the trade mark «Issyk-Kul Brand». And this trade mark is awarded to our OVOP products by Issyk-Kul Brand Committee. Issyk-Kul Brand Committee is a regional voluntary group consisting of 20 members from academic, tourism, business, government & other sectors. And it was formulated with the purpose of improving quality of local products and to share importance of quality control.
Thus, mission of the Committee is to ensure the quality of the OVOP products and encourage OVOP producers through selectively evaluating prospective products according to the Issyk-Kul Brand criteria:
Made of local regional resources
Eco-friendly (not chemical & natural)
Uniqueness & originality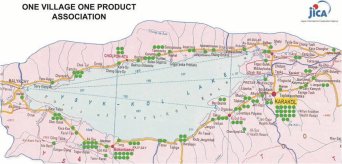 Association members from all over the Issyk-Kul region in one map
The One Village One Product (OVOP) Association is an organization of local producers of the Issyk-Kul Region of Kyrgyzstan. It was established on June 24, 2011 and aims to promote One Village One Product Movement. One Village One Product Movement is a strategic movement designed specifically for regional development and it originates from Japan. It is an integrated community development approach with a vision to increase incomes and wealth for Issyk-Kul producers through value addition to local resources, human capacity development and marketing of high value added products which would be recognized worldwide.
There are 164 groups-members (more than 1700 people) in the Association and its members specialize in different production spheres such as craftsmanship, handicraft, production of jam and juice from wild berries and dry fruits, beekeeping and dairy etc. So, one of the activity directions of Association members is felt products making. Felting is historical and traditional occurrence to nomadic Kyrgyz people who have been practicing it for a long period of time to make yurts and other everyday necessary things.
OVOP Association is producing different kinds of felt products. Some of them are traditional items, such as traditional carpets, yurt while others are modern items designed for everyday use. The location of the OVOP Association members is shown in the map
All felt products are dyed with Natural materials. Every things is made by local people with local materials from Issuk-Kul region.

Unique and useful soap for skin different varieties, creams for the skin of fruits and berries, and others.
There are many hand-made products from all over the Issyk-Kul region. You can feel the warm hart of the local people.
HAPPY #One Village One Product Issyk-Kul Kyrgyzstan  HAPPY#キルギス 一村一品組合
Processing video...
MUJI Одно село - один продукт
Processing video...
«ISSYK-KUL BRAND» SHOP, KARAKOL
Our contacts:
Kyrgyzstan, Issyk-Kul region, Karakol street. Toktogul (next to the supermarket "Caravan")
Tel: +996 (555) 402452 Tel: (03922) 54357, (03922) 51601
E-mail: ovop.kyrgyzstan@gmail.com, nargizaerkin@gmail.com

«ISSYK-KUL BRAND» SHOP, BISHKEK
Our contacts:

Kyrgyzstan, Chuy region,Bishkek, pr. Chui 114 (CMC building "Dayyr")
Tel.: +996 556 504 503, +996 772 330 136
E-mail: ovop.kyrgyzstan@gmail.com, nargizaerkin@gmail.com

The center «One Village One Product» in Bishkek
Our contacts:
Kyrgyzstan, Chuy region, Bishkek. Toktogul st. 140 / Koenkozova st. (Near cafe "Relax")
Phone: +996 556 504 503, +996 772 330 136
E-mail: ovop.kyrgyzstan@gmail.com nargizaerkin@gmail.com