Visit Karakol

,

Gagarina st.

,

28/26

,

Karakol

,

Issyk-Kul

,

722200

,

Kyrgyzstan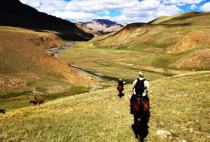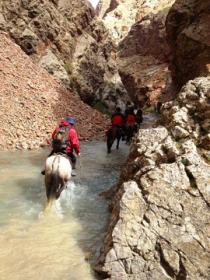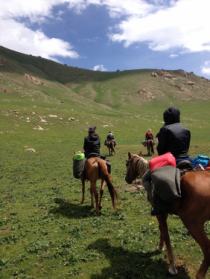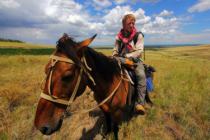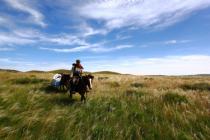 Horse riding Chon Kyzyl-Suu - Juuku
Duration of the horse trip: 3 days
Season of horse trip: beginning of May - end of September
Description:
Team of Horse Rider invite you to visit legendary valley of Juuku. This valley present big part of Silk Roud and have a lot of historical events. Around 3 daysonhorse, you can explore all secrets and all beautiful places of this valley. The celestial mountains and her nomads will decorate our trip every day. Placestovisit: village Pokrovka, Saruu, montain range Terskey Ala-Too, the pass Ashuu Kashka-Suu, hot spring Jukuchak, Juuku valley, Jayloo Juukuchak, cave Kyzyl Unkur.
Itineraryprogram:
1 Day: Karakol village - Kyzyl-Suu: Morning, arrival to Chon Kyzyl-Suu village, meeting with team of Horse Rider. Littlein struction of horseriding thanstart our trip on horse. Arrival to the cave Kyzyl Unkur, lunch on the nature. Continue our way. Arrival to the place destination, installation of the camp. Relax in the swimming pool of hot spring. Dinner.Overnightinthetent. 5h horse riding way.

2 Day: Juukuchak - Juuku valley: After having good breakfast we go up in our valley. A lot of animals and nomads on the way. Than we attack Achuu Kashka-Suu pass. Picnic on the way.Than descent to the valley Juuku. Stopping near the yourt of nomad and installation of the camp. Dinner. Overnight in the tent.5h-6h horse riding way.
3 Day: Juuku - Kyzyl-Unkur-Karakol: Today we walk in the valley Juuku. Going to the side of Issykkullake. Picnic on the way. Arrival to Kyzyl-Unkur.Our driver will wait us here. Transfer to Karakol city. End of service. 4h-5h horse riding way.

Recommended list of personal items: warm clothes, a coat, tracking-boots, sleeping bag, mat, rucksack, flash light, your own First Aid Kit and sunglasses.

Price per person USD:
2-3pax –240 USD/per per.
4-5pax – 200 USD/per per.
6-7pax – 175 USD/ per per.
8-9pax – 145 USD/ per per.
10pax – 145 USD/ per per.
Priceinclude:
Horse guides
Rent of horses
Full board (Breakfast, Lunch, Dinner)
Equipment of the camp
Hot spring
Transport