Visit Karakol

,

Kyrgyzstan

,

Karakol

,

Gagarina st.

,

28/26

,

722200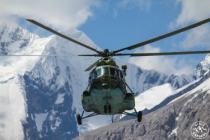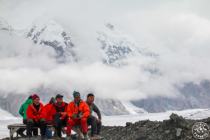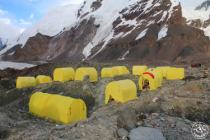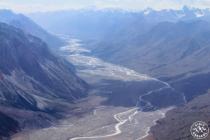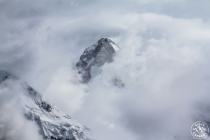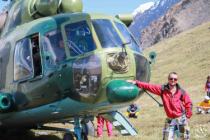 Flight Into The Heart of Tien-Shan
Take a helicopter flight and see the amazing Tian-Shan mountain ranges. We provide an exclusive opportunity to bask in stunning scenery and nature and explore Kyrgyzstan's abundant destinations from the Helicopter MI-8-MTV which are known in many countries as good and reliable helicopters.During flying you will have a chance to see huge glacier Inylchek, powerful rivers Sary-Jaz which is going to China also high mountains with two famous peaks: Peak Pobeda 7,439 m and Khan Tengri 7000 m. We use the MI-8-MTV helicopters. It is powered by two turbo-engines and has a carrying capacity of two tons. Two pilots fly the MI-8-MTB, which means extra safety. You can be sure that the helicopters are flown by professional pilots, who are very experienced in heli ski and mountain rescue flying.
Day 1. Transfer Bishkek - Base Camp "Karkara". 
Early morning we driving from Bishkek city to Karkara valley. We will drive through scenic road. Accommodation in Karkara base camp.
Day 2. Helicopter flight BC "Karkara" - BC "Inylchek". 
In the morning you take a helicopter and your journey starts. We fly over the magnificent mountains of Tien Shan. The views below change desperately: starting from green carpets of lower hills and slowly turning into snow capped huge mountains. You flight over one of the longest and largest glaciers of Tien Shan mountains – Inylchek, the mystical and one of the kind mountainous lake - Merzbacher Lake. The helicopter lands at the Base Camp "South Inylchek" located at the altitude of 4200 m above sea level. From the camp you may observe the highest peaks of Tien Shan Mountains (Pobeda Peak (7439 m) and Khan Tengri Peak (7010 m)). Rest days at South Inylchek BC.  
Day 3. South Inylchek BC 
Rest days at South Inylchek BC. 
Day 4. Helicopter flight back to BC "Karkara". Transfer BC "Karkara" - Bishkek. 
Breakfast. Helicopter flight from BC to Karkara helicopter pad. Transfer to Bishkek. 
Attention! This tour is possible only from mid-July till the end of August.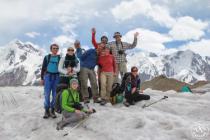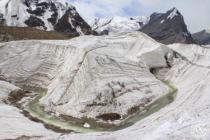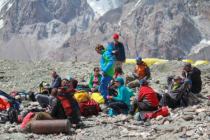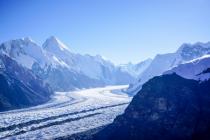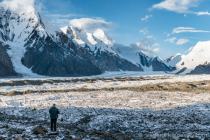 Schedule of helicopter flights in 2018:
| | |
| --- | --- |
| Mounth | Date |
| July | 1, 6, 9, 10, 12, 13, 15, 18, 20, 21, 22, 25, 26, 27, 29, 30, 31 |
| August | 1, 2, 3, 4, 5, 6, 8, 10, 12, 13, 14, 15, 16, 17, 19, 20, 21, 23, 24, 25, 26, 28, 29, 31 |
Price of the program in 2018: 520 USD per person
Price includes:
Helicopter flight Karkara BC – South Inylchek BC – Karkara BC
Transfer Bishkek – Karkara BC – Bishkek
Border pass
Lunch on the way to Karkara BC and lunch box on back way
Meals and accommodation in BC "Karkara" and BC "South Inylchek"
Note:
It is possible to organize transfer from/to Karakol town

or other place in Kyrgyzstan

upon your additional request.
Aslo possible to buy a one way ticket from Inylchek BC to Karkara BC, however you will need to book a car to get from BC Karkara to Karakol or other place in Kyrgyzstan.
Price of one way ticket is 300 USD pp.