Visit Karakol

,

Kyrgyzstan

,

Karakol

,

Gagarina st.

,

28/26

,

722200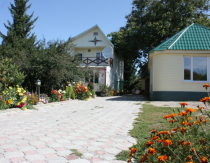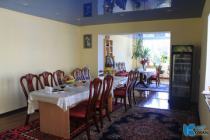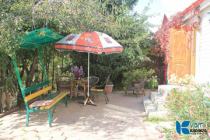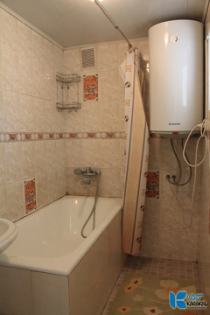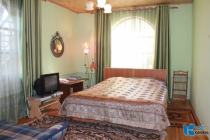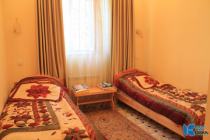 Guest House «Jamilya's B&B»
Guest House Jamilya's B&B is on the market over 10 years and is one of the favorite guest houses in Karakol. It owes its name to the world famous novel "Jamila" written by outstanding Kyrgyz writer Chingiz Aitmatov.The guest house is in a quiet and green area on the banks of the river Karakol, 20 minutes from downtown. There is a large and beautiful garden on its territory where you can relax on a swing, or sit comfortably in a wicker chair for reading books. At 10 meters from it you can sit in the gazebo in a pleasant atmosphere on the banks of the river. You can see beautiful views from the balconies of the guest house and enjoy the sunset over a cup of tea.
Throughout the day for guests is open lounge, where you can enjoy tea and biscuits taste homemade. The guest house is famous for its delicious cuisine and a rich variety of dishes.
Guest House Jamilya's B&B provides accommodation services throughout the year, and the friendly staff knows Kyrgyz, Russian, English and French. With extensive experience in the hotel business, Jamilya's B&Bvwas registered in the famous international guides such as Lonely Planet Central Asia and Asie Centrale.
Guest house Jamilya's B&B - this is a worthy blend of hospitality, comfort and reasonable prices.
The guest house has 7 rooms with shared bathrooms (1 shower room with WC, 1 shower-bathroom, 1 toilet), which are in a big house and 4 rooms with individual bathroomswhich are in the two cottages (two rooms in each cottage ).
The rooms in the house:
1 single
3 double
2 triple
1 quad
Rooms in the first cottage:
Rooms in the second cottage:
2 double rooms (spacious rooms, where possible optional extra bed)
Services: On request:
Lunch box,
lunch,
dinner
Folk show (mini concert by local artists)
FalconryShowing manufacturing felt products
Transport
Cost of living:
During the summer, living in a large house 750 som with breakfast
During the summer, accommodation in cottages from 850 to 1000 soms with breakfast
During winter accommodation in a large house 900 som with breakfast
In winter, the accommodation in the cottages in 1200 soms with breakfast
The price includes breakfast
Our contacts:
Kyrgyzstan, Karakol, st. Shopokova 34B.
Phone: +996 554 980980, +996 555 208282,
Tel .: +996 41718 3922
E-mailkemelov@hotmail.com
Prices for lodging
| | | | |
| --- | --- | --- | --- |
| Title | Description | Extra | Price |
| Winter | single | Breakfast is included | 900 som |
| Summer | single | Breakfast is included | 750 som |