Visit Karakol

,

Kyrgyzstan

,

Karakol

,

Gagarina st.

,

28/26

,

722200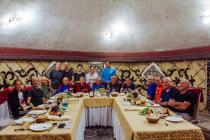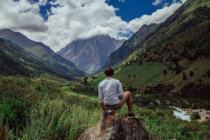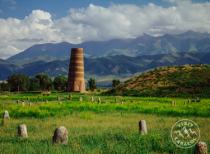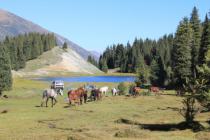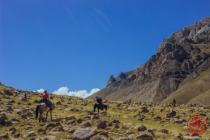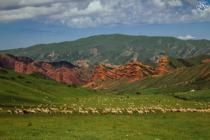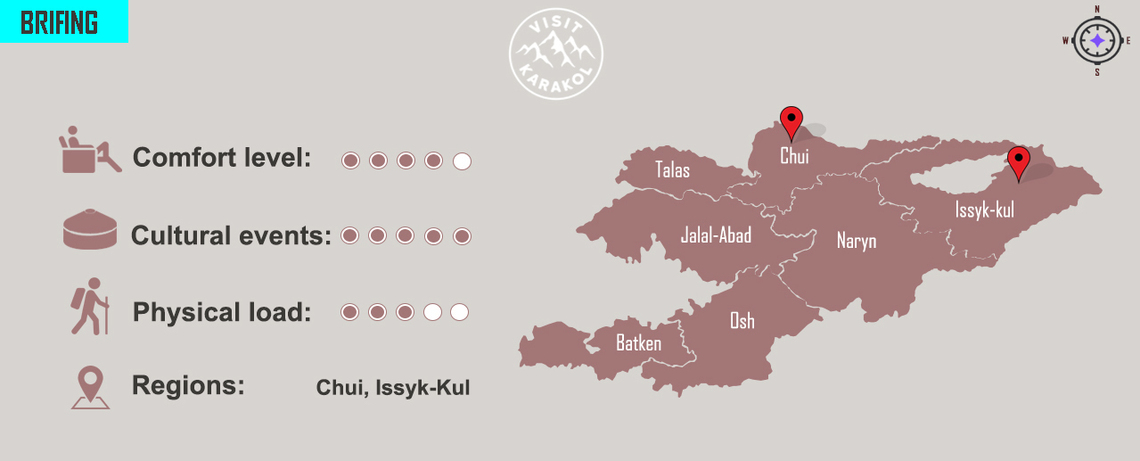 Fabulous landscapes of Kyrgyzstan 2
Duration of tour: 12 days
Period: June – September
Description: This tour is made for people who are interested in seeing fabolous gorges, lakes, pastures and culture without involving big physical activities, but with short trekking to main places. During the tour you will have a chance to explore Kyrgyz culture, traditions and cuisine.
Program:
Day 1, Bishkek – Ala-Archa – Bishkek, up to 150 km
We will meet at Manas airport and transfer to Bishkek. After we arrive to the city, we have several hours to rest in a hotel and after lunch we proceed to Ala Archa national Park. The park includes the gorge of the Ala-Archa River and the mountains that surround it. The park is a favourite destination point for picnickers, hikers, horse trekkers, skiers, mountain climbers that seek for challenging ice, rock and mixed routes. We will start a walk to Ak-Sai waterfall and return to Bishkek. Dinner at a local restaurant.
Day 2, Bishkek – Burana – Chon-Kemin, up to 170 km
We will drive under mountains of Kyrgyz Range through villages, which is located close to range. Here you can feel fresh mountain air, after 1.5 hour of driving we will arrive to Burana tower. The tower, along with grave markers, some earthworks and the remnants of a castle and three mausoleums, is all that remains of the ancient city of Balasagun, which was established by the Karakhanids at the end of the (XI - XIII вв.) century. We will make radial trekking to Konorchok canyons on the way (if weather will be open). We will walk from main road in Boom valley through narrow dry gorge and a maze of rocks scattered over a dry riverbed. In the canyons, you'll see red sandstone columns which looks like Grand Canyon in Colorado, US!Arriving to Chon-Kemin village, dinner and accommodation in Ashu guesthouse. It's a unique place where Kyrgyz traditions harmonize with high level of service.
Day 3, Chon–Kemin – Semenov gorge – Karakol, up to 350 km
Moving to Semenov gorge, which is located on the north Shore of Issyk-Kul Lake. After arriving to valley radial trekking to Sut-Bulak lake. Picnic at the picturesque lake and continue our trip to Karakol. After arriving short city tour in Karakol. Accommodation in hotel 3*.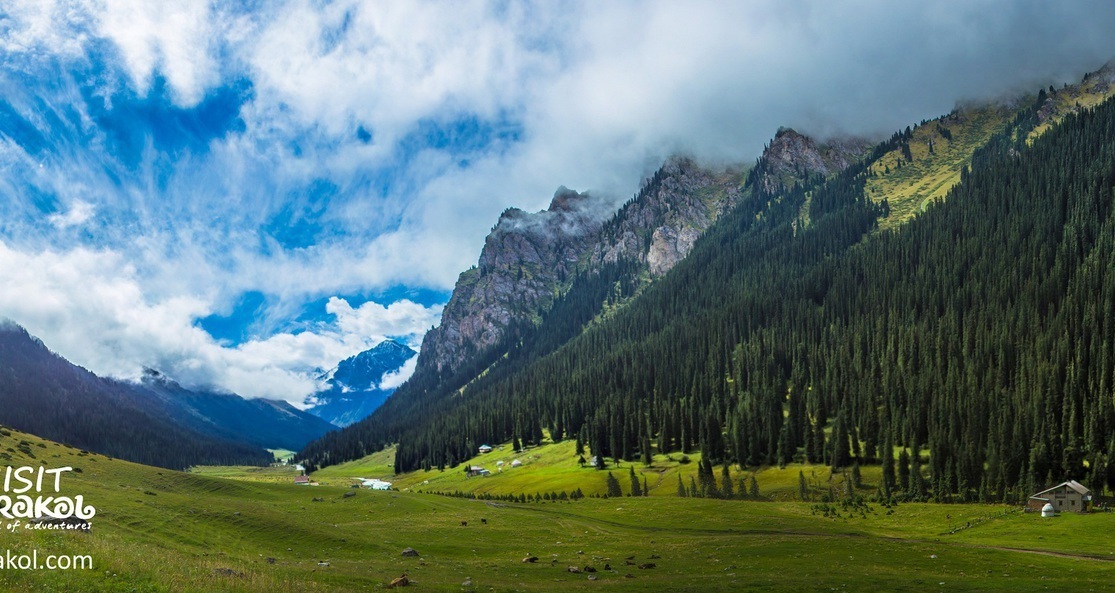 Day 4, Karakol – Altyn-Arashan, 35km
We will drive to the place where we will meet with horses and instruction on riding a horse; we will ride on horses to famous Altyn-Arashan hot spring. Taking hot bath is very good for muscles after trekking, horseback riding or climbing. We will arrive to Altyn-Arashan afternoon and will take a hot bath with radon water. Dinner and overnight in wooden guesthouse.
Day 5, Karakol – Altyn-Arashan. 35km
Descent back to Karakol by walk to beginning of Altyn-Arashan valley. Meeting with driver and arriving to Karakol. Big folk show will be arranged for you, during that evening you will enjoy with listening of singing of Kyrgyz songs with national instruments, national dances and storytelling from Manaschy. National dish Beshbarmak will be served for dinner and overnight in hotel.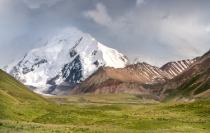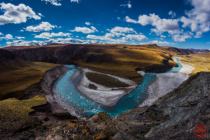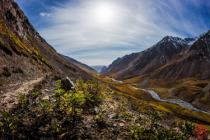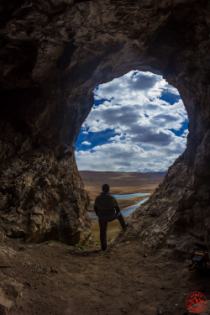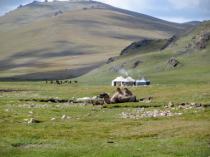 Day 6, Karakol – Chon-Ashu pass – Karkara, 200 km
Today we are going to Sary-Jaz area to see wild nature and landscapes, High summits and wild nature of Tian-Shan Mountains, where you can see only shepherds, which taking care of cattle and yaks, we could see Bactrian Camels if we are lucky, which were popular among Kyrgyz people around 100 years ago. Unique possibility to take perfect photo shoots for photographers.We departure by all-wheel comfort jeeps toward Sary-Jaz through Too-Ashuu pass, the height of the pass 3822m, Sary-Jaz area is located on the altitude of 2700m-3600m. On the way, we will visit the Ak-Chunkur cave (which means «white hole») which is on the height of 3150m in 7 km to the east from Echkili-Tash. The length of this cave is 70m, the height 10m. The traces of an ancient man and cave paintings were discovered in this cave, after lunch moving to Karkara through Turuk pass. This place well known for its green diversity. You can see summit of famous Khan-Tengri peak (7010) in clear weather from top of Turuk pass, Camp and overnight at tents.
Day 7, Karkara – San-Tash – Karakol, 100 km
Morning walking in the forest of Kakara valley between trees and firs. After driving further to Tamerlane's stones. Not far from San-Tash village, there are kurgans and remains of the Caravanserais, where the Tamerlane's troop used to pass. The legend has it that they were composed by the army of Tamerlane. When the commander went on his campaign, he ordered each soldier to take a stone with them, and here, at the pass, they all laid these stones into a large mound. Upon return, soldiers who survived took a stone each from the mound and placed it by their side. Therefore, there are now two mounds made of stone, one of which became a monument of the victims who died on a foreign land. Returning to Karakol through Basharin pass. Dinner and accommodation in hotel.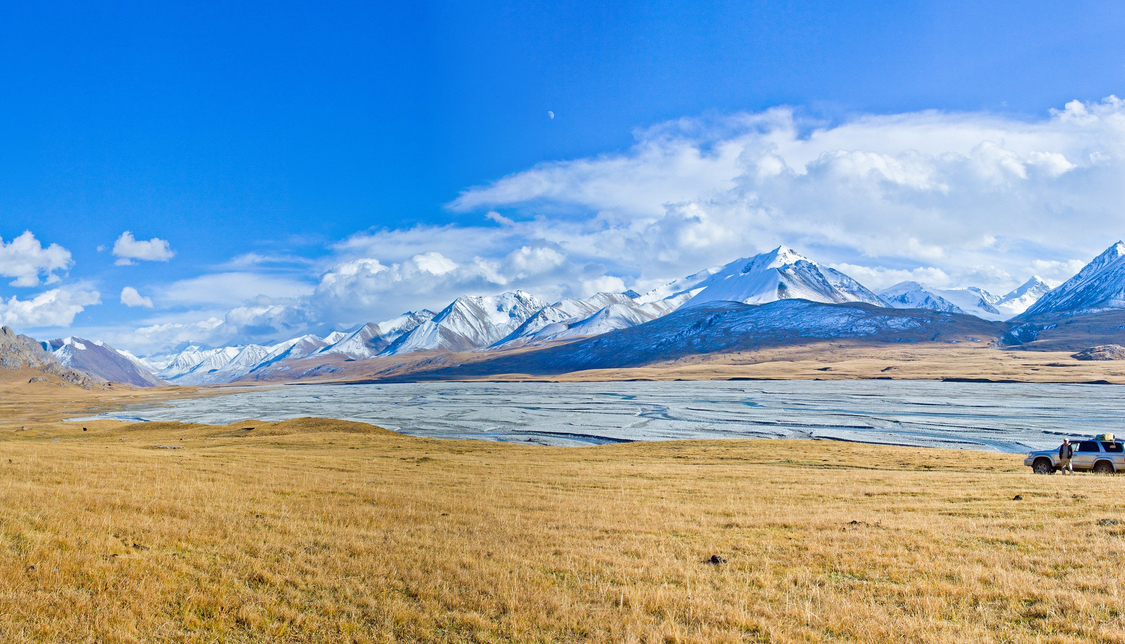 Sary-Jaz, Ichkilitasharea
Day 8. Karakol – Djety-Oguz – Bokonbaevo, 200 km
We are visiting popular gorge Djety-Oguz that means Seven Bulls. Most famous sight of that place is Seven Bulls and Broken Heart rocks. We will walk for panoramic view of mountains and continue our trip to Fairytale canyon located on south shore of Issyk-Kul lake. Amongst the weird rock formations, there is a ridge, which resembles two walls of fortification, something like the Great Wall of China, rising vertically out of the surrounding sandstone. Dinner and accommodation in yurt camp Bel-Tam located on the south shore of Issyk-Kul lake. Possible to shim in the lake.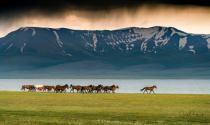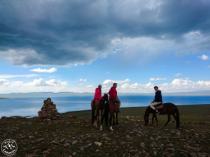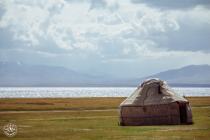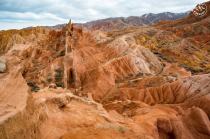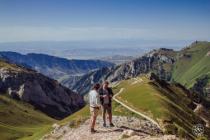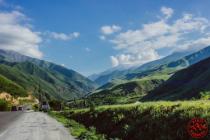 Day 9, Tamga – Fairytale canyon – Son-Kul lake, 250km
Driving to Kyzyl-Tuu village where will be demonstrated yurt and felt shows by local masters, who is continue traditions of ancestors. After continue driving to Son-Kul Lake, where you can feel spirit of nomads.In summer some of the local people who live in the villages, leave their homes to go up to the green and luscious meadows of Son-Kul lake. Here during the warm summer months, they graze their cattle in the summer pasture live and in small farmsteads, which are called jailoo. You could see rest of real nomads only Son-Kul Lake, men all day long they ride horses and graze the cattle, which they collected from close villages. Women taking care of children and do housework: clean, cook, bake bread, make delicious butter and other dairy products from cow and horse milk. In the summer pasture, almost all the food is of natural, local products: meat, milk, butter and airan (local yogurt). Here you can see a lot of horses that graze and breed on their own. These noble animals are a particularly nice fit into the Alpine-like meadows. Accommodation and dinner at Yurt camp on Son-Kul lake.
Day 10, Son-Kul Lake – Kyzyl Oi village, up to 150 km
In the morning, you will enjoy with demonstration of national equestrian games, such as Kok-Boru (Ulak-Tartysh), Odarysh and Tyiyn Enmei on the shore of Son-Kul lake. After we will have 2 hours horseback riding to top of mountain in order to see panoramic view to Son-Kul lake and then after lunch in yurt camp we proceed further to Kyzyl-Oi village via Kara-Keche pass, which is on the altitude of the 3384m. This pass is popular for cyclists and off-road lovers. Kyzyl-Oi is a mountain village located at the altitude of about 1800 meters above sea level in the valley of the mighty river Kekemeren. Here you can see an extraordinary landscape of majestic mountains surrounding the village. Accommodation and dinner in family (homestay) CBT guest house in Kyzyl-Oi.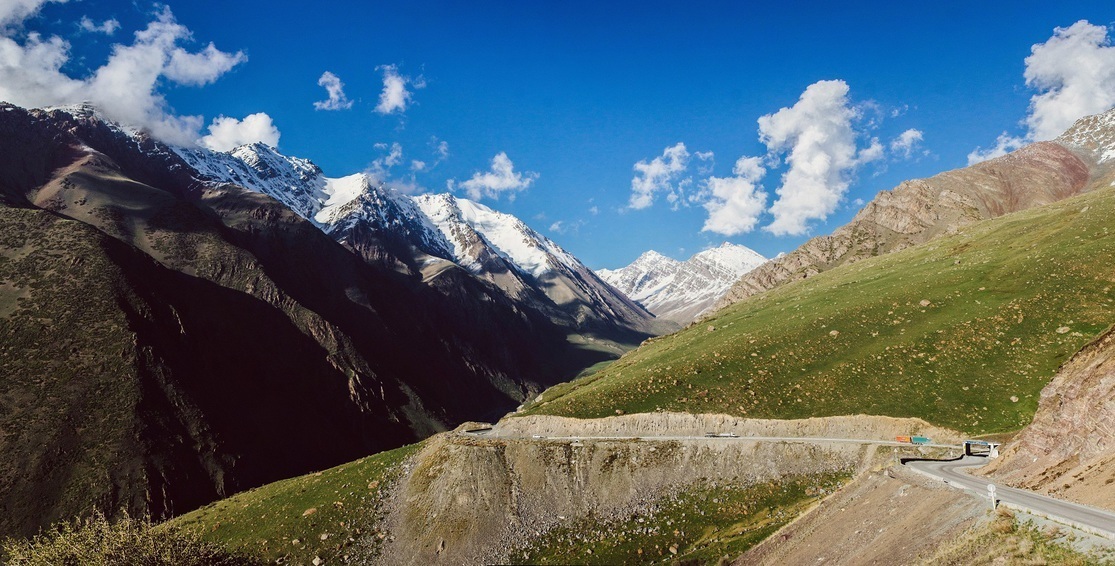 Too-Ashu pass, which is connecting north and south part of Kyrgyz Republic
Day 11, Kyzyl-Oi – Bishkek, 250 km
We proceed to natural treasure of Inner Tian-Shian, to Suusamyr valley. Suusamyr is one of the best grasslands in Kyrgyzstan. The pass attracts many alpinists, ski lovers and simply people who love fresh mountain air. Further, our road will pass through majestic Too-Ashuu pass, it lies at the altitude of 3400 m. That road connecting the north and south capitals. You could see amazing landscapes and good few to Suusamyr valley. Arrival to Bishkek. Festive dinner in ethno restaurant Supara. Accommodation in hotel 3*.
Day 12, Bishkek – airport Manas, 30km
Early depart to airport Manas. End of service.