Visit Karakol

,

Kyrgyzstan

,

Karakol

,

Gagarina st.

,

28/26

,

722200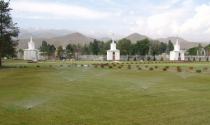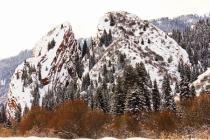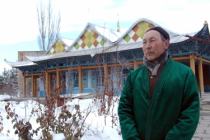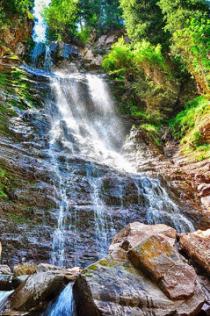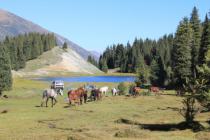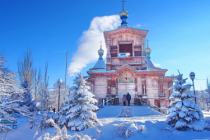 Eye of Asia 3
Route: Bishkek - Ala-Archa - Cholpon-Ata - Karakol - Altyn-Arashan - Bishkek
Duration: 7 days
Period: Full year
This tour is oriented for people who want to see beautiful landscapes, Ala-Archa national park, famous hot spring Altyn-Arashan and have a full city tour in Bishkek.
Description:
Day 1, airport Manas – Ala-Archa – Bishkek, up to 150 km
We will meet at Manas airport and go to Ala Archa national Park. The Ala Archa National Park is an alpine national park in the Tian-Shan Mountains of Kyrgyzstan, established in 1976 and located approximately 40 km south of the capital city of Bishkek. The park includes the gorge of the Ala-Archa River and the mountains that surround it, it is a popular destination point for weekend picnickers, hikers, horse trekkers, skiers as well as mountain climbers looking for challenging ice, rock and mixed routes. Walking around in the park and later we will have a picnic. Back way to Bishkek and accommodation at a hotel of Bishkek. Dinner at a local restaurant.
Day 2, City tour in Bishkek, 50km
Today we will visit interesting places such as Victory Square, Oak Park, Ala-Too square, the History Museum, National philharmonic and many others places upon your request. We will visit local central Asian Bazaars to better understand East culture and to see a lot of colors of local trade. Osh and Orto-Sai bazaars are very colorful and noisy. People sell there all kinds of goods from all regions. We will have dinner at a local popular restaurant called Faiza that is made in Eastern style. Accommodation in a hotel.
Day 3, Bishkek – Cholpon-Ata, 300km
Departure to Cholpon-Ata through the north shore of Issyk-Kul lake via Boom valley where the Great Silk Road caravans used to pass. We will visit Cultural center Ruh-Ordo which was named after Ch. Aitmatov. After visiting Ruh Ordo, we will have two hours boat tour in the lake. After accommodation and dinner in a hotel.
Day 4, Cholpon-Ata – Karakol, 200km
In the morning, we set-off to Karakol via Grigorievsky and Semenov valleys. We will visit two gorges and visit small mountain lakes, you will have an opportunity to walk around in a beautiful valley. Departing to Karakol. Karakol is the largest city in the Issyk-Kul region. "Karakol" means "Black Hand", it was named after the eponymous name of a river on which it is located. This relatively young city was originally founded by Russian settlers in 1869 as a military and administrative center on the caravan route from Chu Valley in Kashgar. Karakol is one of Kyrgyzstan's major tourist destinations, serves as a good starting point for the excellent hiking, trekking, skiing and mountaineering in the high central Tian Shan to the south and east. The town itself boasts a number of places that would be of interesting for tourists. For example, we can see a very pretty wooden mosque that was built by Chinese artisans for the local Dungans between 1907 and 1910 entirely without metal nails and a similarly appealing wooden Russian Orthodox church, the Holy Trinity Cathedral, completed in 1895. Lunch at Dastorkon ethno-restaurant that was made in a national style. Accommodation and dinner in a hotel.
Day 5, Karakol – Altyn-Arashan - Karakol, 70km
We will visit a beautiful valley called "Altyn Arashan". The 4wheel car will bring us to Altyn-Arashan valley. This valley is praised by tourists from all over the world. Altyn-Arashan is located 30 km away from Karakol by impassable but very beautiful route along Terskey Ala-Too. We will take a hot bath with radon water and have an excursion to wild hot springs. We will go back by car to Karakol and have dinner at a local restaurant. We will have a folk show of a popular local group Azem right after dinner, they will play on national instruments and sing national Kyrgyz songs. Accommodation in a hotel.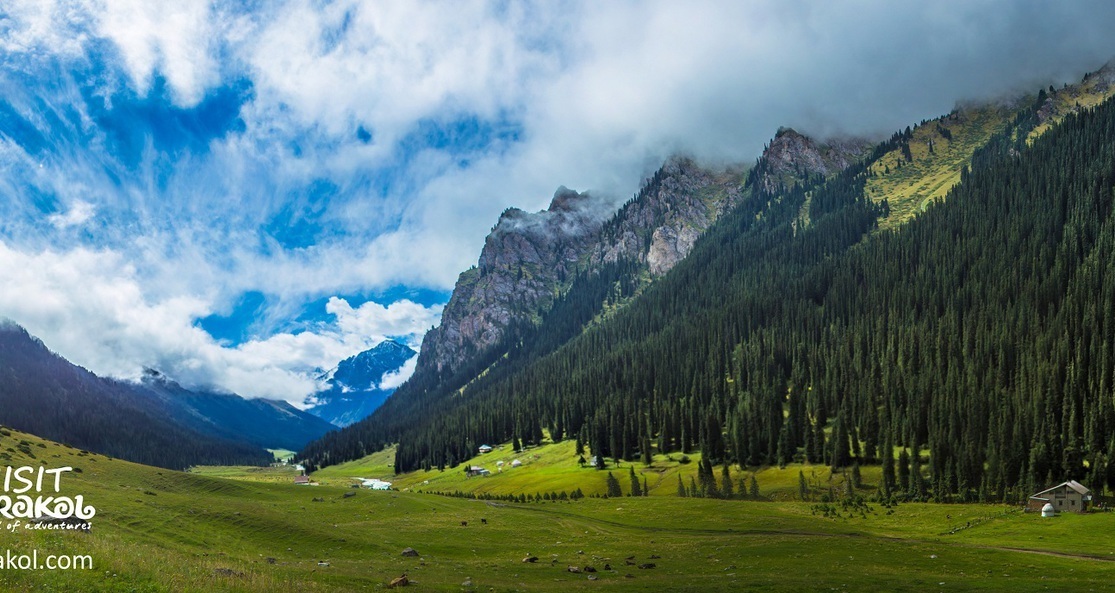 Day 6, Karakol – Djety-Oguz – Skazka – Bishkek, 450km
We move from Karakol to Bishkek through Djety-Oguz valley with main attractions such as Broken Heart and Seven Bulls. Further, we will visit Fairytale canyon. There is a ridge among weird rock formations, which resembles two walls of fortification that like the Great Wall of China, they rise vertically out of the surrounding sandstone. The rocks vary in color from a sandy yellow to red and orange, and there are colorful striations visible in places, which show different chemical composition of the rocks. We will travel along the south shore of Issyk-Kul lake, you will enjoy picturesque and interesting landscapes. After arrival to Bishkek, we will have festive dinner in a traditional Kyrgyz style restaurant called Supara. Accommodation in a hotel.
Day 7, Bishkek –airport Manas, 30km
Meeting at the hotel, then we go to airport Manas. End of the service.