Visit Karakol

,

Kyrgyzstan

,

Karakol

,

Gagarina st.

,

28/26

,

722200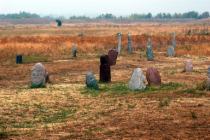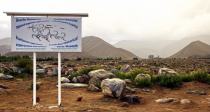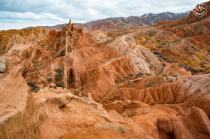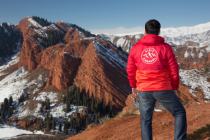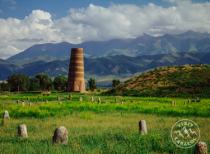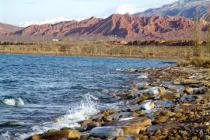 Eye of Asia1
Route: Bishkek – Issyk-Kul- Karakol- Djety Oguz- Bokombaevo – Bishkek
Duration: 5 days
Period: Full year
Day 1. Bishkek – Cholpon-Ata, 300km
Meeting at the airport and departure to Issyk-Kul lake, Cholpon-Ata city in the northern coast of Issyk-Kul lake. On the way there, we will stop by Burana tower, which is located 80 km to the east from Bishkek near the town of Tokmok. The tower with grave markers, some earthworks, the remnants of a castle and three mausoleums are everything that remain from the ancient city of Balasagun, which was established by the Karakhanids at the end of the (XI - XIII вв.) century. An external staircase and steep, winding stairway inside of the tower enable visitors to climb to the top of the tour. After that, we will have lunch in Cholpon-Ata. Cholpon-Ata town, which means «Venus-father", has a name of a mythological spirit protector. It is considered to be a resort town on the northern shore of Issyk-Kul Lake in Kyrgyzstan with a year-round population of about 12,000. Dinner and accommodation in a hotel.
Day 2. Cholpon-Ata – Karakol, 170km
Visiting petroglyphs. Some unique ancient monuments are located on the territory of Cholpon-Ata town. There are Bronze Age settlement and ancient sacred place under open sky with stone painting. Andronic tribes or Arian tribes (the middle II millennium - VIII century B.C.) gave us the artists who began creating these peculiar art galleries, which consist of thousand petroglyphs (VIII-III centuries B.C.). Continue our trip towards Karakol town. Lunch in a local restaurant in Karakol. City tour. We will visit Holy Trinity Cathedral, Dungan's mosque. A local folklore concert in the evening. Dinner and accommodation in a hotel.
Day 3. Karakol – Djety-Oguz, 100km
Djety Oguz valley at the north slope of Teskey Ala-Too Mountain range about 28 km west of Karakol. A balneotherapic resort is also located here. This resort is a common destination for citizens of Kyrgyz Republic, as well as a popular destination for tourists to Kyrgyz Republic. The Djeti-Ögüz Rocks are located in vicinity of the resort. We are going to visit rocks Broken Heart and Seven Bulls, Djety-Oguz canyon, waterfall "Lady's plat" and will have a walk for an hour in the valley. Then we will go back to a hotel in Karakol, dinner in a hotel.
Day 4. Karakol – Tamga, 100km
We will move to Tamga village which is located 95 km away from Karakol. After arrival, we will have a horse riding tour which is located towards Tamga valley where you will get to see 3 mysterious stones with Tibet writings on them. We will have a walk on Issyk-Kul beach. Lunch with lunch boxes. Overnight and dinner in a guest house in Tamga.
Day 5. Tamga – Bishkek, 350km
We will visit Fairytale canyon right after we leave Tamga village. There are sandstone cliffs they have been shaped by centuries of wind and melting snow into an ensemble of columns, canyons and crag, ranging in color from deep red to bright orange. The most recognizable landmark of the Valley Fairy Tales - of course, a long chain of rocks, called the Chinese wall.Second destination in our trip is a workshop in Bokonbaevo village where you will see the Kyrgyz national felt products and carpet manufacturing process. After felt show leaving to Bishkek. Dinner in a restaurant Supara decorated in a national style. End of the service.

The price includes:
Accommodation at a hotel or a guesthouse
Full board during the program
Payment for museums and other sights
Folklore concert in Karakol
Felt product manufacturing process and falconry demonstration